In reference to Tom Kiehl's post #4465 at: fhttps://www.cloudyni...79#entry8165319
It is a small telescope world after all.
I just got in from taking pictures of a "MYSTERY" scope I picked up last Saturday when I
saw the post mentioned above. For a number of really cool reasons I will call this rare(?)
beauty "BABY BLUE." From the one picture available to me, prior to buying it , I had
originally thought it would be an ATM "modified" Edmund Palomar Jr. It is definitely not.
I talked the owner down from 7500 to 6000. Pennies that is!!!. Got ya'.

I would have had
no Idea what this was except for a truly awesome, large oval tag that is screwed onto the pier.
It proudly screams out, not only what it is, but also who manufactured it. Heck, it even has
an etched in picture of itself on the tag also. Even with that identifying tag I can find nothing
at all on this...
Beautiful Blue "Mystery" Scope.
It's "FUN TIME" again Scope Detectives.
Get ta' guessing???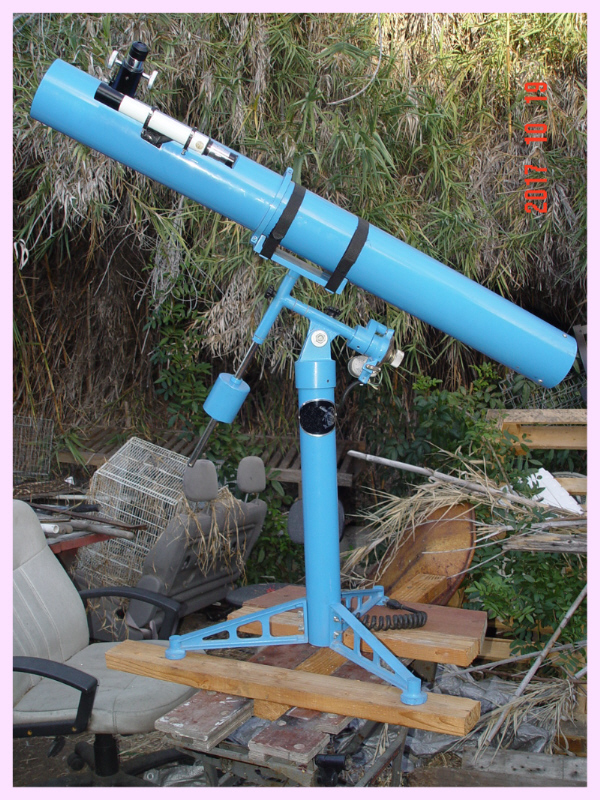 Edited by badback, 20 October 2017 - 09:30 PM.