Ok - ok! Another Neptune set of images!

I was just saying to Pat that we have 84 images (including animations) of Neptune on the PVOL site alone since we started concentrating upon this most distant planet 3 years ago...they sure have tallied up very quickly!

Whilst only a casual fisherman, this night (last night) was probably one of those "the one that got away" situations tbh.

The forecasts weren't any better than the last 2 imaging sessions from home (14th & 17th) as far as surface winds & jet-streams were concerned - but the transparency was supposedly high & I had a feeling it might be a good night...
Arriving home late from Murray Bridge we set up (had taken everything down from the 17th due to rain one evening ) & quickly iced up the scope to get the temperature down...& just after true darkness were plugging the laptop etc in: looked up & suddenly realised the sky was full of clouds..!

We waited for about a half hour until a sizeable gap in the clouds appeared & then targeted Lambda Aquarii to collimate...nice steady diffraction rings focusing down to a fairly evenly-illuminated Airy Disk...a rare situation for about as long as we could remember tbh!

(see collimation image inset in the images below)
Naturally, by the time we had tracked down Neptune & started focusing in earnest the clouds swarmed back in - we sat there & we sat there

- although it is true to say that I walked off into the darker regions of the backyard to check the sky area from which all the clouds were coming - & let out a few expletives a few times!

Marc's ephemeris predictions suggested the EQ spot would be on the C.M. about UT 09:42 but those clouds just kept on rolling through: by 11:45 we realised it was going to be touch & go for the spot to still be on the visible face...so despite losing about half of each avi to complete cloud cover as well as significant dimming in other sections of each 9 minute capture, we pulled the trigger.
It's not called "lucky imaging" for nothing & we were lucky to pull a 1000+ frames from each capture run at good quality...lamenting what "might have been" but capturing the bright EQ spot by the skin of our teeth as it started to disappear at the P limb...
Certainly if the clouds had not been there (& it was the seeing that was predicted to be average at best - the sky was meant to be devoid of any clouds!) we would not only have captured many more runs but no doubt been able to take r-g-b sequences as well as possibly some longer iR wavelength captures in addition - but we're grateful for what we got for sure...
Here are the 3 images which show the collimation image as well as another inset displaying each RAW stack...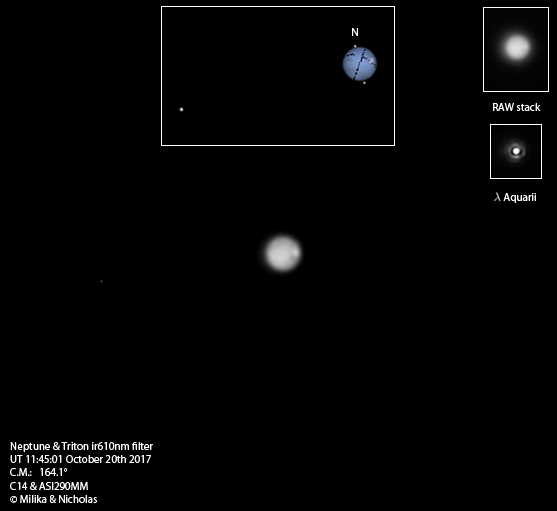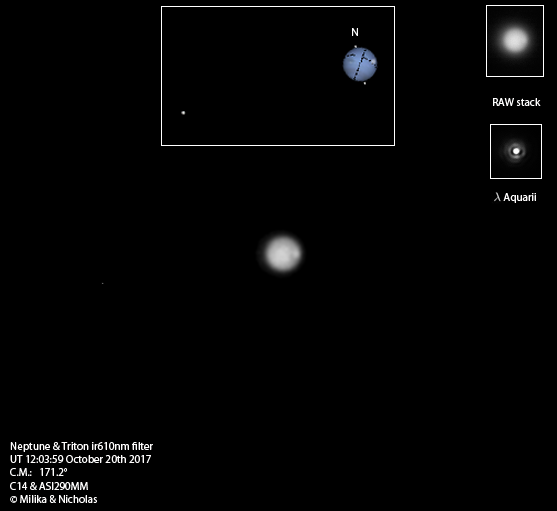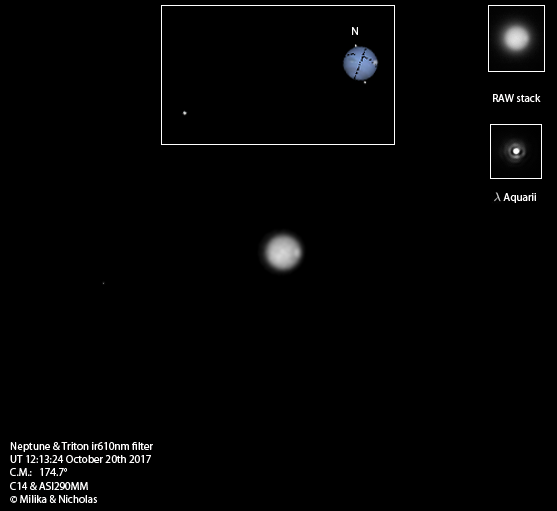 Next is the animated sequence (reversing) of these 3 frames - remembering that the total timespan of the sequence was only just over 35 minutes - we got the spot by the skin of our teeth for sure!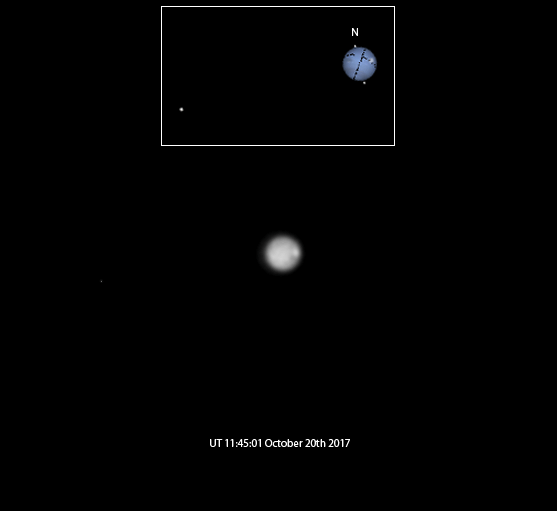 Marc's ephemeris indicated that approximately 2 hours before our first capture (11:45) the bright spot would be at about L118° allowing for a drift rate of 2°+ per hour West: our rough measurement of the spot at L124° some 2 hours later is confirmation once again (as was our data from 17th) that he has done a very good job on this!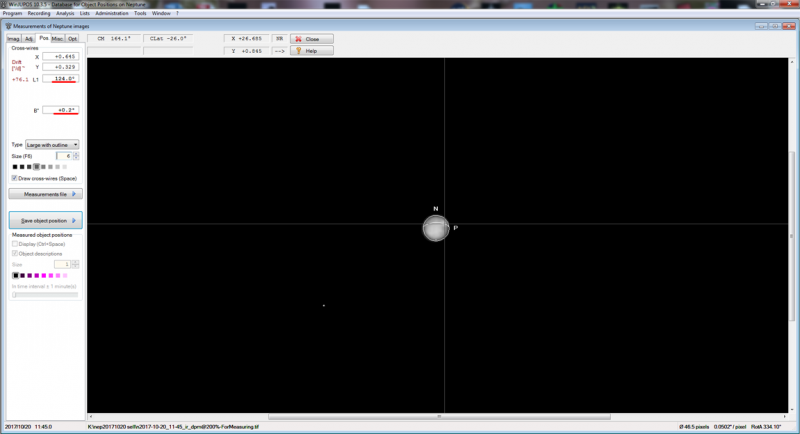 I'll post a short live-feed view later of Lambda Aquarii giving some further idea of how good the seeing was - but in the above images you can see that the first diffraction ring was pretty well complete & evenly illuminated...excellent seeing - pity about the clouds..!!!

Here's the Registax6 sharpening regimen for these stacks for now - because I worked initially with 200% .pngs I employed a bit more than I use on capture scale stacks in R6 but they still turned out pretty nicely regardless...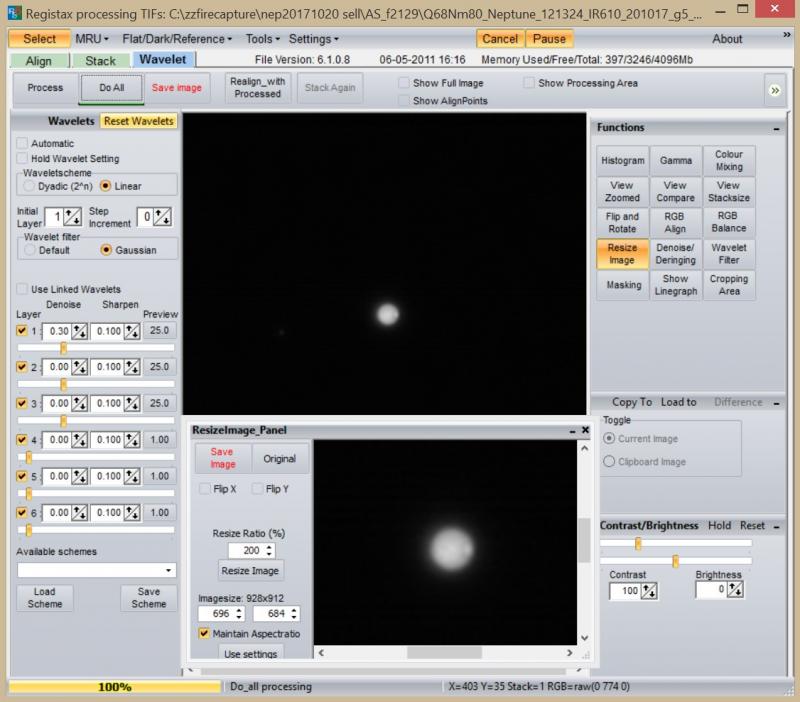 Here's the AS!3 "Quality estimation" graph for the UT 11:45 capture (the best) & as seen those clouds sure impacted upon the 9 minute capture..!
Btw, the "2129" frames shown is not from this capture but we did obtain a stack of 1950 frames of good quality surprisingly.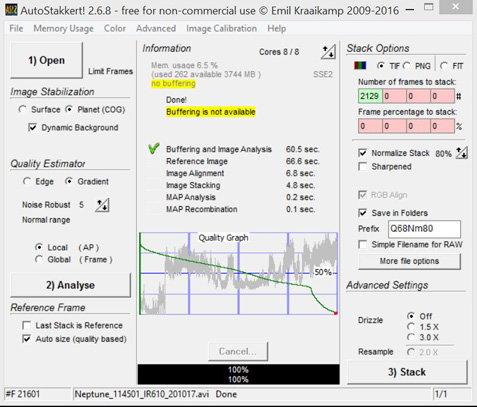 Finally the FireCapture settings we used with the C14 fwiw...