NGC 6992 Caldwell 33 (Network Nebula) Cygnus

NGC 6992 is the Eastern part of the large Veil Nebula in Cygnus, which is a faint cloud of hot ionized gas and dust extending over 3 degrees in diameter, the remnant of a supernova which exploded 5000 - 8000 years ago. The distance is estimated at 1500 LY. The nebula is one of the largest radio and X ray sources on the sky. Spectral analysis of the nebula reveals strong hydrogen, oxygen, and sulfur emissions. The nebula was first described as "branching nebulosity" by William Herschel on September 5, 1784.

When the photons captured in this image left the nebula:
-Saxons began the conquest of Britain
-Vandals sacked Rome in 455
-Western Roman Empire came to an end when Emperor Augustulus was deposed by German mercenaries
-King Arthur won a victory over the Saxons slowing their conquest in 500
-The Hagia Sophia Cathedral was completed in Constantinople in 537
-In 541, during Justinian's rule, the first recorded instance of bubonic plague occured in Europe and around the Mediterranean, resulting in the deaths of 25 million people. Depopulation caused by numerous returns of the pandemic greatly contributed to the decline and fall of the Eastern Roman Empire.

The image below was taken with the TSAPO65Q telescope, Celestron AVX mount, Orion 60mm F4 SSAG pro autoguider, full spectrum modified Canon T3i camera, and Astronomik CLS-CCD filter.

The image is a stack of 6 x 300 sec exposures, iso 1600, processed with DSS, XnView, and StarTools.

Thank you for looking. Comments welcome.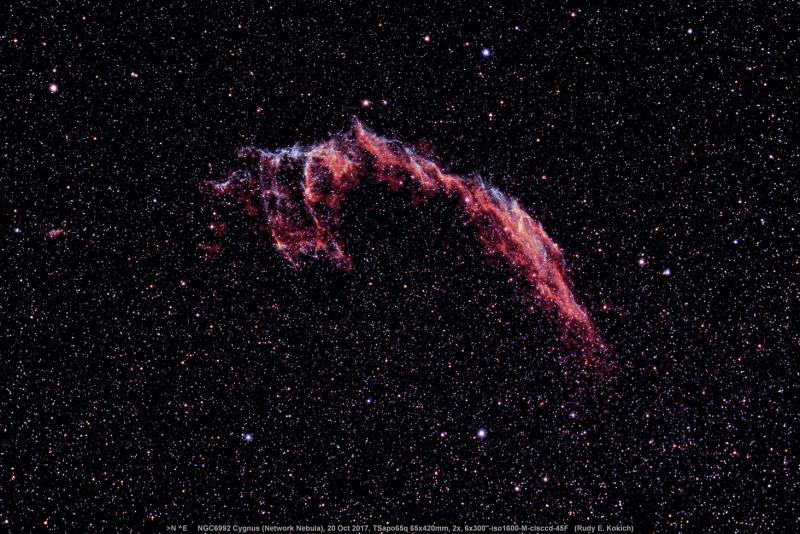 Edited by rekokich, 22 October 2017 - 05:47 PM.