I received the new mount from Valentin in Ukraine yesterday. The mount is extremely well made and a heck of a deal for $219 shipped. It suffered from a bit of customs abuse and one handle arrived with a small piece snapped off and one of the thumb bolts that hold the counterweight rod got bent. Valentin is sending the replacement parts and said that this was the first mount reported damaged in shipping. The mount is perfectly usable with the damaged parts.
There are ball bearing bushings and teflon bushings on the altitude and azimuth bearings and the rest of the joints use teflon, so there are no metal to metal joints. It comes with the swing hinge. It is shown here with the counterweight from my CG-5 mount which fits perfectly, and the Farpoint Far-Sight binocular mount which uses a convenient snap-in device mounted to the bino to join the two. I've ordered two more of the bino mounted snap-in devices from Farpoint so we can switch among binos in the blink of an eye. Also coming is an APM red dot finder to mount to the top of the bino mount to help my wife find things more easily.
Mounted is my APM 10x50 ED Apo bino and the tripod used is a Gitzo Carbon Fiber G1348 MkII that I normally use with my large format cameras.
It took about two weeks to receive the mount, but it was worth waiting for. Highly recommended! I'm looking forward to getting it out under the stars soon.
Some pics: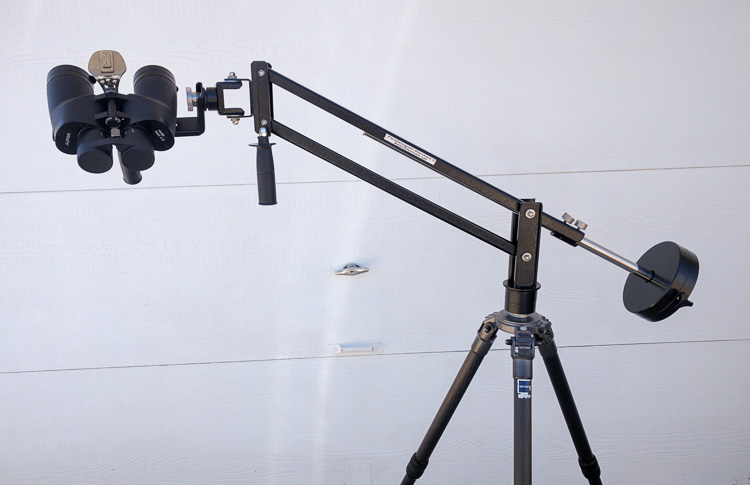 Here's the swing hinge with the ball bearing bushing visible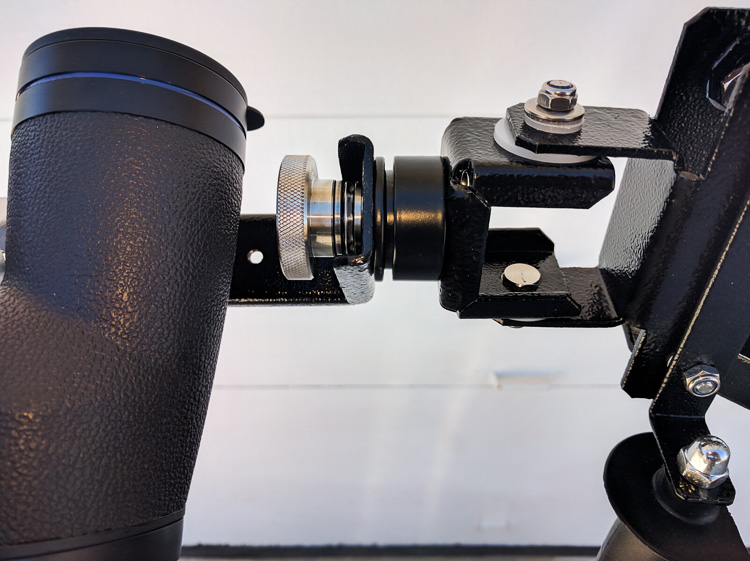 Here is a closeup of the tripod mount with the azimuth ball bearing bushing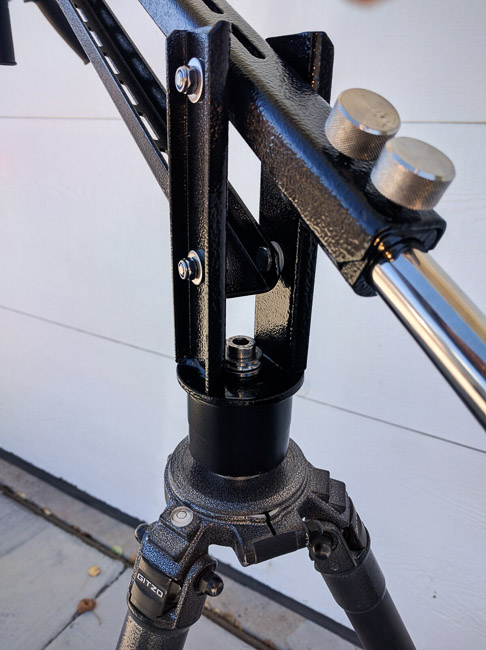 There are separate handles for moving the parallelogram portion of the mount and for moving the binos. With a hand on both, it's extremely easy to position the bino where you want it.