Hi Everyone,
Today I'm happy to announce the release of The Big Map Update, aka "the clouds are back in the PNW". Here's hoping that all of my Cloudy Night users have clearer nights than me ahead!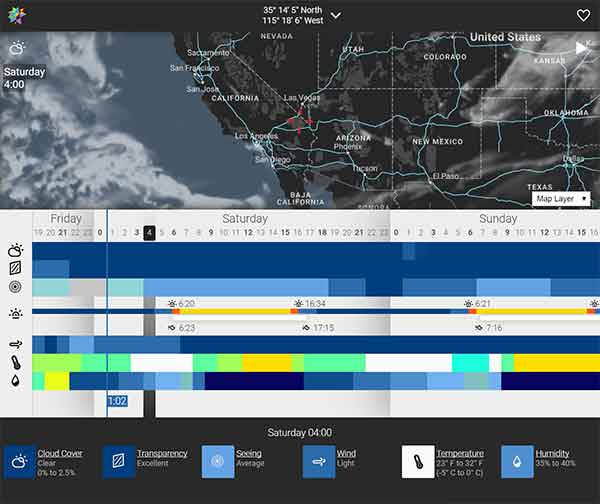 Website | Android App | iOS App
Let's start with a little background to set the stage. Since starting Astrospheric, I've focused on three major things:
Unlock the data in Allan Rahill's amazing astronomy forecasts

The Canadian Meteorological Center produces a high resolution forecast covering North America. Clear Sky Chart paved the way for building forecasts off of Allan's data, but even with thousands of locations covered it only represents a few percent of the data available.
Astrospheric is the only service that lets you dynamically generate a forecast from Allan's data anywhere within the forecast region. So if you're more than 10km away from a Clear Sky Chart location, then more relevant data awaits you on Astrospheric.

Use a modern map to display and browse the data

Hour-by-hour forecast graphics are convenient but they can't help you see the big picture. A quick glance at a map will show far more information than you could ever get from a simple point forecast.

Keep it free and make the data accessible to everyone

The data served on Astrospheric, and pretty much every weather website around, has already been paid for with our tax dollars. Although my time and server time aren't free, there are more expensive hobbies I could have taken up. Also, please keep in mind that building Astrospheric is an after-work pastime for me, so dial your expectations accordingly.
Today's update focuses on the MAP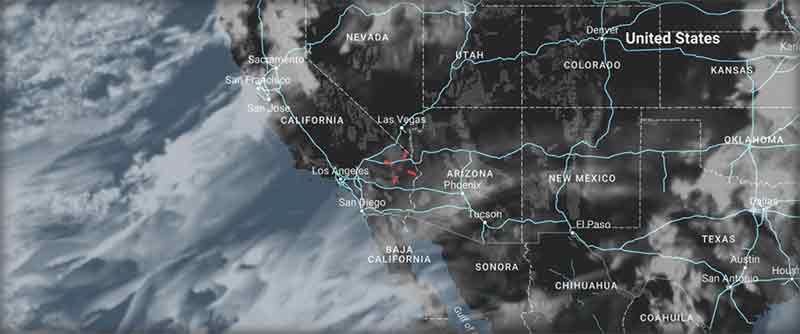 Each month the Astrospheric server streams over 100 gigabytes of map data out to thousands of devices around the US and Canada from phones to large screens at observatories. The updates today focus on improving performance, visuals, and filling the time gaps. Here are the specifics:
Astrospheric now produces hourly map imagery for Clouds and Transparency. This required significant performance improvements to the Astrospheric core engine, and will allow for more great imagery in the near future.
Cloud imagery has been upgraded with bilinear interpolation. This averages data from the nearest 4 data points to decreases visual distortion.

Special thanks to my brother Andrew, who helped with the mathematical transforms necessary to perform interpolation across the non- standard data grid in real-time.

Map controls have been updated to make browsing the map data faster and easier.

Click on any hour in the detailed forecast to update the cloud map, or hit play and watch the clouds roll by.
The full-screen map now comes with a new scrubber tool to jump to any hour. Also, a play button to animate the map imagery has been added to every map layer.

More satellite data is now available. Water vapor and Visible imagery are now joining Infrared and are being updated every 30 minutes.
Along with these map updates comes a cool new weather widget to quickly show your forecast on a map. These images dynamically update when a new forecast is ready and can be embedded on your website or even as a Cloudy Night signature. These widgets can be created for any of your favorite locations saved in Astrospheric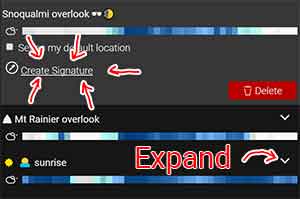 Example widget from an overlook in the Cascades


A note on bandwidth. While it's okay for Astrospheric to stream out gigabytes of data every day, most people don't want their home computer or phone to download that much. This update makes special considerations for this. By using the forecast or map scrubber, you can load only specific layers. Be warned, the "play" button will download all the images for whatever layer you're viewing to ensure a smooth animation.
Finally, here is the upcoming roadmap which a few folks have asked me for.
Forecast visual updates. The current forecast was designed for familiarity, but there are better ways to view temperature, wind, and humidity that can be more universally understood. Also, humidity will be switched out for dew point temperature in the near future.
An experimental transparency forecast that merges aerosol optical depth. This upgrade will create a transparency forecast that takes more than water vapor into account as is the case today.
Experimental seeing forecast which will produce hourly seeing data instead of once every 3 hours which is the case today.
Notifications! This is basically the top piece of feedback coming in and I hear everyone loud and clear. Notifications require pre-computing and interpreting forecast data, which costs server resources (aka money), so I'm working on ways to make this as efficient as possible. There is a chance this will be an annoying in-app purchase to cover the server time.
More frequent forecast updates. Once the experimental transparency and seeing forecasts are proven out, Astrospheric will begin updating 4 times a day instead of just twice.
Thanks again for using Astrospheric and providing valuable feedback. Together we're building the most advanced astronomy weather service available with lots of great updates still to come.
Clear Skies,
Dan