The standard cable supplied with a Starsense camera is many yards too long. OK, you can roll it up and tape it. You might also try wrapping it round a pencil to create a coil and heating it with a hair-dryer (not easy!!!!!). But there is a neater solution. See image below;
To achieve this you need a COILED RJ12 6p6c straight through wired cable, but these do tend to be produced only in 10 yard versions, so an on-line search via an independent cable supplier is often fruitless (or expensive to make one). The irony is that any Celestron retailer can supply one that is dedicated to Celestron mounts, but many possibly don't realise this as it isn't listed by Celestron as a Starsense part; and only as a replacement part for an AVX mount!
My retailer got me one previously, but I need a second (as I have two Starsense). This time I enquired deeper? Apparently it is the short coiled cable that fits between the Right Axis/DEC and the motor on an AVX mount. I think it is Celestron replacement part number 8000706 and costs £14 + p & p in the UK.
Whilst on the subject of cable tidy up; note in the image how I affix Starsense camera cable to AUX1 of my Evolution; HC cable to AUX2 then affix HC cradle to the upright mount arm (note this only works with the 8" Evolution as the HC cradle clip for a 9.25" is too big). Now all cables are above the point of rotation, hence no chance of cord wrap (n.b. the Evolution also has an internal LI-x battery).
Since taking this photograph, I now put a cable splitter into AUX2, so I can simultaneously affix the Nexstar + HC and a SkyPortal external WiFI accessory to that (e.g. all above the point of rotation). Now I can disable the unreliable Evolution internal WiFI; connect and align via Starsense Auto-Align using WiFI/APPTablet via the Skyportal module whilst on a wedge (preset to your latitude first). But only if using Skyportal APP (the SkySafari APP for Android has yet to be updated with the 'bug' fix).
OK, this particular Starsense Auto-align by WiFi wedge solution isn't quite as prefect as a Starsense ASPA (that bug fix is still in beta testing) as it tracks in both DEC and RA (but no DEC if your latitude setting is accurate); or perhaps not as perfect an ASPA by doing an EQNorth/Polar align by HC alone. But if your tube was set at its index marks and aimed south (in N Hemisphere) a Starsense Auto-Align on wedge now offers a decent polar align and tracks and works well. To be frank, I have not noticed any deficiency compared to the much more tedious Nexstar + HC route (but then my photo-exposures are not to long). I think it is particularly suitable for owners of an Nexstar SE4 or SE5 that are inevitably limited by the crude built in wedge. But when the full Starsense on wedge ASPA fix is released into the public domain; polar alignment by Starsense on a wedge via WiFi is going to be so simple (if it isn't already by a mere auto-align). But note this might only work with the SkyPortal APP. I am pretty sure it has not yet been fixed in SkySafari for Android (but SkySafari for IOS might be OK).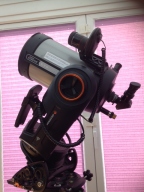 Edited by Noah4x4, 23 November 2017 - 05:13 AM.