Current setup:
Sky-Watcher Star Adventurer
Nikon D500 (Stock)
Nikon 70-200mm f2.8 II
Orion 50mm Guiding Scope
Orion Starshoot Autoguider
Manfrotto Aluminum Tripod (with 20-lbs dumbbell added weight)
Dec bracket and the counter weight kit are deployed. I use 2 ball heads, one for the D500+70-200/2.8 on the rotate-able geared head side, the other ball head installed on the counter weight bar side for the guiding scope. Overall, I don't think this setup exceeds the payload limitation of the Star Adventurer.
For polar alignment, pretty sure I got it very well before the shooting starts. Tested the tracking without guiding with focal length at 200mm, 30-second shot looks pretty good (frame center, stars look round and solid). But for 45-second or 60-second shots, the star trails are very obvious. With PHD2 guiding, the guiding chart looks pretty smooth if I don't touch the setup. But when taking test shots, I still can only get solid stars at 30-seconds - 45-second and 60-second have obvious trails.
After tracking for an hour or so, I went back to check the polar scope - Polaris didn't wander off its path on the circle in the polar scope. So I would assume the PA is still good.
From the PHD2 guiding chart (RA-only), I don't see the guiding adjustment getting worse. It looks pretty smooth. Next time I will capture a guiding chart to post here.
I don't have any ideas about how to improve this other than more carefully checking the tripod level.
Another thing bothered me is that - with guided tracking, isn't it should be much better? I am thinking I should be able to take 120-second sub-shot without guiding and 300-second sub-shot with guiding at 200mm (or 280mm with TC1.4). Am I expecting too much?
My goal is to use my existing photo gears - without using telescopes and big tracking mounts, to see where the limits are.
At last, not many Nikon D500 samples on CN forum, here are a few of mine shot 2017/10 and 2017/11 at Fort Griffin Historical Site (Class-2 dark site).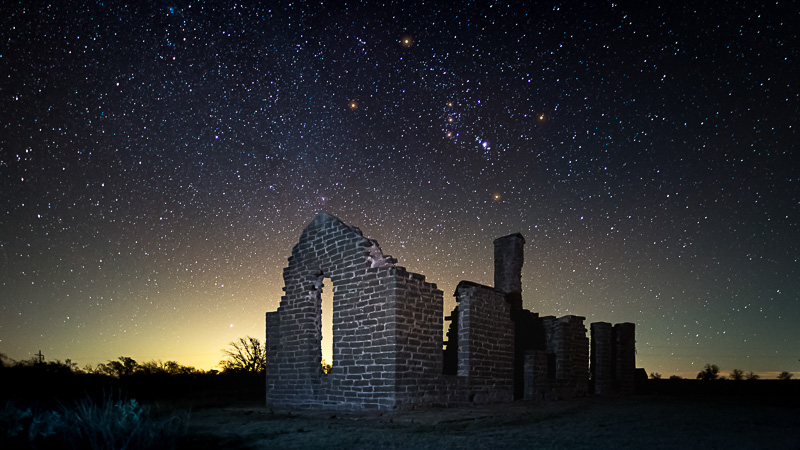 "Orion Rises Above Fort Griffin"
M31, 30s/200mm/f2.8/iso3200/64-light/25-dark/25-bias
Edited by mxcoppell, 28 November 2017 - 01:26 AM.