Classical Be stars are fast rotating stars that have a disk of circumstellar material that is irradiated by the star, resulting in emission lines that can be seen spectroscopically.
Often the brightest emission line (H-alpha) is asymmetric. The shorter wavelength side is called violet and the longer wavelength side is called red, the ratio is V/R and is variable. This has been explained by both binary companions and also by a spiral arm distribution of material in the disk.
A recent article by Miroshnichenko suggests that at least half of all Be stars might be binary systems.
Sometimes the period of the V/R variations and the binary companion are the same (phase locked) and sometimes, like in the case of Zeta Tauri, the two are different.
When Classical Be stars are observed edge-on (high inclination angle) material in the disk along the line-of-sight absorbs light emitted by the disk (and star) and causes a deep absorption line. In high-resolution spectroscopy, this is a typical example of Zeta Tauri (taken from the BeSS database taken by Guarro Fló on 12/18/2017)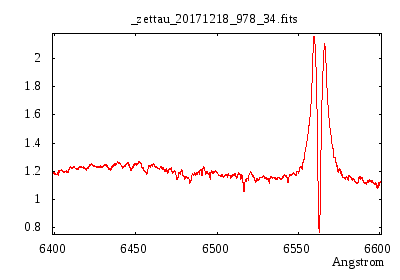 Often such detail is not visible with low resolution spectroscopy, like that obtained with my ALPY 600, but two recent articles by Panaglou et al 2016 and Panaglou et al 2017, if I understand them correctly, suggest to me that some binary Be stars might offer some opportunities. Briefly, the companion eats away at the outermost portion of the disk (they call it truncation) and this is where the slowest, sharpest, highest peak of H-alpha is formed. When combined with the absorption of the shell geometry, the deep absorption splits the H-alpha peak enough that the two peaks can become visible with the ALPY (although not like in high resolution spectroscopy where the absorption goes below the continuum).
Here's my spectrum of Zeta Tauri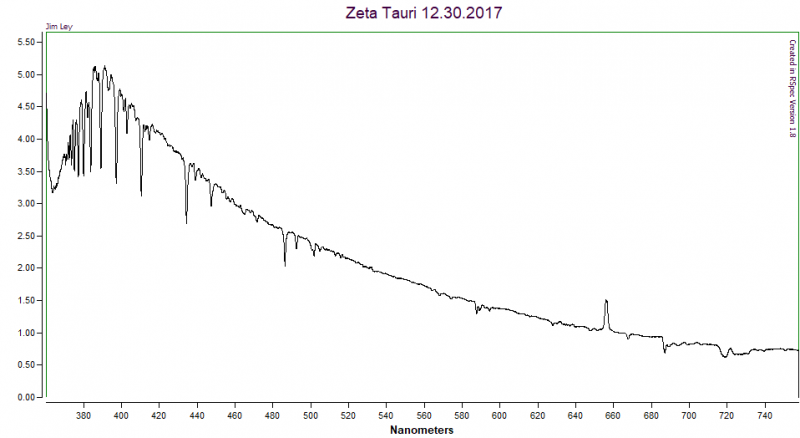 and here's a zoom in on the H-alpha region, clearly showing the split peak.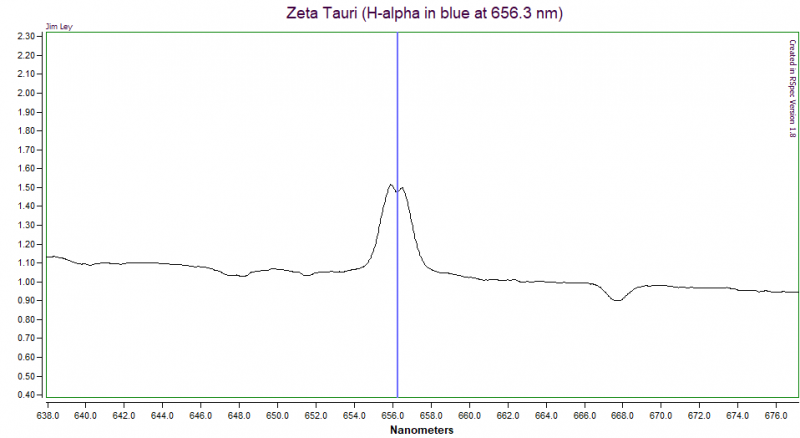 Finally, here's a comparison between just averaging 16 sequential spectra (in black) vs averaging 19 spectra that I selected because they had especially clear double-peaked structure. I noticed that the degree of double-peak structure wasn't constant, but varied. This could be because of my mount/guiding or because of seeing. I'm not sure, but the selection did produce a slightly deeper trough and a slightly higher R peak.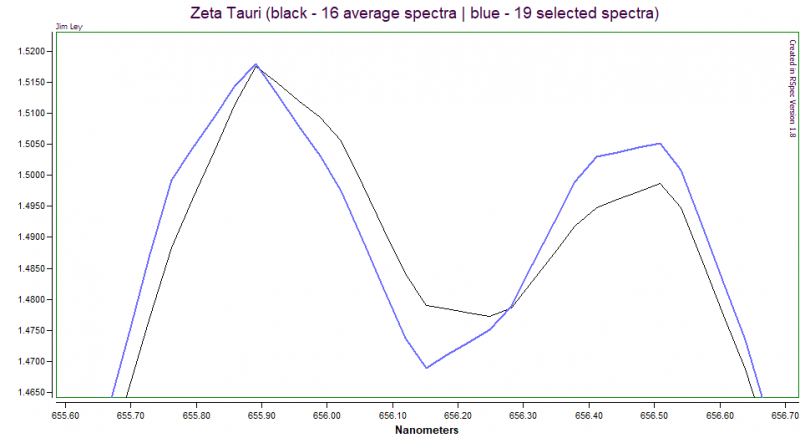 I think this adds another exciting aspect to observing Be stars with low resolution spectroscopy: looking for flat or double peaked H-alpha peaks. While this feature, and the binary nature of the system, won't be confirmed by low resolution spectroscopy, I think the ALPY 600 can give results consistent with the spectrum with high resolution spectroscopy and can suggest that further inspection of the system is warranted.
Thanks for reading.
Edited by Organic Astrochemist, 02 January 2018 - 03:32 PM.