Hi everybody!
The crab nebula is a remnant of supernova that exploded in the year 1054.
It is located in the constellation Taurus next to Zeta Tauri.
Its surface magnitude is 11, with a large size 6'x4 'but it would pass almost unnoticed to the eyepiece, it takes a total absence of the moon to see its shape.
With my camera asi224mc and my 300mm (F4) without filter, it is seen correctly on my screen, finally the cloud, with poses from 1s to 450 (gain).
I realized on 3 nights catches of 4h.I kept that 6H, I wanted a good resolution but I was quite disappointed by the quality of the definition because the nights of the month of December are rather troubled.
I used Siril for the complete stacking of this photo, ie the stacking of each session and the addition of the 3 sessions.
Autosatkkert did not hang, DSS is still milling and Maximdl (he planted after 24 hours)
It's a great tool for the short exposure, with a very easy grip, it's just another habit to take.
Clic for Full:
Now I have done an animation, using 4 photos, Alberic de Bonnevie, Robert Cazilhac and myself.
-December 2016 and March 2017 by Albéric
-September 2017 by Robert
-and December 2017 by myself.
I mixed our four catches.
It was necessary that I pass in NB for mine, and that I increase the contrast of the total for a better legibility, to better see ...... displacements of the environment of the pulsar in its center:
a broader vision, Clic for FULL: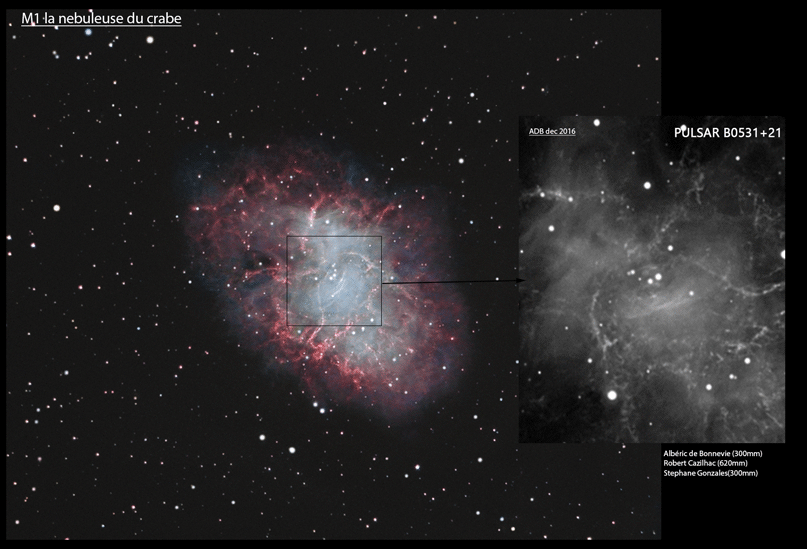 good sense of visualization: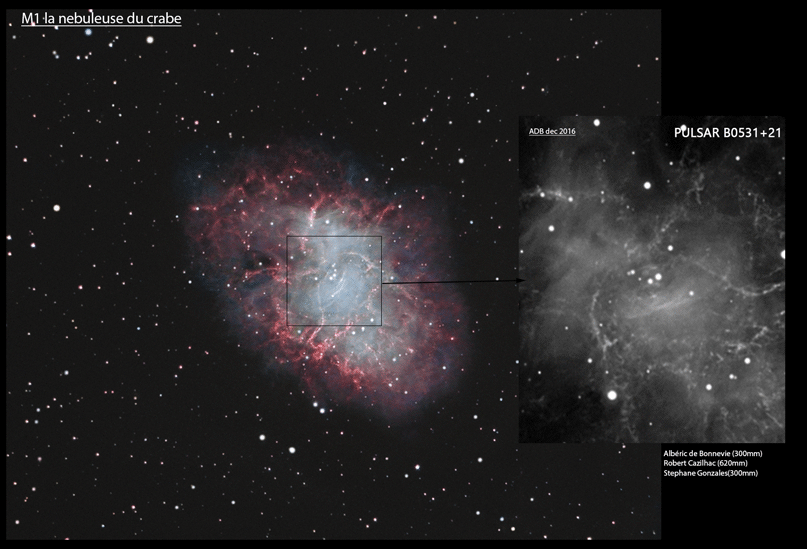 Stephane
Edited by exaxe, 05 January 2018 - 07:26 AM.