I'll be using a Celestron 9.25" SCT on an AVX mount. That was a new purchase in October, upgrading over my NexStar 6SE, so I've been using Uranus as practice, as it's the only planet in the sky these evenings. From San Francisco, my latitude situation is going to be better than many of us, but far from great.
This morning, I had the first non-horrible use of it on Mars, to get the following picture. I could clearly see Utopia Planitia as a dark curve slicing across the upper left, and, to my excessive excitement, a hint of the white cloud over Olympus Mons on the eastern limb. I forgot until I saw this that Mars is gibbous rather than full when you observe this far before/after opposition. Seeing was rapidly worsening, and I had to squeeze this in between the quadruple threats of low altitude, clouds, bad seeing, and sunrise.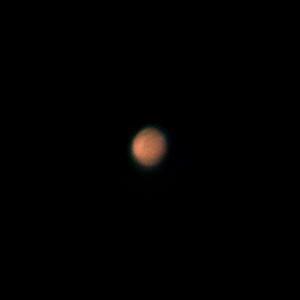 I also captured some detail on Ganymede this morning, though my Jupiter picture was fair at best.
At closest approach, Mars will be about 4.5x closer than it was this morning, which is exactly half a year before CA, so we've got one year(!) with Mars at this distance or closer.
Edited by rehling, 27 January 2018 - 04:36 PM.