The skies in the Outback were clear for the first time in weeks last night, so I went out to shoot the sky. I used my EQ2 mount, which is lightweight but has no polar alignment features. But alignment is pretty quick with a 50mm lens. Through a 50mm lens, the width of an APS-C sensor subtends a 25˚ angle—so you can reference Stellarium with a 25˚ FOV aimed at the southern celestial pole (SCP). The handiest reference from there is the 4-star asterism used in southern polar alignment scopes, from which you can find BQ Octantis, a magnitude 6.2 star less than 15 arcminutes from the SCP.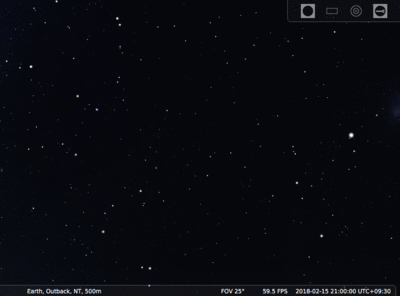 By spinning my setup through an unlocked right ascension axis with the aperture open (5 seconds at ISO 12800), I can see where the RA axis is pointing. I then just use BQ Oct align to the SCP:
For higher zooms, the handiest reference is an asterism of an obtuse isosceles triangle formed by BQ Oct, HIP 48752, and the SCP at the apex. There is a pair of unnamed stars fairly close to the SCP for reference.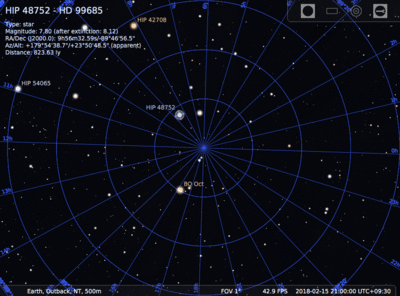 Here's a spin through a 200mm lens with the alignment about as close as I could get (the azimuth adjustment on the EQ2 is horribly coarse). Note the considerable offset between the center of the sensor and the RA axis.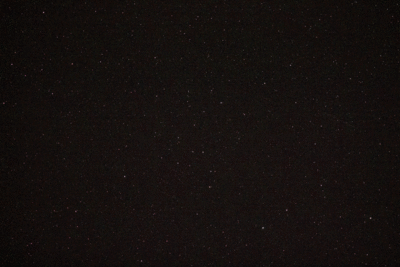 This gave me 90 seconds of streak-free subs close to the pole, allowing me to use full sensor resolution; the ecliptic was less forgiving, and I could only use a scaled full-frame image.
Full crop of the Tarantula Nebula region of the LMC: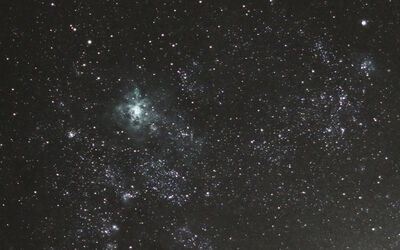 Full sensor scale of the nebula region of Orion: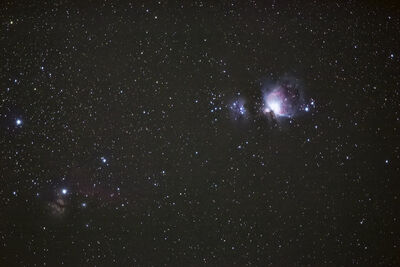 Cheers.
BQ