I haven't been doing a lot with my new-ish 20" F/4 equatorially mounted Newtonian in the past few months, mostly thanks to the horrible weather we've been having (December 2017 & January 2018 have been the cloudiest months in recorded weather history in Belgium and november wasn't too brilliant either) but tonight, between cloudy spells I managed to get some pictures I'd been meaning to get now that Ceres is in opposition and an enormous 0.79" in diameter.
The attached image is a combination of two shots, one of Castor, the lovely double star in Gemini and one of Ceres (with a faint background star nearby) - I processed them in the same way (Lucy Richardson deconvolution, same settings) so the results would be somewhat comparable - I was going to look for a star closer in brightness to Ceres, but the clouds decided otherwise. Still, Ceres's visible disc was obvious even when recording - it looked very similar to the way you can see Jupiter's moons while recording with a smaller scope - the difference with a star is quite obvious.
The imaging scale was 0.11"/pixel but in the stacking I did a 3x resample which was downsampled 50% in post-processing - resulting in an image scale of 0.075"/pixel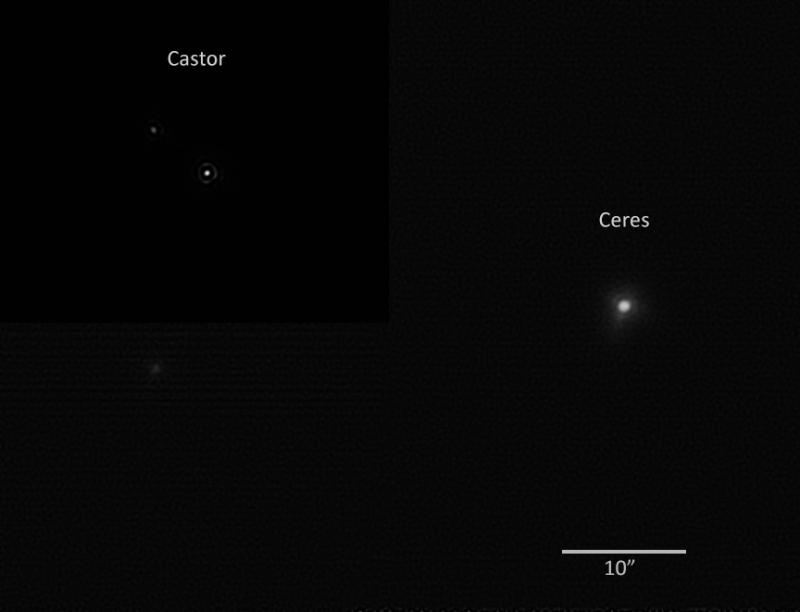 Edited by Bart Declercq, 29 January 2018 - 06:47 PM.