There are a lot of different posts regarding this issue but rather than hijacking someone else' topic, here's a new one.
So now when I've figured out (fingers crossed) why my stars were sick, I would like to understand what's going on with my background. What are the areas I have marked on my image and why aren't they dark as the sky (I believe) should be? Are they gradients? If yes, from where are they coming from? Light pollution? I image from an orange zone (20.3 SQM according to the iPhone app) with narrowband filters and most of my backgrounds look like this. My mean ADU's have typically been low 400's and up to 600. The part which I don't understand is that when I look at the AstroBin I see great photos taken from more severely light polluted zones with less integration time, yet without a hint of background what my images show. So what takes? Is it all in post processing? Or are my calibration frames not doing their job? Are the ZWO filters affecting to this? Not enough separation from the left side of the histogram? What am I missing here?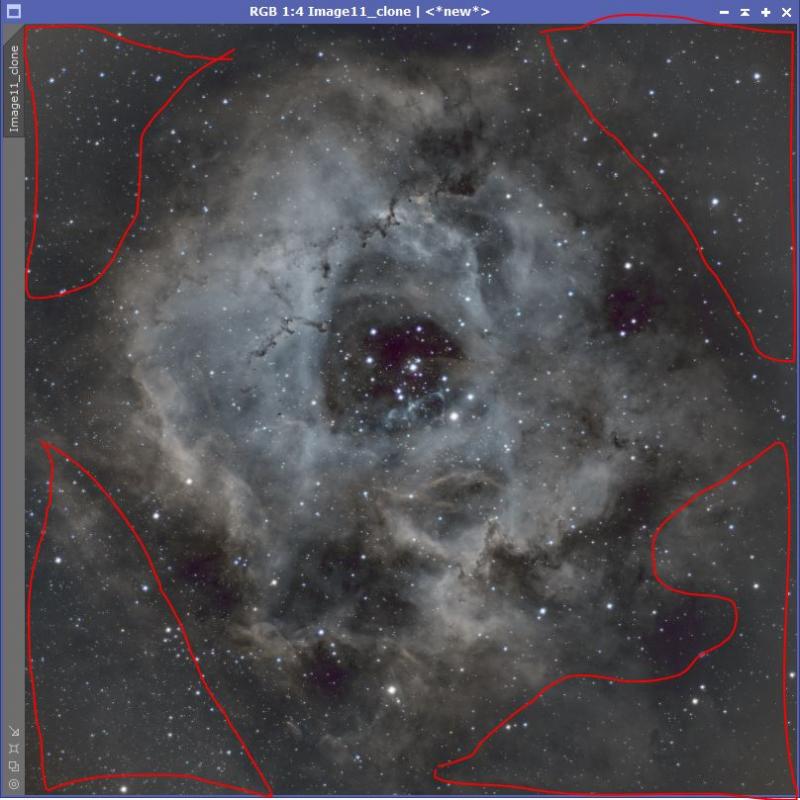 Disclaimer; So far I have only used the PI's preprocessing script to process my images. And I'm still using the bias calibration frames instead of the flat darks. This just in case these facts make a difference.
Thanks,
- Sal