This is the Great Orion Nebula in Narrowband Hubble Pallet. This is a two panel mosaic of M42 in Narrowband. This was the last image I took with my ZWO filters prior to moving to Astrodons. I actually have a third panel, but my computer would not process the image and would crash Pixinsight when doing the MosaicMerge. I will try to add the third panel at some point. I used HDR with both 10s and 240s frames on each filter to try and capture as much detail as I could. This was 6.2 hours per panel. The image used 2X drizzle so that even with just two panels the image is 104 Mpixels. This was done in SHO with a super luminance. I also use the new localnormalization on Pixinsight.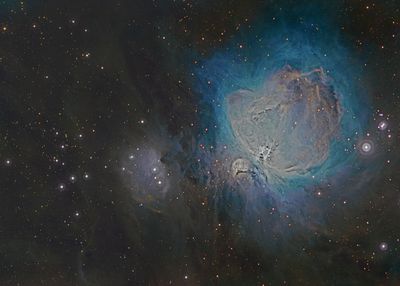 The full image can be found on astrobin:
The ZWO filters actually performed well at this point. I had done most of the needed hardware fixes to eliminate the major reflections and light leakage with the ZWO filter. However, you can see that the star halos are severe with the ZWO filters. Reduction of the bright star halos is one of the qualities that sets my Astrodon filters clearly apart from the ZWOs.
Imaging telescope or lens: Orion EON 115mm ED APO Triplet Refractor
Imaging camera: ZWO ASI1600MM-Cool
Mount: ORION HDX-110 EG-G
Guiding telescope or lens: Orion 70 mm Multi-Use Finderscope
Guiding camera: ZWO ASI290mm Mini
Software: PHD Labs PHD 2 Guiding, Carte Du Ciel 3.10, Sequence generator pro
Filters: ZWO 36mm SII, ZWO 36mm OIII, zwo 36mm h-alpha
Resolution: 12163x8671
Dates: Dec. 21, 2017, Dec. 22, 2017, Dec. 23, 2017, Dec. 27, 2017, Dec. 28, 2017
Frames:
ZWO 36mm OIII: 30x10" (gain: 200.00) -20C bin 1x1
ZWO 36mm OIII: 30x240" (gain: 200.00) -20C bin 1x1
ZWO 36mm SII: 30x10" (gain: 200.00) -20C bin 1x1
ZWO 36mm SII: 30x240" (gain: 200.00) -20C bin 1x1
ZWO 36mm h-alpha: 30x10" (gain: 200.00) -20C bin 1x1
ZWO36mm h-alpha: 30x240" (gain: 200.00) -20C bin 1x1
Integration: 6.2 hours per panel
Darks: 50
Flats: 40
Flat darks: 40
Avg. Moon age: 5.87 days
Avg. Moon phase: 36.22%
Bortle Dark-Sky Scale: 5.00