Periodically checking back with the forums on the long-awaited (and oft-doubted) final focal length in Baader's dream-binoviewer-ocular series, the enigmatic 17.5mm Morpheus, the chatter has waxed & waned as announcement after announcement of their imminent arrival rolled off onto the shoulder of time's highway, non-operative. Even so, recently the chatter's enthusiasm had once again peaked- but this time there were eye-witness accounts (Europe?). There did indeed seem to be a Baader 17.5mm Morpheus or two on the loose, fulfilling dreams… somewhere.
Having been on Eyepiece Etc.'s Morpheus 17.5 "waiting list" since the War Between the States, more than one email arriving to verify that I did indeed intend to remain on "the list", suddenly an email of a different tone landed- the new Baader ocular was in fact shipping to retailers, and expected the following week! Time had slipped by in greater proportion than I'd realized… it had been about THREE YEARS since I joined that list! Certainly the longest I'd ever waited for ANY piece of gear. Would the wait be worth it? Did I still even want the eyepiece (two, actually- a BVer set!). Sure… why not, after all this time… may as well see what's up!
Quick back-story: having been equipped from the factory with astigmatic eyeballs, I've been an eyeglass wearer all of my adult life. Those who calculate such contrivances would determine that, with my 2.x astig, I'd need correction down to around 1mm exit-pupil, or a shade less, before my eyes could focus stars to points without assistance. Hardly deepsky territory, and using a Dob with 381mm's aperture, 1mm ExP is frequently just too much horsie for the atmo I'm gazing thru! So for the past decade or so I've been engaged in an ongoing & consistently maddening search for those longish FL oculars in the high teens or low 20's, 1-1/4" std. format, and having at least 17mm of eye-relief & hopefully upwards of 80 degrees of AFoV. The trail has always gone dead in at least one of those parameters… and generally more than just one.
Nagler's 16mm uwa was always a temptation, but it's 10mm of ER was a total non-starter for me, and even for many bare-eyed observers! Speers Waler had a 17.2mm 80° EP, but somewhat short on ER in that FL. Kokusai Kohki had a 'Widescan' 20mm with 84°, but also short on ER, and less-good of correction for fast optics, too. On and on it went. Finally, after buying & selling nearly every potentially compliant option offered in both the new & "used" markets, the ideal compromise materialized as Vixen's LVWs, 65° AFoV & 20mm ER. And thus it was for many years that pairs of 17mm & 22mm LVWs dwelt contentedly in my BVer kit.
Yet in time the Ethos revolution seriously dented my compromised enthusiasm for 65° fields. And while it's true that the bino view's power to awe the viewer resides not so much in the apparent w-i-d-e-n-e-s-s of the view-circle, and most folks' eyes/brain assemblage can't really "take in" 100° while paired, it's also true that 65° of field really ain't quite "there" for many widefield junkies in today's binoviewing realm!
Pentax's 20mm XW with its 70° AFoV would've been a nice kick in the right direction, and many have taken that road… but my beloved 22mm LVWs were a sufficient inoculation for me to not succumb to that burn. But an EP having yet another 5° bump in AFoV, plus scads of ER… the astro world was really & seriously ready for this! Aging eyeballs & boomers with cash may explain some of the phenomenon, as well. Such might handily account for TeleVue's subsequent "Delos" line of Eps, sporting notably more ER than their Ethos predecessors, and certainly more than practically ANY of their EP lines below 30mm FL & not designated as "T4". Yet with the Delos line, as most folks have discovered, they are really Pentax XW contenders, even working hand-in-hand with several of the XW's FL spacing. Yes, excellent Eps in any & every sense, including ample ER & a marvelous design for adjusting it to personal fit!
But 72° AFoV is still 4° shy of the Morpheus line's pinnacle of development. And when the first FLs of the Morpheus did arrive, they created no small stir, and a very enthusiastic following developed therewith! But… they topped out at 14mm… so far… and would that paltry 4° of AFoV beyond the Delos really make a perceptible & meaningful difference in the 17.5mm iteration? Would that additional AFoV even be "usable" field, or would it be aberrated beyond useful function? Baader's earlier attempts in that FL would seem to indicate "no," or at least "not yet". So questions persisted, as did the doubts… my own included.
So I persevered with my LVWs, and my Ethoi in "cyclops mode, and simply continued waiting…. waiting….
Finally growing weary of the wait, I jumped in- nabbed a couple of Delos 17.3mm's from folks in the CNC. Yes! These turned out to be excellent replacements for the 17mm LVWs in every way, yet still fell shy of the 22mm LVWs for total field- but at the 17mm spot in the Denks+PxS they yielded 146x, 205x, and 247x magnifications- a near perfect operating range for the Dob! And that 72° was a VERY impressive & notably upward bump from the LVW's 65° AFoV, netting just shy of ½° at the low-x end. And so it has been for about a year, while Baader continued to work on their mythical 17.5mm dream, that the 17.3mm Delos functioned as my go-to BVer pair.
Fast-forward to a couple of weeks ago, when that fateful email arrived; the 17.5mm Morpheus pair would soon be arriving on my doorstep. And arrive they did! So, how do they stack up, compared to the TeleVue Delos 17.3's?
Read on…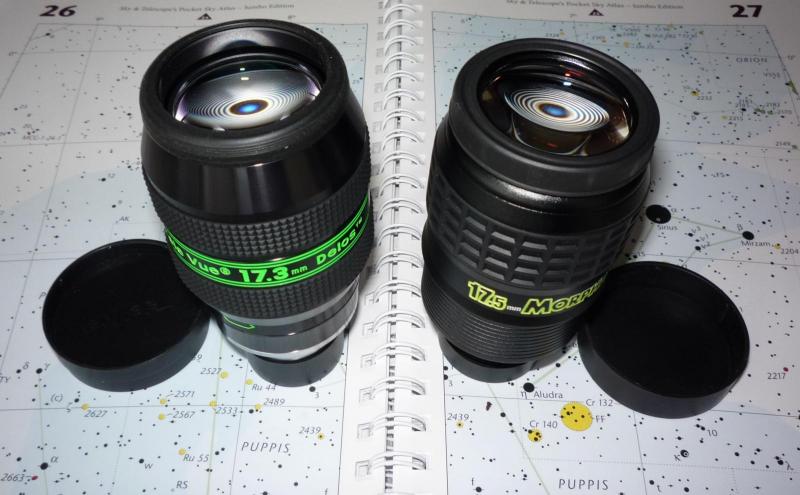 Edited by Mike B, 25 February 2018 - 06:27 PM.