Despite the clear dry skies, I couldn't see the dwarf galaxy Leo I in my 10.5 inch F2.7, at least not at first. It wasn't glare from almost superimposed Regulus in the eyepiece – the region around Regulus actually looked dark. The glare in my eye came and went with slightly different twists of my head. I saw a glow at the northern edge of the 2.5 degree field that spiraled to the east, ending on the southern side of Regulus. So far from the Milky Way plane, this glow could be IFN – Integrated Flux Nebulae. After a few minutes of time, I saw a faint glare to the north of Regulus that gradually resolved to a very faint ball of light that I checked later exactly matched the location of Leo I. I purposefully kept my view to lowest magnification of 40x to refine my correlations of object size and brightness with detectability. My previous observations of Leo I had centered on the dwarf galaxy at higher powers and narrower fields, missing any chance to see the IFN. I've gotten to the point, after so many years of observing faint bright and dark objects, that pretty much any direction I aim my richest field telescopes, I see variation in the sky background. Often very faint, the glow can be difficult to tease into shape and borders. If I ever go back in time, I am certain that my younger self will think I am trolling with all this talk of incredibly wide views and IFN sketches.
The IFN spike that I found between Castor and Pollux though is fairly bright and defined - a good target for followup observations and imaging. The spike transitions into a large ill-defined area that curves east of Pollux. This spike reminds me of Baron R. de Terwangne's observations that led him to conclude that many of the IFN streams are perpendicular to the Milky Way.
Scanning further east towards Cancer, I discovered a nifty area, parallel to and not perpendicular to the Milky Way further to the east, partway between Pollux and the beautiful double double Iota Cancri, on the east side of a triangle of stars. A dark area sits adjacent to a spike of nebulosity that should prove an interesting target for further observations and imaging.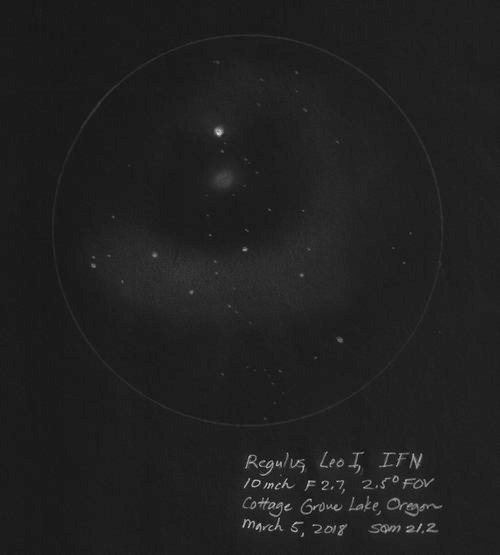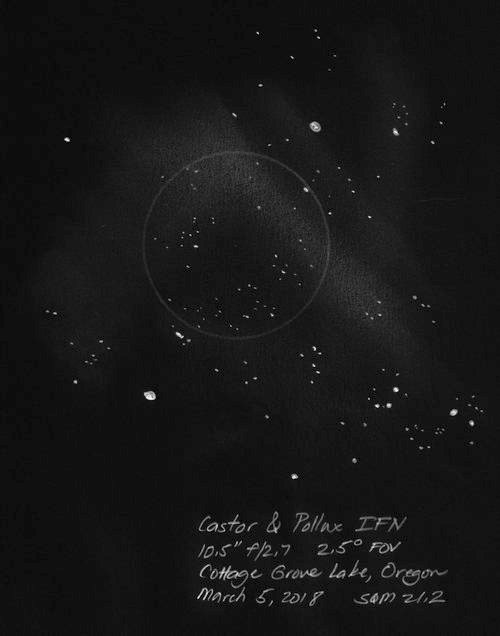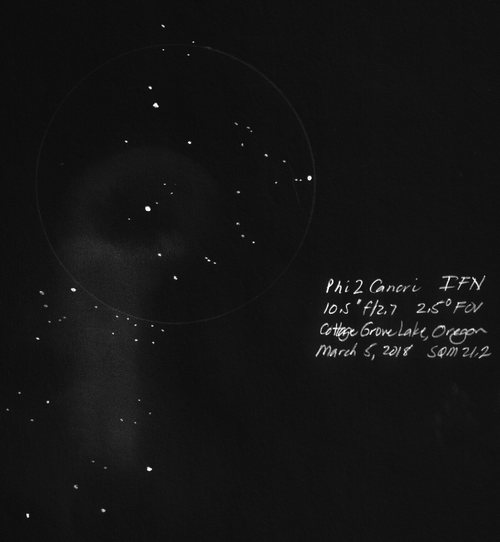 Mel Bartels