I'm building my second truss dob and considering object locating systems. I've used unit-magnification finders (split pupil) on my other homemade scopes, but I'm quite interested in a poor man's push-to system. I use SkySafari at the eyepiece for alt-az coordinates. I can make setting circles for the dob base, but I can't figure out how to reliably mount an angle gauge on my truss dob.
For visual reference here's what the OTA looks like on the way outside last night to lean up against a lawn chair for "zeroth light"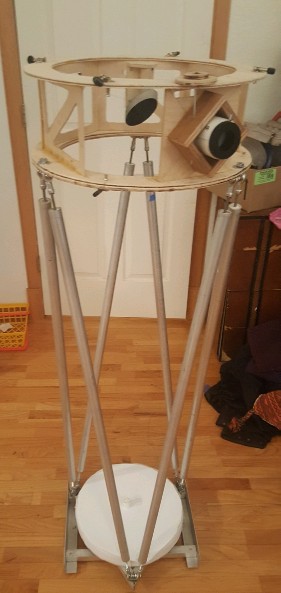 I envy the tube dob owners because they can just put a magnetic Wixey gauge on the top of the tube and I assume that it reads by default the angle between the (normal to the) device's base and the vertical, so as long as it's right on top of the tube they're off and running. (These are assumptions, I've never even seen a digital inclinometer.)
But on a truss dob that doesn't have a surface psrallel to the altitude axis like the very top of a tube dob, how do you use an angle gauge? How do you mount it so that the reference surface is parallel to the altitude axis? Once you do that, do you carry a spirit level and tip the scope to straight up, then zero (ninety?) the gauge?
I bought some accelerometer chips with the intention of making my own little Arduino inclinometer, but I can't figure out how to use it with this telescope design (which I otherwise love).
I fear that I am missing something obvious and making this more complicated than it needs to be but I haven't figured it out yet, so it's time to reveal my ignorance on the Internet and beg for mercy.
Has anyone else run into the issue that I'm describing? Has anyone figured out a solution?
Thanks in advance for any help you can offer.
-Neil