This is a very compressed GIF animation of asteroid 2018 EP1 which was discovered on Mar 7th. It showed up on the NEO confirmation list as ZE9B7BD which is a randomized designator. I observed it on the night of the 10th/11th at about 20th magnitude, with an object motion of 1.6 arc sec per minute.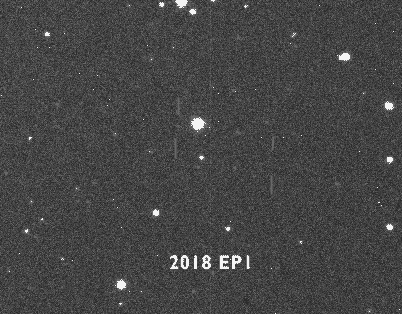 It was assigned the provisional number 2018 EP1 a couple days ago.
These images were taken with my Meade 16" f/10 ACF and an older SBIG STF-11000M CCD camera, 180 second exposures. The animation covers about ten images spanning about an hour. The total object motion is about 1.5 arc minutes. The animation is very heavily compressed to fit in the 500KB limit. There are two hash marks showing the start and end point of the asteroid.
Edited by 555aaa, 14 March 2018 - 09:28 AM.