I maintain Xasteria, an iOS client of the 7Timer! astro weather service. While no weather service is close to perfect in forecasts (7Timer!'s own scientists estimate accuracy of their service to 50-85% IIRC - which is considered good), cross-checking a few seems to give a reasonable chance of "getting it right", hence I implemented the service that was missing from iOS at the time. While I prefer 7Timer!'s visualization and features over other services, the main disadvantage has been reliability of the service. This is due to it being both non-commercial and also hosted at an institution that, while gracious in resources, is subject to some unusual bureaucratic rules that have led to downtime.
Hopefully, these reliability issues will be a thing of the past, I offered a dedicated NY-based server to 7Timer!'s original developer and he took the time to set up a mirror of the service. We are evaluating performance in order to switch the main domain to it (or at least have it as a fail-over), but at least Xasteria users are already using it as the main data source.
So, Xasteria 1.12 released today looks up the new mirror first, otherwise not much has changed in the new version, except the links to NOAA's GOES-16 satellite imagery (replacing the retired GOES-13).
PS: I don't really have an active beta-testing community for Xasteria like I do for Polar Scope Align, so if you notice some bug slipping through, do contact me about it - TIA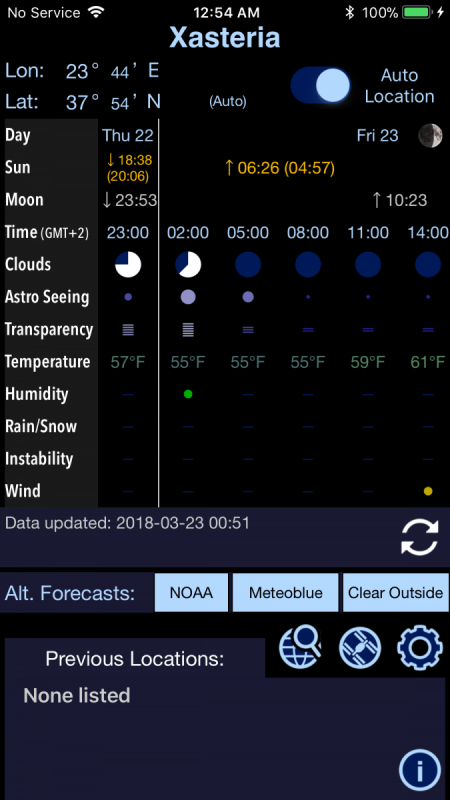 Edited by ecuador, 22 March 2018 - 06:12 PM.