From 16 – 19 March a friend and I visited the beautiful island of La Palma (Spain), located at a latitude of 28°N and 250 miles out of the west coast of Africa. During three nights I had the opportunity to enjoy the fantastic sky conditions here with a typical Bortle 1/2 brightness and SQM readings of 21.7 mag/arcsec2 next to the house and 21.8 mag/arcsec2 on top of the highest mountain of the small island; the Roque de los Muchachos (2426 mtrs). It is here where many observatories are installed to benefit from the near perfect seeing conditions and a clean sky that is cloudless on most nights.
On March 17th I did my third Messier Marathon on this mountain. In 2016 (March 9th) I missed only M30 in the morning from the same location and in 2017 (March 25th) I quit my attempt after not being able to see M74. This year the new moon was closer to the perfect date so I wanted to give it another shot.
Unfortunately, I could not start from the pre-chosen location, because there was some debris on the road from fallen rocks that needed to be cleaned first, so I had to drive back downhill for a couple of minutes to find a new spot with at least some view of the western to southern horizon (between trees). Because of this I had to shift my position for a dozen times in the first half of the Marathon, but that was ok because I was observing with portable 10 inch truss-dobson which only weighs 10 kgs.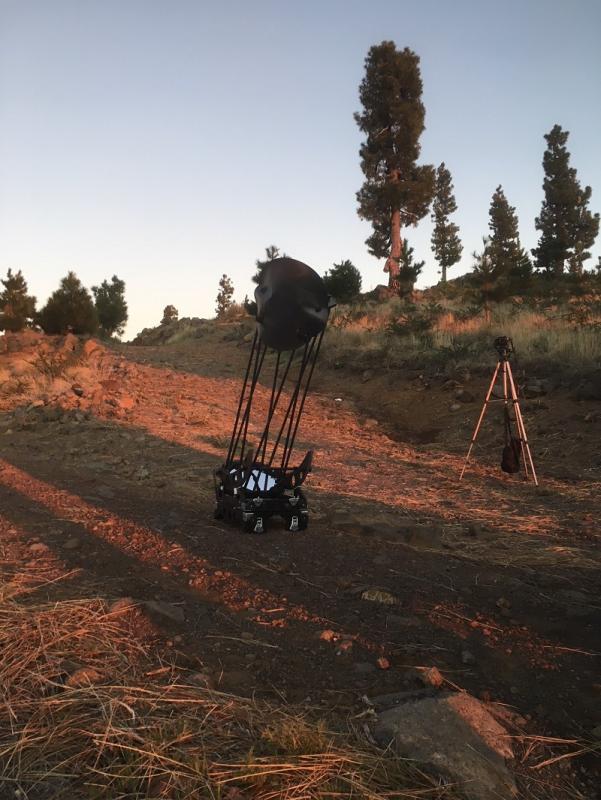 At around 19.30 (local time) the sun sets and a beautiful Venus and Mercury appear above the horizon. The marathon is about to begin! Most of the observations were done with a Televue Panoptic 24mm (50x), but when time allowed I sometimes shifted to a Pentax XW 10mm and even a XW 5mm on a few objects.
I had to wait untill 20:26 before I could glimpse M74 at a comfortable height of 16° and 15 minutes before astronomical darkness set in. It's a relief that it was so much easier than a year earlier when I was not able to see it at an only 7 days later date!
After this there was a bit of a rush to finish the critical evening objects in Andromeda, Cassiopeia, Triangulum and Perseus, but none of the objects were as hard as M74. In between I had a short look at Uranus, which appeared as a bluish disc. At 21:12 I clear M45, for which I take some more time to observe the (huge) Merope Nebula and attempting to see the Maia Nebula as well (failed).
Reaching Orion, I took some more time as well to take in the wealth of detail in M42/M43 and afterwards, noticing that the seeing is excellent, was the first time that I could spot Sirius B. The image is very steady and the pup is constantly visible without any trembling or false color.
It's now 22:00 and I have only bagged 15 objects, so time to move on a bit! I rapidly finished the open clusters in Canis Major, Gemini, Auriga, Monoceros and Cancer, before arriving at the spring sky of Leo. It will be mainly galaxies now for the next 3 hours or so, but fortunately many of them are very close to each other and small nudges of the scope will get you to the next Messier object, especially in Virgo.
I had some trouble finding M49, because for some reason in my head this was the Sombrero that I'm looking for and I don't see any familiar galaxies crossing the field of view. That's why I finish M61 first at 0:15 before noticing my mistake. After that it's a breeze until I reach M83 on my list which is still behind the rocks. I still can't observe any other objects as well, so we decide to quit here for now and head back to the original location. Fortunately, the road is clear now and we can get to our prime location with clear view on the eastern horizon. During daylight this is the view that you have from here: