The clear skies a few days before I was willingly lured away by the planets had me following up some views beneath the body of the Water Serpent. Where I was getting entertained by three carbon stars – U, V & Y Hya – and PN NGC 3242.....put aside after the happy planet diversion.
Today, after some thought, decided to put the Hydra stuff into one presentation – after all nice colour contrasts. The PN is flanked on three sides by the carbons, at 6º to 9º distance, and I have roughly honoured that configuration with the attached renderings.
U Hya: the palest/yellowest is still a nice hued star....deepish orange and the brightest of the three and picked out due to its hue easily in the 10x50 finder – maybe mag. 6.5-7.0...
Y Hya: noticeably redder than U and the most southerly at only 13º altitude at best – twixt mag. 7.5 & 8.0 I reckoned..
V Hya: vying for the reddest star I've seen and perhaps 8.0-8.5. Like V Aql and VX And one of those carbons that looks of a coppery hue and find when tinting I need a degree of Magenta and less Yellow – the other two certainly look to hold more yellow – especially U Hya.
NGC 3542: 'Ghost of Jupiter'......really.......hmm.....well ok..........So low here yet it gobsmacked me how bright......!!! The best seeing for these was the 24th – 53% moon 40º up and 70º west. This did not affect the views at all; particularly as the 485x Monocentric was used.
The duskier center kept conveying a soft pale brownish to me – physiological I suspect – but so subtle not sure if it will come across on the attachment. The central star flitted in and out but felt sure enough to commit it to paper......
These objects are all firsts for me........never ever sought them............Low here at best but seemingly their narrowness of wavelength had rendered any atmospheric dispersion unnoticeable to me: tho' I'd expect their colours would be modified as compared to a higher view aspect.
Dave.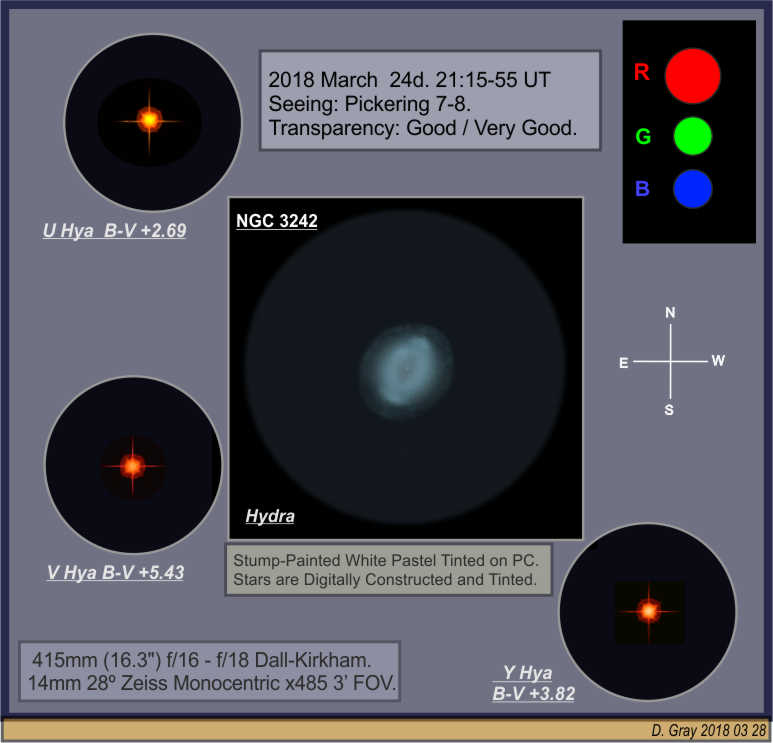 Edited by David Gray, 28 March 2018 - 03:02 PM.