Owners of the original, classic Astroscan 2001 (not the modern Astroscan Millenium) often wonder when their telescope was made. I was challenged by Terra Clarke to create an Edmund Astroscan 2001 telescope Serial Number Registry. I spent a few hours looking through old Cloudy Nights posts, and compiled the list below. Please look at your Astroscan 2001 and add to the information:

1. Look inside through the front optical window of the Astroscan 2001 -- you can see a handwritten number on a sticker near the base of the focusing tube. That is the Serial Number. Note the color of the sticker.
2. Look at the bolt holes in the sides of the red ABS tube (where the carrying strap is secured) -- the place of manufacture is printed in the plastic, underneath the metal strap clips. It should say "Made in USA" or "Japan". Early Astroscan 2001s may not have any identification, but are assumed to be Made in the USA.
3. If you know the original date on which your telescope was ordered or shipped (through receipts, dates on original shipping boxes, etc.), that would indicate the approximate age of the Astroscan 2001. This is the most valuable information to help determine the age of your telescope. You can make an educated guess if you don't know exactly.

Here's the list so far -- read further down this topic to see updates to this Serial Number Registry (as more information comes in from Astroscan 2001 owners). You can also download the current spreadsheet from this website without having to go to the last post in this topic: https://1drv.ms/x/s!...TxbqxZ77p6XWXdU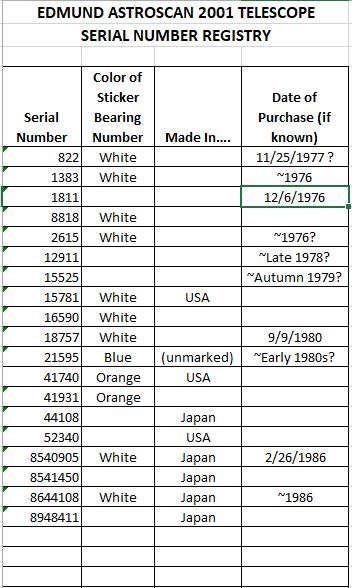 Edited by DLuders, 15 April 2018 - 01:53 AM.