For those interested or have a use for local plate solver the following:
The free ASTAP stacking program has now it's own plate solver. It can process images in FITS format but also JPG, PNG, TIF file and give the image centre position and orientation.
It is command line compatible with PlateSolve2 and produces an similar APM file. It can also update the FITS headers or convert JPG,PNG, TIF to the FITS format.
Other outputs options are WCS or INI files containing the solution.
In addition it comes with a flexible viewer and stacking menu for FITS files.
With an good estimated position, the solution is found within seconds. With an offset of 20 degrees in minutes.
Available for MS-Windows and Linux. Still in development and at version ß0.9.44. It is already integrated in CCDciel (CCD capture software) as external plate solving program.
Feedback is welcome.
Han
Link: http://www.hnsky.org/astap.htm
Ubuntu/Debian users can install ASTAP from Astronomy Linux Packages repository:
https://astronomylin...t/en:news:start
For plate solving a star database of 420mbytes needs to be downloaded and extracted to the program directory. It has in principle only three settings, 1) start magnitude and 2) limiting magnitude and 3) search radius in degrees. The limiting magnitude is a value for the faintest stars in an image of 10 seconds exposure. For FITS this value is automatic adapted to the exposure time. For other formats this has to be manually entered or specified in the command line. There is no need to define the pixel scale or the image astronomical size.
It uses four star pyramids for alignment as shown below: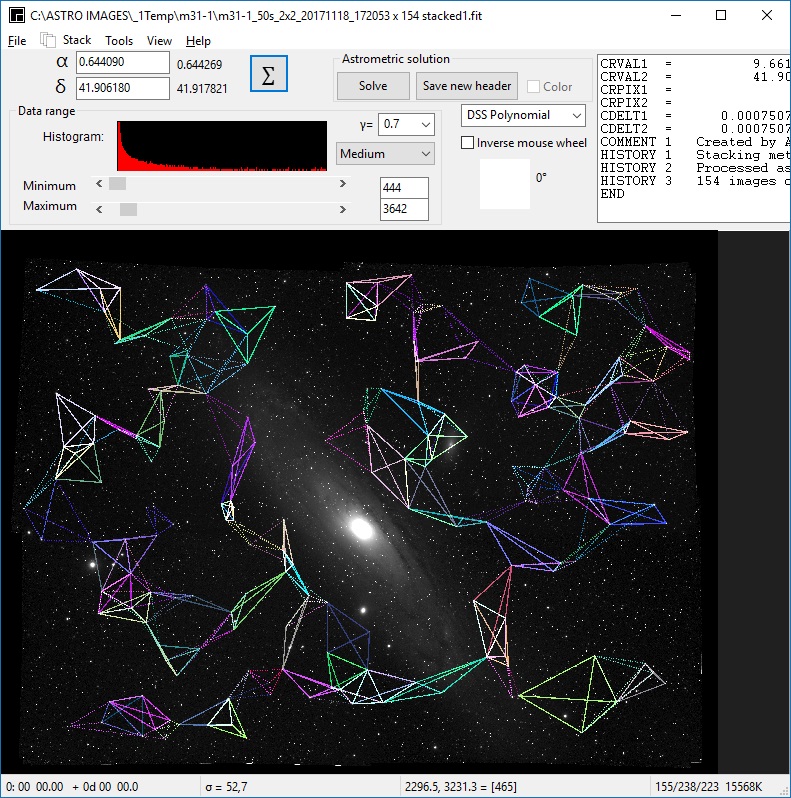 Edited by han59, 30 April 2018 - 04:37 PM.