.
After primarily deep sky projects the past months, I hope to be able to do some planet observation this early summer (Jupiter, Saturn, Mars), using my small classic refractors. Here's my latest observation of Jupiter at the 2018 opposition :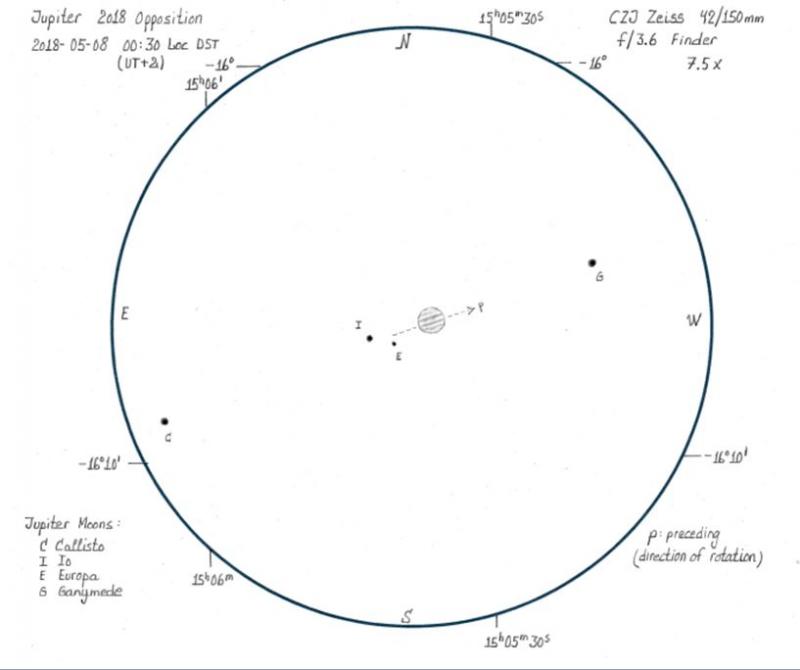 Telescope view of Jupiter at the 2018 opposition
(2018-05-08, 00:30 Loc DST, UT+2).

Setup: CZJ Zeiss 100mm refractor with Baader FFC, Zeiss diagonal, Zeiss Mark V bino plus 2x Zeiss 25mm OPMI Eyepieces. Magnification ~150x. Jupiter was at a low altitude (~17° in Libra), so the observing conditions were significantly impacted by atmospheric dust and dispersion (Trsp.~ 4/7, Seeing ~7-8/10). Furthermore, at 56°N 12°E in Denmark we are currently in astronomical dusk (the border between astronomical twilight and night) even at solar midnight, so I'm observing from a bright suburban sky (Bortle 6).

Never the less, I was able to record some details, as shown in my drawing below (annotated to the right). The upwelling white ammonia crystal clouds in the equatorial, northern temperate and southern tropical zones were evident; especially the STrZ band was bright white. Also, the southern temperate zone was visible in the SW quadrant of the planet.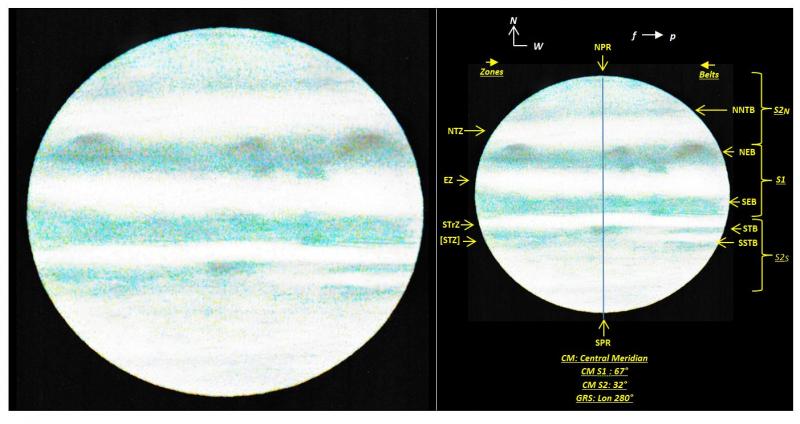 Several bands of cool, downwelling dark brown hydrosulfide ice clouds were visible, notably the northern and southern equatorial belts, but also the north-north temperate and the south and south-south temperate belts were clearly delineating the northern pole region resp. the southern pole region.

The System-1 central meridian was at 68°, while the great red spot (GRS anticyclone) was at 280° longitude, i.e. at the backside of the planet. There were however three dark barge cyclones visible in the NEB, with two broad plumes trailing SE into the EZ. The pole regions didn't show much detail, though the SPR did at times have a mottled appearance, which may have been be caused by small white spot cyclones in the STB (?).
Allan
Edited by AllanDystrup, 11 May 2018 - 08:59 AM.