From what I have read, Celestron introduced the 5-1/2" f/1.65 Schmidt Camera is 1971 and these occasionally show up on the used market. I have been curious about these for quite a while and I finally picked one up off of the Cloudy Nights classifieds. The example that I have is serial number 14 and is in excellent condition, though it did not include the original film holder. That's no loss for me as I had no intention of trying to shoot film with it, but I was curious whether I could replace the film holder with a small digital camera either installed in place of the film holder, or off to the side using a pick-off mirror. The later would have been tough given the very fast f/ratio; the former was tough given the small size of the scope. The overall approach was settled when I found a Starlight Xpress Superstar-M monochrome guide camera. This is an end-on camera that is only 1-1/4" in diameter and about the size of an eyepiece making it smaller than the film holder and a perfect match for the 5-1/2" camera if I could figure out a way to mount it. After staring at it for quite a while and weighing several options I came across a PVC union that was a good fit for the Starlight camera and about the same diameter as the original mount for the film holder, so I decided to see if I could move the spider legs from the film holder over to the PVC union, and then mount the Starlight camera inside the union, and finally mount the assembly inside the Schmidt camera.
I modified the PVC union by removing a small step-down ring inside the piece, and cutting slits for the spider legs with a coping saw and then widened to fit the spider legs with a hack saw. Small half-cylinder recesses were milled into the inside of the union using a cordless drill and 3/16" drill bit. With care, everything press-fit together quite nicely.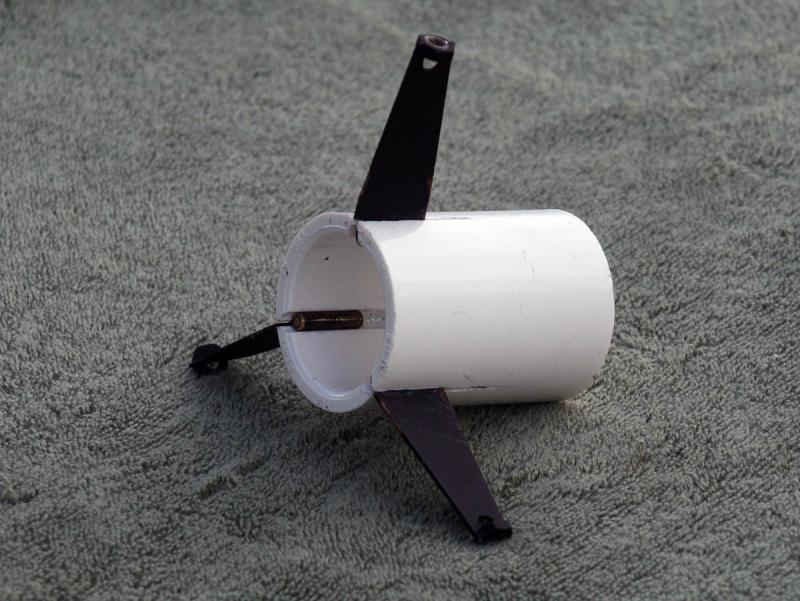 A quick coat of flat-black paint finished it off...