Just 2 weeks ago I purchased an iOptron AZ Pro (only the mount with no tripod or pier) specifically to use with a lightweight (8 lb. naked... 11 lbs. with rings, dovetail, diagonal and laser pointer) Orion Short Tube 120mm refractor. I was warned in other posts here, that it probably would be insufficient for my TEC 140 when loaded with rings, finder, pointer and diagonal, primarily because of the length (moment of angle) when mounted. I made a plate for attaching it to a portable pier that I built a few years ago and then made two 6 lb. SS weights for the counterweight arm that pulls out of the mount. iOptron specs rate the AZ Pro at 33 lbs. for the scope, plus another 20+ for an additional scope or counter weights.
Last week I was in New Mexico for some dark sky observing with friends and after I figured out the collimation process, used it continually for 4 nights. After leveling the mount, collimation is actually more simple than I had imagined... turn it on and let it dance about with the scope until it stops (about 1.5 minutes to acquire GPS readings and figure out where it is). Then it goes to a bright target automatically (named on the hand controller) and all I have to do is then use the azimuth/side to side arrows to line it up. I thought I'd be able to use the up/down arrows too, but no dice. I loosen the clutch and direct the scope to the bright target manually for altitude. When the target is in the center of FoV, press the button and voila, enter and go to any target in the hand controllers 214,000 item library. Dang simple.
The ST 120 with my NV eyepiece was directed from one target to another without failure; and it always seemed to be in the middle of the FoV. I left it running on a target for almost 2 hours one night while I was letting another observer use the NV eyepiece in his 20" Dob. When I returned the target was still in the center of FoV... I was impressed!
Vibration with the ST 120 was a non-issue. I really had to rap the scope to see movement at all; focusing added zero vibration. Granted, this is at a low 23x with my NV eyepiece which has a 26mm focal length. But rigidity was quite good.
So on the last night at City of Rocks, I loaded my TEC 140, put on the counter weights and turned it on. Away it went and I was moving from one to another target all evening. Again, I was at low power, 37x, but there was no vibration when focusing and even a hard rap on the focuser resulted in vibrations that settled in about 2 seconds. My guess is that the 5" diameter column of the pier provides sufficient torsional rigidity to prevent much of the vibration that some users have reported, especially when using the tripod with a short pier extension.
After years of using my shop made, manual alt/az mount, the convenience of a goto, tracking mount is pretty sweet. I plan to use it primarily for DSO observing with my NV eyepiece (Mod 3C) so even with a 2x barlow, I'll still only be at 48-74x depending which scope I use. I get along quite nicely on my manual mount with high magnification for planetary and close doubles. If your interested, I posted about the trip and it includes NV Phonetography

images of some heavenly bodies including the Eagle Nebula (with the Pillars of Creation) and the Bubble Nebula. They are not bad photos for a phone... thanks to the Mod 3C night vision eyepiece. You can see the post here:
https://www.cloudyni...o-with-friends/
Here's a photo of the AZ Pro on my portable pier with the TEC 140 and the two SS weights I made. It's compact, light weight and ran at least 9 hrs. in two days with a single charge of the built-in Li-ion battery... it was still going when I charged it from a 12v battery I carry for other camping purposes. If it continues to perform the way it has, I'd give it a very high rating. Time will tell, after all, it is an electronic device.
Sorry, this photo was loaded upright, but didn't get posted that way.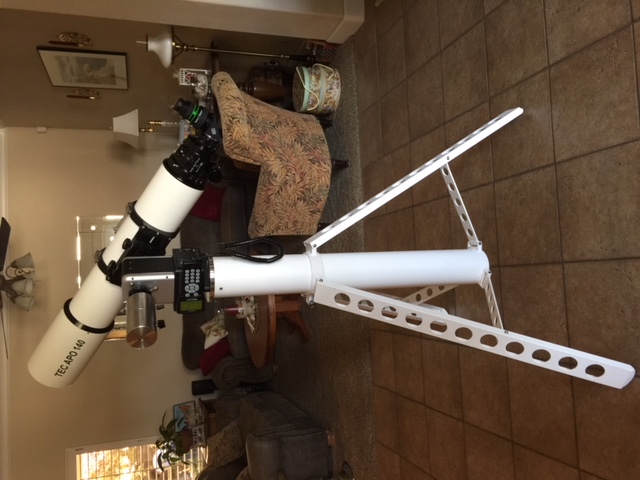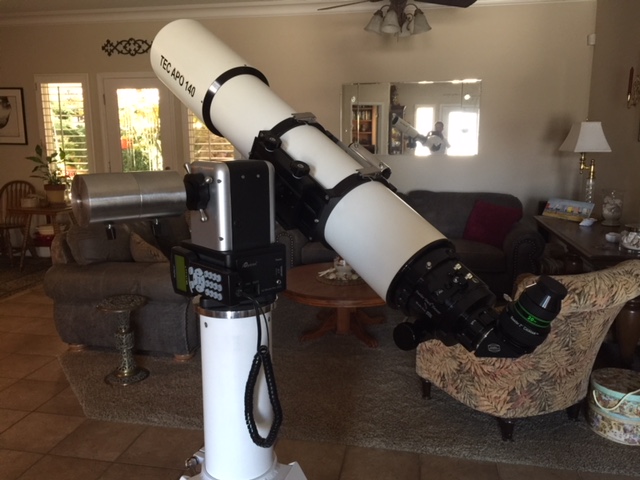 Edited by GeezerGazer, 24 May 2018 - 03:25 AM.