I am a refractor man.
My first refractor was Zeiss Telementor 63/840. I observed through it in my childhood.
In my adult life I recognized that I could also achieve my observing dreams of having the premium refractor.
Being members of the Kyiv Astronomy Amateurs Club (Astropolis), I spent a lot of time at the club forum.
At the end of 2016, I saw the announcement: Edward Trygubov about the release of his new series of refractors.
Oh, my God, I thought, it's the same Trygubov!
I heard about him as a professional optician who left Ukraine to start optical production in US.
He is well-known in Ukraine for refurbishing the Kiev observatory 254 mm antique Repsold double astrograph with new optics,
and making premium custom optics for amateurs!
Something snapped inside me, and I thought it was my chance that I could finally become the owner of a first-class refractor.
I contacted him and Edward told me about the new doublet fluorite refractors.
I was so fired up that I chose 150mm, not 130mm as I wanted at first.
So, the order was completed. I was looking forward to see my telescope.
I realized that this will not happen as quickly as I wanted.
One of the reasons for the concern was the task of delivering optics to Kiev from the United States -
I was very worried and did not want to send the telescope by mail.
Then Edward suggested, "Why do not you come to us to pick it up? We will soon have a total eclipse of the Sun, we could watch it together."
I was so happy... to get to the USA to see the first total solar eclipse in my life, and to bring home my own refractor!
Edward and his wife warmly greeted us - me and my friend, a journalist of our local astronomical magazine.
We visited Agema optical shop, and Edward told and showed us almost everything that could interest us -
starting with the calculations of the optical system, continuing the refinements of glass processing, and ending with the manufacture of mechanics.
I saw the lens of my telescope on the optical bench in auto-collimation,
and was simply amazed by its quality and level of correction, double pass of 400x without any issues!
Then, we went on a trip to Colorado and Wyoming, where we successfully observed the eclipse of the Sun with the help of Agema SD 130.
It must have been the brightest summer of my life.
When I returned to Kiev, I could not immediately begin to observe.
You know, 6" refractor is not the scope that you can grab and go for an hour under the sky - this is a serious instrument, and I treat it adequately.
I did not want to install it on a first mount I came across, and therefore I ordered a professional mount, White-Swan 400,
that was designed by engineers of West Ukraine in Ternopol.
My mount was ready by the time for our annual meeting of the Astropolis Club in May, where I came with Agema SD 150.
I was excited about the "first light" of my telescope.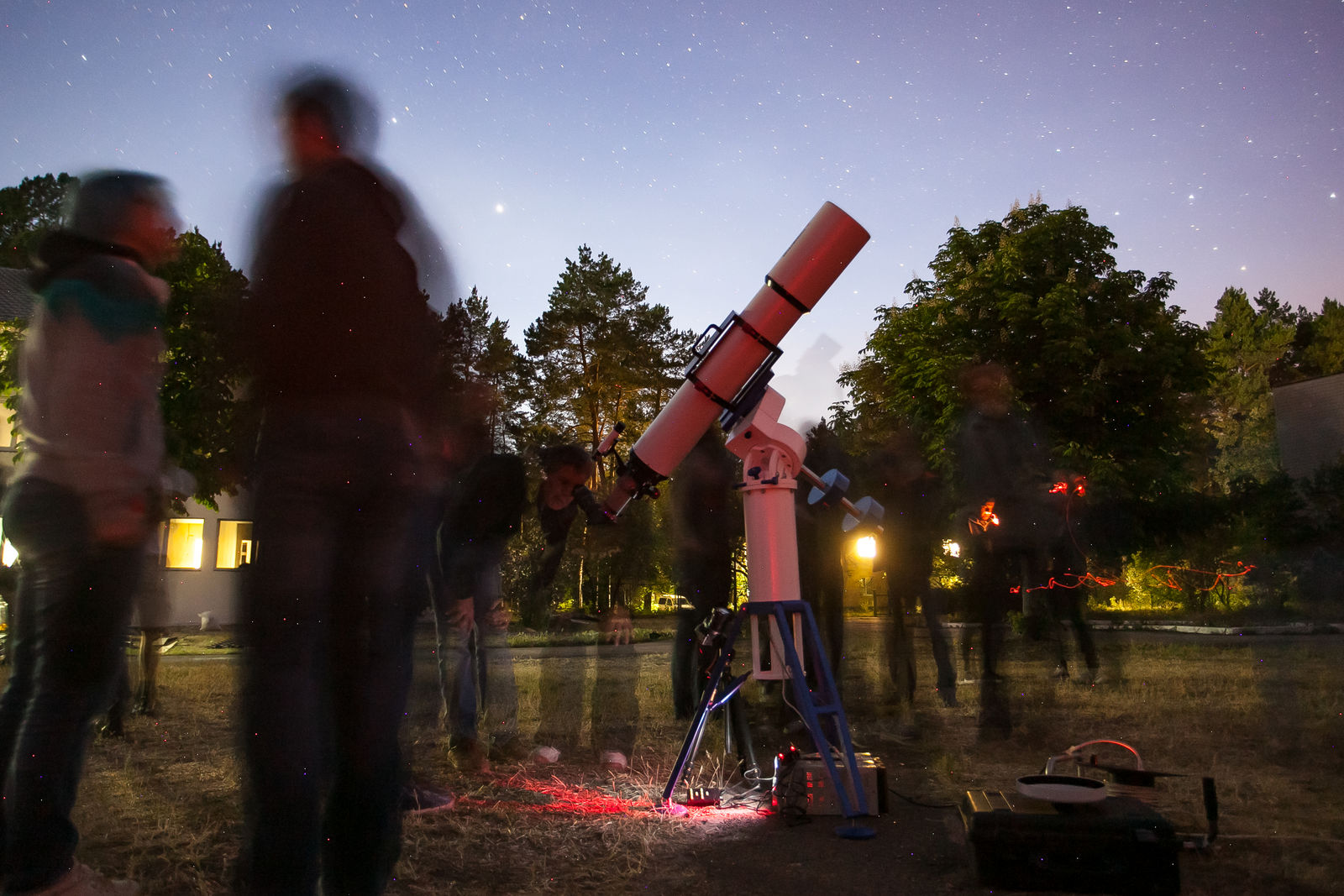 Even some cloudiness did not prevent it from stargazing (from the east, the haze loomed unhurriedly).
First of all, I pointed at Arcturus, and saw a crystal clear image, the star was orange and only, no extraneous colors or halos.
As there were about two dozen people around me wishing to observe, and we were in a hurry while there was still clear sky - I could not make a full star test. However I will do it both visually and photographically to share.
Then I pointed at M13, and for a long time could not keep myself away from the eyepiece ... I liked the image so much.
With magnification of 133x given by ES 9mm 100° eyepiece, the cluster scattered into hundreds of stars, and thousands of stars glowed against its background.
At some point, it seemed to me that I saw a "propeller", known to many as three darkish stripes against the backdrop of a star ball.
The haze gradually wrapped the whole sky, the faint stars began to vanish, but few remained to wait for Jupiter to rise above the trees.
I could not resist and guided the telescope to the planet, while it hid behind the tops of the pines.
When Jupiter looked out from behind the forest, a spectacle awaited us.
I put the Vixen LVW 3.5mm eyepiece, it gave about 340x magnification - more than 50x per inch!
Jupiter looked large, a well-defined disk, I quickly noticed the effect of atmospheric dispersion - the upper edge of the planet was framed by a thin red border, and the bottom edge - blue.
Despite the haze, the image calmed down, and then the gaze opened to many tiny details in the equatorial belts, thin light zones in the tropical belts.
The contrast of the image was very good.
What a pity that at the time there was no big red spot on the disk.
Galilean satellites, all 4, were visible - and I'm sure I saw their disks. I expected to see a diffraction pattern around them - but it was not visible.
For myself, I explained this by very small residual aberrations that I couldn't distinguish at the optical bench at Edwards' shop, thanks to which the maximum of light is concentrated in the Airy disk.
The people who watched Jupiter with me did not hide their emotions.
"Wow", "That's it", "Wonderful" ... a few people said that they had never seen such details on Jupiter.
And there was a line of people to observe, so I didn't have much time for myself… I really need my time alone with my scope!
I also tried a less powerful eyepiece, ES 5.5mm - using it, the scale of the image was smaller, the clarity was not higher but it was still sophisticated.
An hour later, the haze completely clouded the sky and observations had to be stopped.
Sure, I still had a sense of insufficiency,
but the main thing is that the first light was given to an excellent telescope, which hardly has analogues in our country.
No surprise, optics is excellent under the stars as well as it was on auto-collimation.
But I could not omit superior quality of mechanics.
First of all, lens cell is designed with ultimate precision,
as fluorite have different thermal expansion comparing to glass and so lens should be in comfort during the summer as well as during the winter.
Focuser is rock solid when it holds heavy diagonal and large 100° eyepiece, focusing is silk smooth similar to Feathertouch, focus is reached easily with 3.5mm eyepiece. It's easy to change eyepieces with rotating lock ring. The large handwheel elegantly unlocks focuser rotation which is so precise that object still centered while you rotate, even with 340x.
Of course, there is durable cradle with carrying handle.
I was thinking on comparison of Agema SD 150 to my ES 127 triplet and came to conclusion there is no comparison to make…
It is like black and white, like earth and sky… ES will be sold soon.
Ahead of me are still waiting for difficulties - start building an observatory away from Kiev.
But I learned to wait.
Most importantly – I already own the telescope of my dreams … I regret I didn't order SD 180.
I will share more information after the stargazing alone… 
Edited by Aleksandr Naumov, 31 May 2018 - 05:58 AM.