In my earlier post, I noted that the FLI HP8300 is an OEM version (in this case it was used for gel imaging apparently) with same electronics of FLI ML8300.
I finally managed to eke out a "first" light to test out the system. Before I could do that, Tolga helped me with figure out the various bits and pieces to get it attached to filter wheel (Thanks

).
I got the Starlight xpress 7 POS USB wheel and I picked up Baader LRGBHa 36mm set. The wheel is very well built and it was attached to the camera using SCT adapter. I had a spare Orion TOAG and I got that hooked up to the front of the wheel. I knew it was going to be tight to get it in the backfocus speed needed for my Edge11 setup.
We have been having real bad astro weather here and each night, it is clear for 3-4 hours and clouds roll in. During the clear phase, the seeing is terrible and my subs never get completed. So I figured I will test this out instead of attempting to do any real imaging.
With ASCOM driver for FLI (got from FLI yahoogroups), I got it connected to SGP without any problem. It even let me change the gain (Which was defaulted to 1). I changed that to 0.5 (The CCD number I got showed high read noise (13e at gain set to 1). The camera cooled to -30 without any problem (which is quite a feat given the heat we have so far) and the temp stayed at -30 at 80% power. None of my earlier camera can crack -20 (in fact I stayed at -15C with my QSI683 and QSI690) and -10 with the ASI1600 and QHY814).
After getting it all connected, I found that I am just off the spacing by few mm

. I the focuser had to be racked almost all the way in to reach close to focus.

The TOAG was also pretty bad with very low number of stars (may be due to tiny prism) compared to what I usually get with the QHY814's built in OAG. I think I need to sell the 7 poss wheel and get the 5 pos SX wheel with integrated OAG to get it in the reqiured spacing.. sigh.
(One other problem I Saw that I couldnt get ASI174mm to work and had to switch to Lodestar X2 to get it work with PHD2. I will need to figure that out later).
Here is the setup (before I switched to Lodestar)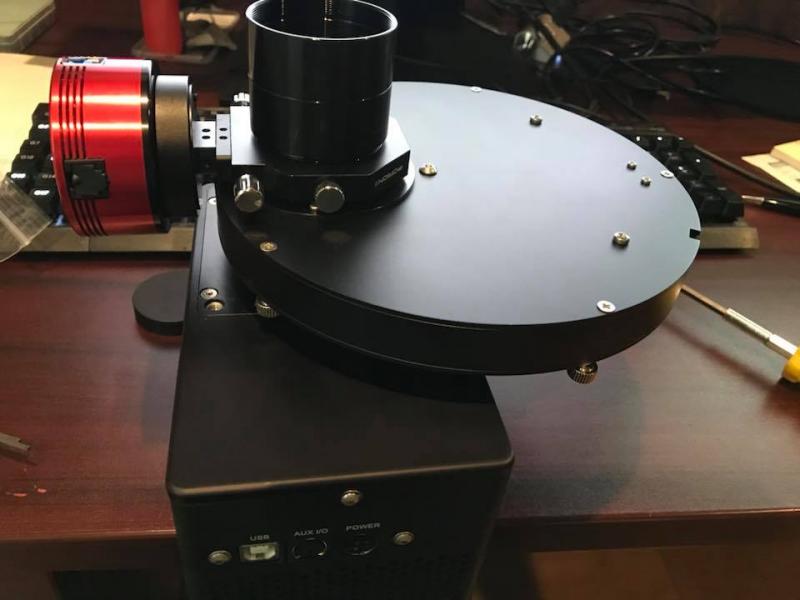 SH2-188
I managed to get 4x20 min subs on SH2-188 (All my earlier runs got aborted with bad seeing and I just bumped up the "restart" parameter to just get some signal. This was with Baader 7nm Ha filter.
No processing other than STF is applied. The frame is very clean and calibrated perfectly. I calibrated with 6x20 mins darks and bias built from 100 subs and 25 flats. Overall, it is much better than my QSI683. Once I get the fitlerwheel switched, this should work well!