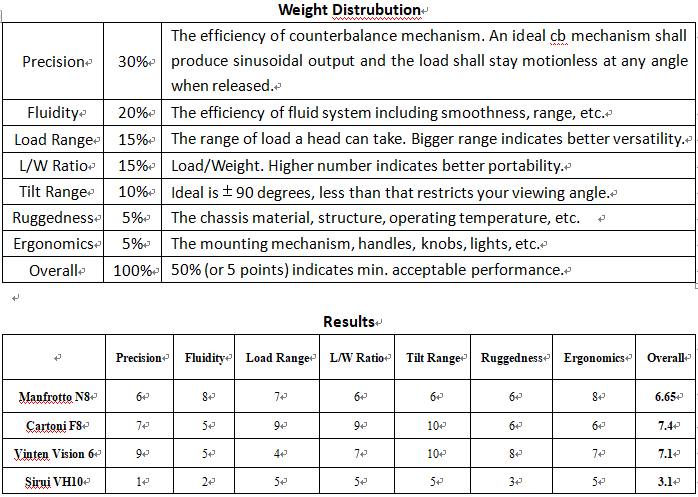 Precision
N8 & F8: The cb of N8 and F8 are both quite acceptable. At min. drag, both slides a bit near ±30 degrees but the effect diminishes to unobjectionable level when adding appropriate drag. The Cartoni employs a "winged" cb mechanism which can be found at US patent doc US7331675. The Manfrotto employs a novel and practical means, i.e., a piston, which works very much like a lineal spring. I am unaware of any sinusoidal compensation mechanism in this case. The results are similar.
V6: The Perfect Balance is exemplary. Simple and effective rod compensation mechanism, which can be found at US patent doc US8596892. No complain here, though the min. drag of Vision 6 is set at relatively high level.
VH10: Fixed 2kg spring. Not adjustable, no compensation at all, only better than none.
Fluidity
N8: The feeling of drag is convincing, especially horizontal, which enjoys an unusually large range for this class of head, from near zero friction to very high torque movement. Perfect for both whip and slow motion.
F8: Acceptable only. Quite a bit friction remains at min, low torque at max.
V6: Vision 6 uses LF (Lubricated Friction) drag, the min. drag is set at relatively high level. Noticeable but not so different compared with max. drag , i.e., narrow range. Much worse than their TF(Thin Film) drag tech.
VH10: Just floppy.
Load Range
N8 & F8: N8 identifies its load capacity from 0-8kg at 55mm cog(center of gravity). Not bad but not on the same level of F8: identical 0-8kg, but at 75mm cog. In my test, both heads can start from 0, but N8 won't hold my standard testing tools, so a lighter weight is used. There is a 10cm cog difference between the two at respective max cb settings. F8 lives up to its balance graph perfectly well. But as this is not my standard testing tools and no balance graph was provided by manufacturer, I can't calculate the cog and load capacity of N8, but I think the specification is relatively accurate and the max load may be around 5-6kg translated to 75mm cog. Not bad at all, just falls short of best practice in industry.
V6: Here comes what I dislike Vinten most. The range is 2-3kg throughout and the min bar is so high. Sometimes you need multiple heads to cover up all your scopes.
VH10: Without an effective cb mechanism, it is mainly friction to hold the head with higher loads. It seems pointless to assess here, so I just mark a 5 (min. acceptable performance).
L/W Ratio
N8 & F8: F8 excels here with a 5(8kg/1.6kg), actually this is the most potent/compact small fluid head I can find. N8 is not far behind with a 3(6kg/2kg). As N12 and N8 share the same chassis and are of similar weight, I think N12's L/W Ratio will improve quite a bit.
V6: 4.1(9.5kg/2.3kg)..
VH10: Although the result is a high 6.6(6kg/0.91kg), it just doesn't count. 5 points, same reason above.
Tilt Range
F8 & V6: Both ±90 degrees.
N8:+90/-70. Not a big problem for zenith gazers considering it can mount backward.
VH10: 5 points, same reason above.
Ruggedness
N8: Chassis made of quality metal, some plastic small parts. Working temp -15~+50 c. May have a problem under extreme weather.
F8: More plastic used, but Cartoni claimed the material is a high-tech plastic developed by a local university. Working temp -40~+60 c.
V6: Main parts made of casted aluminum. Working temp presumably -40~+60c.
VH10: Just cheap. Working temp presumably -20~60 c.
Ergonomics
N8: The side load mechanism is easy to operate. Bubble lights up. Big knobs, quick dials. Very good.
F8: Slide in mounting. With scales, though no bubble, and it is time consuming to dial the cb from min to max.
V6: Slide in mounting, no scales, Bubble lights up. A bit awkward to dial the cb when load is high.
Vh10: Plain but acceptable.
Conclusions
The N series is the best fluid head Manfrotto offered in recent years. Its novel piston cb mechanism proves to be effective. The N8 is a good all-rounder at an affordable price.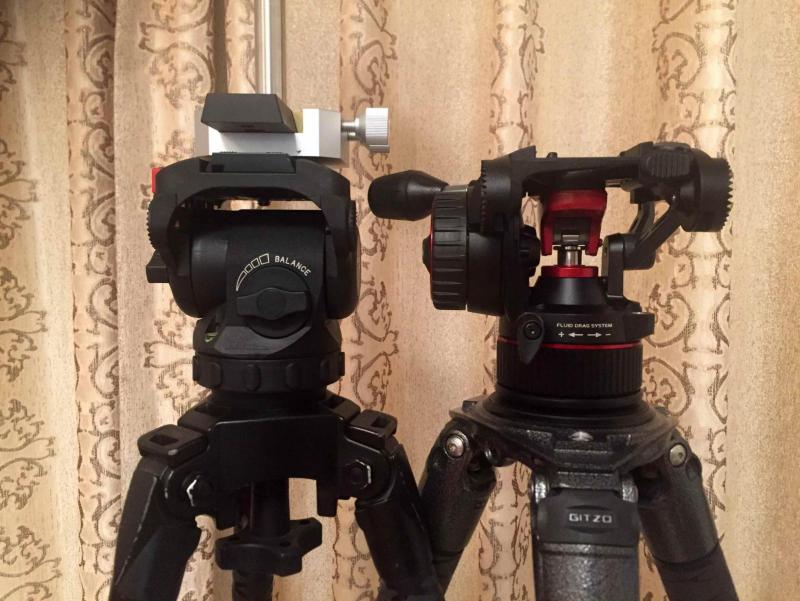 Edited by range88, 24 June 2018 - 09:37 AM.