As a step toward having another observatory, I've installed the equatorial head of my Losmandy G-11 mount on a steel pier. This pier, composed of heavy 4-inch diameter galvanized steel pipe, had formerly carried my Celestron-8 at a previous observatory. The pier with equatorial wedge is shown below at a former residence during construction some 35 years ago. It is seated in about 800 lbs. (360 kg.) of concrete. I removed this entire mass and reinstalled the pier at two different places I moved to in the course of several years. But now it has reached its final resting place on the Oregon coast.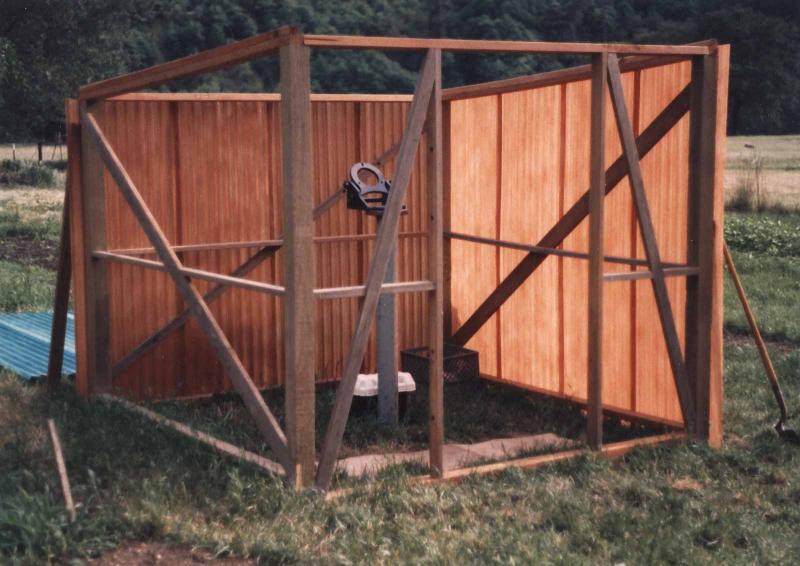 The top of the pipe has an 8-inch diameter cast-iron flange used as an attachment point for the equatorial mounts. A standard Losmandy pier adapter allows for a solid connection between the G-11 equatorial head and pier. Since I wanted to keep the mount attached and polar aligned, there was need to cover the mount when not in use. For that I pressed into service a plastic garbage container that had been used to hold noxious weeds for disposal with other garbage. A quick cleanup with hose and scrub brush made for a nice, water tight cap.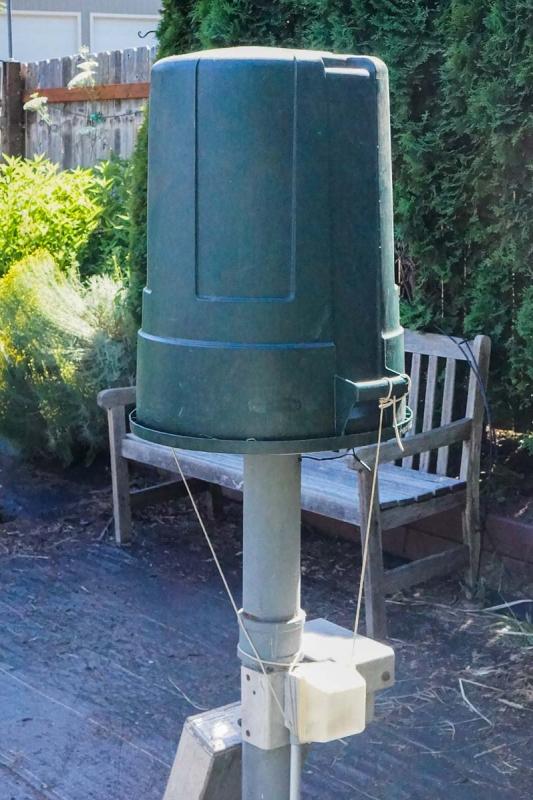 The cap is held down by some parachute cord to keep it in place during frequent strong winds at my location on the Pacific coast. The photo also shows the electrical outlet at the base of the pier, fed by an underground wire. Also visible is a shelf for the power supply. This was constructed from some aluminum C-channel that had seen previous service as a log truck bumper. I had to arrange for supporting the cap so that it didn't rest on or lean against any vulnerable parts of the mount - servo-motors, electrical cables, etc. So a couple of wooden braces were constructed from scrap wood to protect vulnerable parts. Some of these can be seen in the following photo.
All mount parts except counterweight and CW shaft can be covered by the cap. Total time to set up is less than 5 minutes, including bringing the telescope out from the house, installing counterweight/shaft and connecting all electrical components. The latter includes power supplies, dew heaters and SkyFi wireless control module for use with SkySafari. The following photo shows how everything is stowed before the cap is lowered over it all.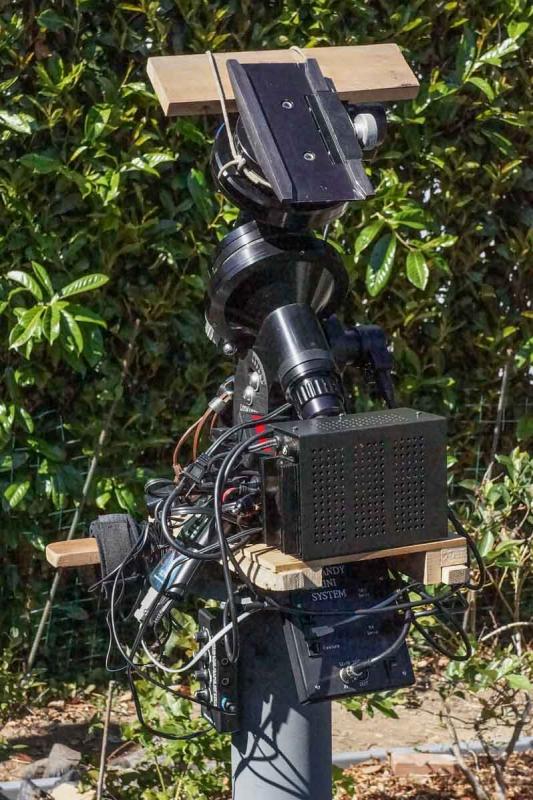 Below the power supply is the Gemini-1 electronics chassis. On the left can be seen a controller for the dew heaters along with the little SkyFi wireless control module. Wrapped around the board on left is a dew heater strip.
Last night I used the Gemini-1 electronics package to do a very accurate polar alignment using the Polar Alignment Assist routine. With just 3 iterations of the sequence, alignment was adjusted to be within 3 arc-seconds in both azimuth and elevation. While such accuracy is not needed for go-to operations, it's good to get it as close as possible should I ever do long exposure astrophotography from home. One advantage to also doing an accurate go-to alignment is that the telescope can be powered down in the counterweight-down, home position. The next time the telescope is powered up with a Warm Restart, pointing at a single alignment star preserves the pointing model developed from prior star alignments. The model can be further refined by subsequent star alignments.
The above photo shows the mount all set up, carrying my little Astro Tech AT115EDT APO triplet. I was a bit concerned that the 4-inch steel pipe would not be stiff enough for use as a pier. But I've noticed no vibration with either a Celestron-8 or the refractor installed. To carry my C-11 will increase the load by another 20 lbs. (9 kg.). I expect it will be up to that task as well. During the "wet season" I'll cover the mount and accessories with a Telegizmo cover wrapped tightly around the pier, with the plastic cap over that. I read somewhere on Cloudy Nights that a small incandescent light providing some heat inside will help keep the moisture levels down.
Edited by Rustler46, 27 June 2018 - 01:46 AM.