Collimation is critical for any attempt at high resolution imaging. On this occasion of my replacing the collimation screws on my C9.25 Edge, I thought I would document the process as an example of collimating an SCT from scratch. This will be far more out of alignment than a typical scope would be, but collimation can be daunting for the beginner, so perhaps some may find this helpful, as questions about collimation have come up recently on this board.
I had a collimation screw that has finally stripped, which gave me the opportunity for a long overdue project of replacing the factory collimation screws on my C9.25 Edge. I don't know why Celestron uses Phillips head screws, as these are the last choice you would want for any fastener. The Phillips head guarantees that your tool will cam out under even moderate tightening, leading to stripping. It doesn't help that the Celestron screws are very soft. Using socket head screws (also called Allen key or Hex key) is a much better choice, and I have been postponing this project, but it was finally becoming a huge PITA to collimate because of stripping. I avoided using Bob's knobs, as I feel they attempt to solve a problem that doesn't exist, and I like using a tool to achieve proper tightening.
My first comment is that if you are going to replace the screws, this is easiest done during daylight, with the scope on the mount and pointed horizontally. You don't want a disaster happening with anything falling into the OTA onto the primary! Replace the screws one at a time. DO NOT remove all screws at once, to avoid disaster. Once all the new screws are in and tightened up to a reasonable degree, you need to make a rough alignment. The easiest way to do this is simply to look into the OTA and see how the mirrors reflect in one another. You want everything to form a nice straight line of reflections. Note the starting position here, in which the reflections are NOT in alignment.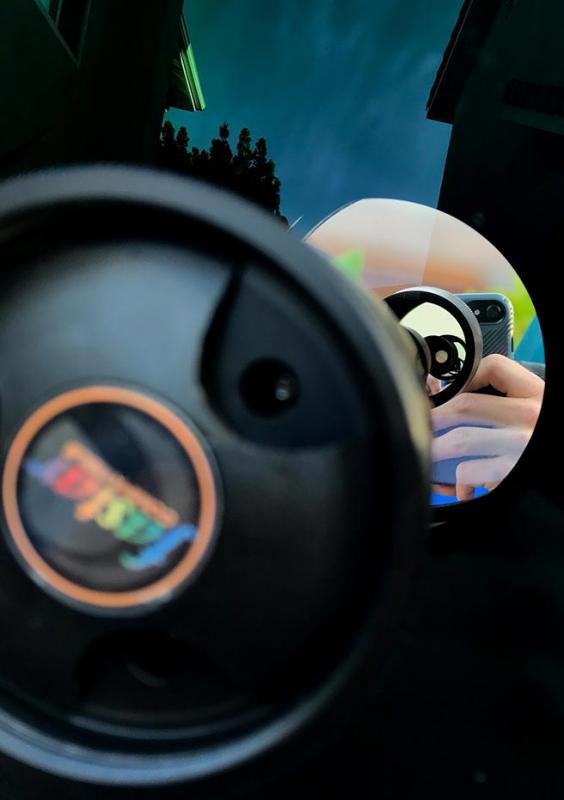 As a complete aside, this photo is much cooler than I originally anticipated! Lots of weird optical effects going on with strange colors from the interaction of the reflection off the corrector plate with the mirrors and my iPhone lens. But as it pertains to collimation, notice how the reflection of the mirrors do not make a straight line. After a few minutes playing around with slight turns of the collimation screws (complete trial and error), we arrive at this position.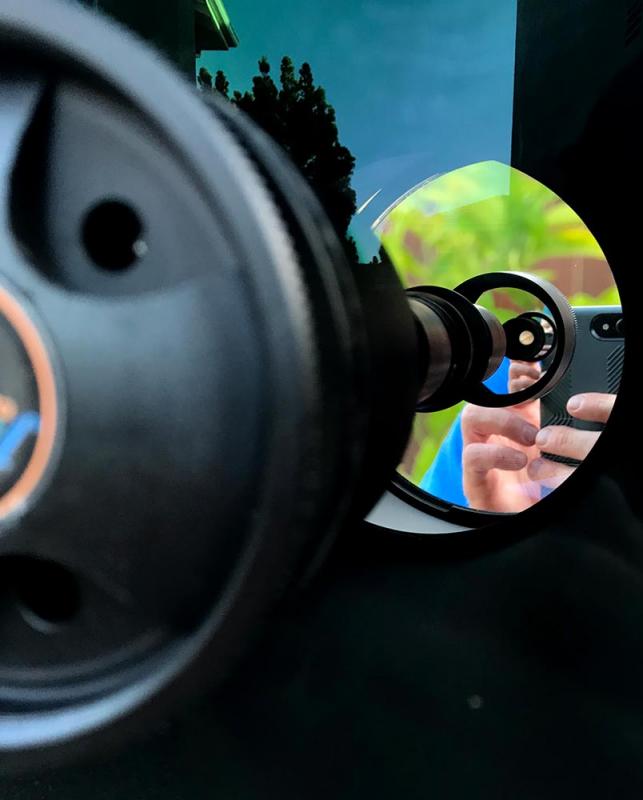 Note that the pattern of reflected mirrors make a rough line. It's not perfect but this is good enough to get a star into the field of view. If you don't do this rough alignment by eye, you will have a heck of a time trying to find a star to complete collimation.
I used Vega for this collimation, because I needed to start before it was completely dark, and Vega was the only star visible at the time. It helps to have a camera with a large sensor (I have an ASI183mm), but if you do not have one, then the initial steps can be done with an eyepiece, since you are likely to be WAY off when starting. But it is far easier and more accurate to finish collimation with a camera. The star will move when you turn the collimation screws, which is a PITA, but you will get used to it. This is where it also helps to have a larger sensor camera. After each adjustment, recenter the star in the center of the field of view. As to which screw to turn, there are many other collimation guides that address this, but honestly, there are only three screws, so you can use trial and error and see if the pattern gets better or worse. In general, you want each screw to be tight, so start by only tightening, but you don't want to over torque anything, so if one screw gets too tight to turn, loosen the others slightly (fraction of a turn) before tightening again. Here is what Vega looked like, greatly defocused, after this rough alignment shown above.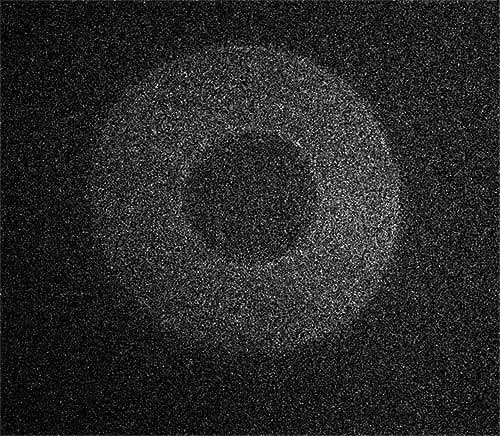 The reason this image is so washed out is because this is a hugely defocused image, requiring a long exposure (300ms) and high gain, and there is still sunlight in the sky at this time. You might look at this image and think that collimation is close to aligned. You would be wrong. Look at what happens when we focus tighter on Vega to bring the diffraction rings closer.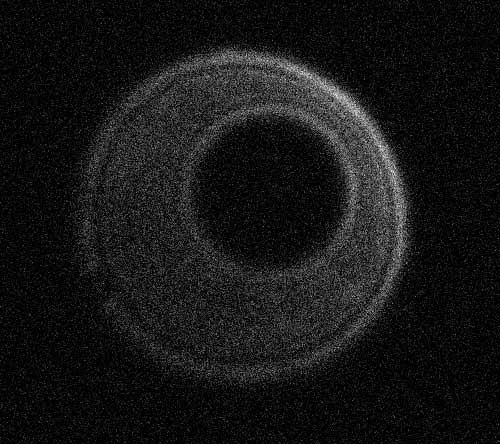 Note that in all cases, when you focus tighter, you will want to reduce the ROI around the star and "zoom in" in the live view to make things easier to see. Each time you tighten focus you will also need to reduce exposure as more energy is deposited into a smaller diffraction pattern. At this point I made a small adjustment, changed the exposure, and arrived at this.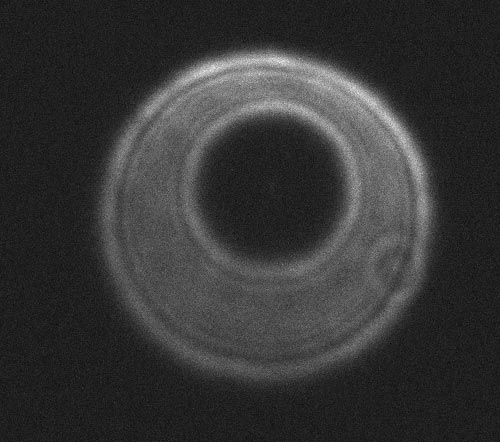 Still out of alignment. Another adjustment yielded this.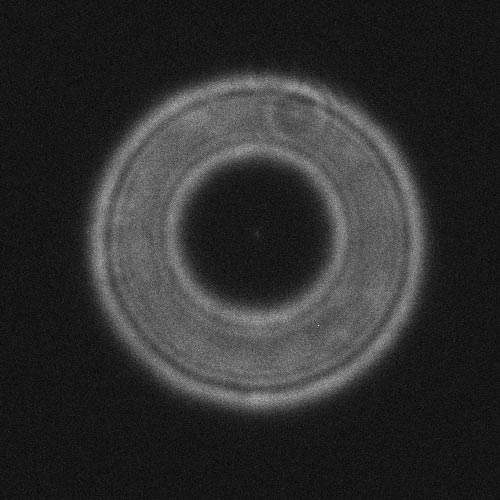 This is starting to look better, but you cannot stop here. You need to tighten the focus even more, zoom in again, and adjust exposure.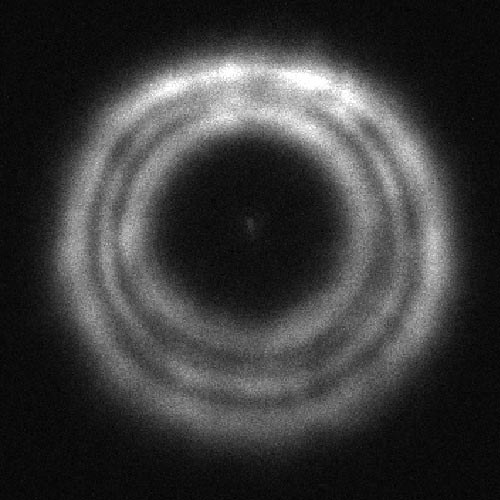 Here you can see that we are still out of alignment. This is why you cannot use strongly defocused stars to collimate an SCT. You need to get much closer to focus. Another small adjustment gives this.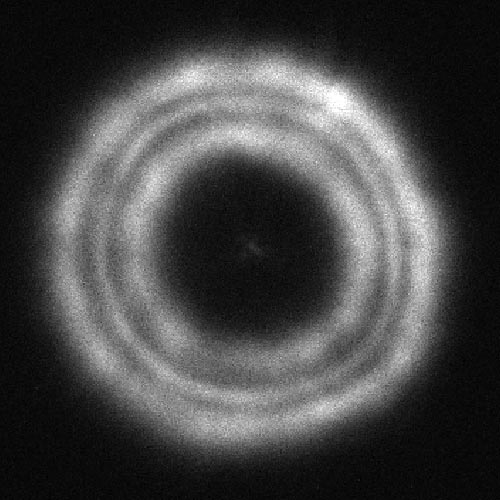 And we keep going.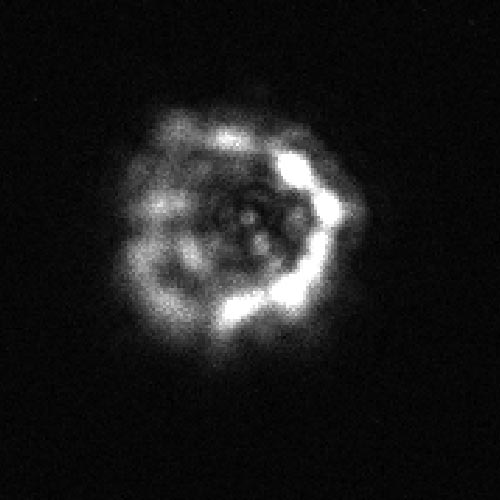 Still not quite right. Another adjustment and tightening of focus and we arrive here.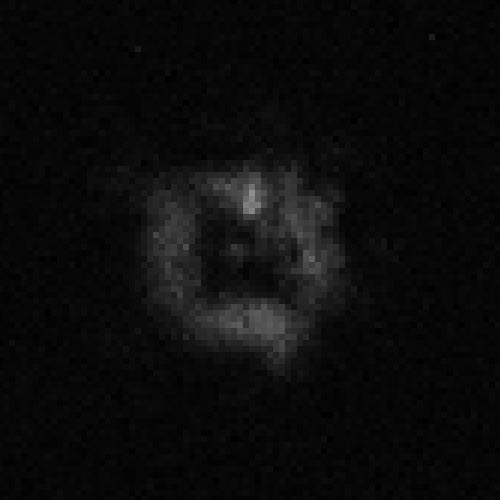 Now this is looking pretty good (these still images don't quite convey how it looks in live view, some asymmetry in the still shot is not representative of the average view, which moves around depending on the seeing). Any closer in focus and we arrive at the Airy pattern, which can be used on some occasions, but on this occasion, as Vega was still pretty low in the sky at the time, it was not very helpful. It's worth noting that collimation shifts somewhat as you slew about the sky, so you really want to collimate using a star closest to the object to be imaged. For Jupiter, you could use Spica, although even better would be Alpha Librae, which is just a few degrees away from Jupiter right now.
Please note: All of the star images are screen grabs and were not captured with the camera itself, so the pixel dimensions are not representative of the actual relative sizes, but are greatly zoomed in to depict more clearly what I am trying to show.
Edited by Tom Glenn, 30 June 2018 - 01:28 AM.