.........Well White (IL light) first-done so as not to unbalance my colour-vision for the non-filter rendering colour impressions.
This had been a funny sort of night with N'Sea cloud slowly drifting south about 30 miles off-coast – not my direction; as judged on satellite imagery. Making it some 50 miles east of me; but at the same time there was spasmodic cloud from the west.
With all that I got Saturn uninterrupted but as Mars became available that westerly cloud three times had me ready to pack in for the night.
But it kept clearing each time it was looking hopeless then I got a long enough spell to get the views posted here. Still only 9º-11º high when these were done I did not want to risk holding out for higher with the cloud situation – and the seeing was good enough and holding.
The blue (#38A) showed a surprising amount of detail – especially compared to blue-imagery. Syrtis Major bisected by a lighter (cloud?) band that had caught my eye in the IL view. SM was also showing a thicker/broader profile intriguingly: wider than I'm used to seeing it that is.....
The good weather continues........getting so monotonous.......


Dave.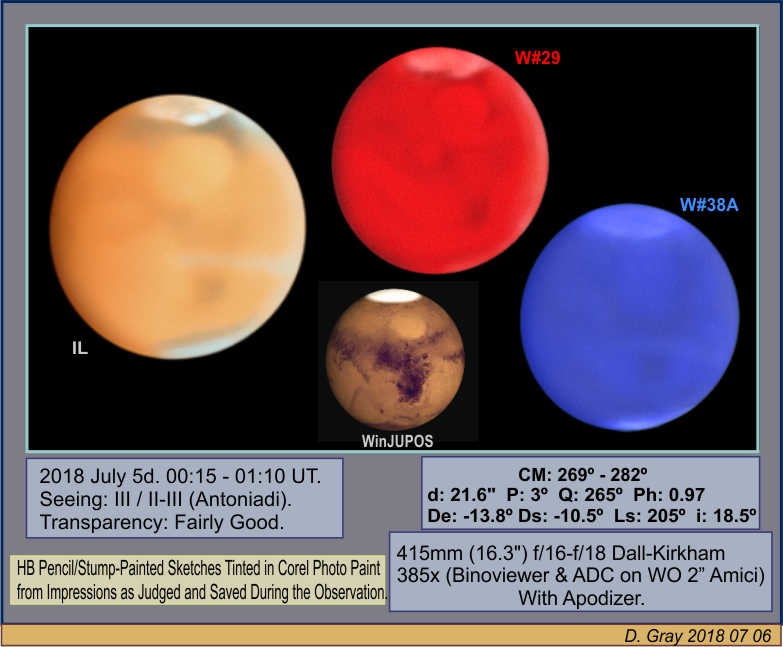 Edited by David Gray, 06 July 2018 - 04:35 PM.