Here's a new observation of the Dusty Planet. I used all the filters I usually use on Mars plus I tried my UHC filter--it made the polar regions bright but didn't enhance the contrast any.
I could vaguely see the "ghost" of the following edge of the Hellas Basin in the unfiltered view--and could see it better in red light. Also, part of Sinus Sabaeus ghosted into view and it too was darker in red light.
Two thirds of the SPC appeared to have dust on/over it in integrated light (IL). The border along the edge of the SPC was the most prominent feature in IL and with all filters except the 80A and varied in thickness depending on the filter used. It appeared most irregular with the W56 (green) filter and even protruded a little into the ice cap.
I have included the WinJUPOS simulation for reference--never had to do that before this apparition.

The sketch was roughed out at the eyepiece with notes taken and then brought indoors to finish (our heat wave has abated--it was 53*F and I was getting cold). I used graphite and color pencils on Bristol board. I made a mistake drawing the circles so instead of wasting a piece of board I turned it over--later I discovered that smooth bristol board is only smooth on one side--oops.
Here's the sketch.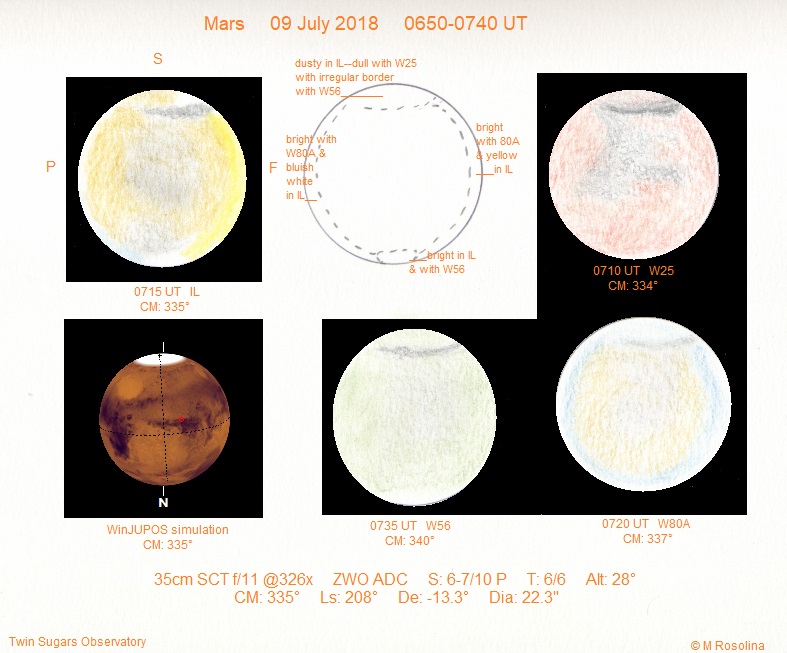 Edited by Special Ed, 09 July 2018 - 10:24 AM.