I finally got around to processing my Venus capture on the 4th. This was my first shot of Venus through my current rig, and rather than do a Live View capture I decided to experiment with the in-camera 3x zoom video.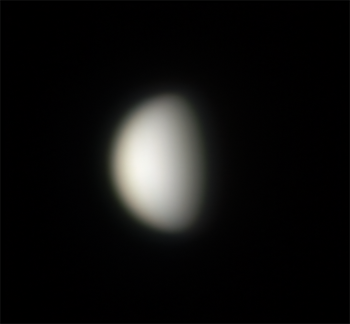 Venus 2018-07-04 10:37 UTC, 15˚ elevation
Skywatcher 180 (2700mm f/15 Cass-Mak)
Kokusai Kohki 9mm orthoscopic
Canon T3i in-camera 3x-zoom movie
Outback Northern Territory, Australia
Seeing = 4/5, jet stream = 8 m/s
My Mars capture on the 6th showed that Live View certainly produces a better image, but in a pinch (and on a relatively boring target like Venus), it does just fine.
Cheers,
BQ
Edited by BQ Octantis, 12 July 2018 - 03:14 AM.