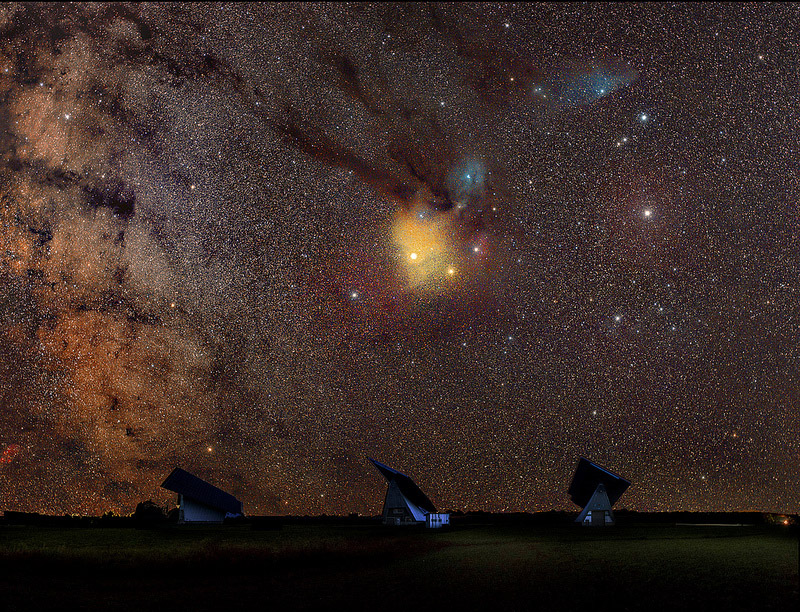 The lower right-hand section of the Milky Way Galactic Core together with the colourful Rho Ophiuchi Nebular Complex.
This was taken two nights ago at our favourite astrophotography shooting location in Beckwith Township about 30 kms west of Ottawa.
The structures in the landscape are 3 large solar panel buildings which are about 30 feet high and could easily house 3 large dump trucks. The
panels automatically track the sun and change angles and go to a rest position at 10"00 pm.
Camera: Nikon D5500 unmodified
Lens: Nikon 50/1.8
Fliter: Hoya Intensifier anti-light pollution
Aperture: f2.8
ISO 400
Exposure: 2-minutes x 26 = 52 minutes total integration
Tracked on Sky Watcher Star Adventurer
Stacked in Pixinsight 1.8
Processed in Pixinsight 1.8, Photoshop CS5
I felt a little wild and crazy this morning so I went a little nuts with the colour intensity!
Enjoy!
Rudy
Edited by Rudy Pohl, 12 July 2018 - 03:34 PM.