I wanted to give a report on my new Stellarvue M2C mount, equipped with Astro Devices encoder kit and Nexus-II DSC unit. I've had this mount for a couple of months now and have had the opportunity to use it with all my telescopes. All works well with all my scopes (list in signature below) and at powers up to 400x, which is about the highest I've used with this setup. The M2 mount is solidly built, yet very easy to pick up and carry outside. The Astro Devices encoder kit integrates seamlessly with the MC head. I attach the Nexus-II unit to the M2 with velcro. As a result, everything moves a one unit and there is no cord wrap when moving the mount in azimuth. I use SkySafari 5 Plus running on an iPad to align the encoders and locate objects. I couldn't be happier with the set up. It's a perfect compliment to the AVX for those times when I don't feel like taking the time to set up the AVX. I can have the M2 up and running (including aligned) in 10 minutes, versus about 25-30 minutes for the AVX. The AVX is a better platform for star parties and sharing the view with friends and neighbors due to it's tracking ability. The M2 is great for quick sessions in the back yard, or for using a second scope next to the AVX. I've even had neighbors over and while I'm working the C8 on the AVX, I hand them the iPad with the SV102, equipped with a zoom eyepiece, mounted on the M2 and turn them lose to explore the sky on their own.
Serge at Astro Devices has been great at answering any questions I had about the Nexus unit. The internal lithium-ion battery should power the Nexus-II for 14-16 hours, according to Serge. Longest I run it is 4 hours and then charge it for an hour or so just before the next use. I don't store lithium ion batteries on a full charge. I keep them somewhere between 50% and 80%, then charge them in the morning if I know I'm going to use it that evening.
Here are two pictures taken this past Sunday while out in Lockwood Valley, CA. Had a spectacular night with fantastic seeing. The milky way extended from Scorpius in the south to Cassiopeia in the north.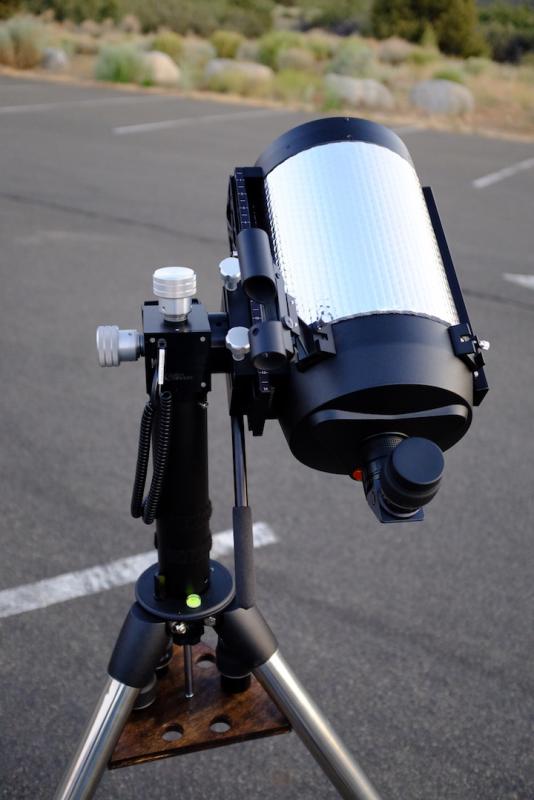 Edited by David P, 12 July 2018 - 06:45 PM.