EDIT: In reading John B's post down this thread I went & checked & he is indeed correct

- the image immediately below (well, replaced by the selfsame image with a corrected time etc) is an r-rgb!
I got into a lather with the WinJupos integrations due to a couple of things (see my latest post I'll make presently for a fuller explanation) & posted the r-rgb as an rgb: nothing wrong with that btw & somewhat understandable although I'll have to send an amendment to Richard etc...I also include the straight rgb in this post now for integrity & completeness.

As I intimated in Mark's (Laicalle) thread earlier & also as I commented in another Adelaide imager's thread here tonight (Lepton) just then, despite clouds & winds not appearing very conducive to planetary imaging it seems the old adage about "you never know" might've been true...
Forecast clouds & relatively strong winds had us ignoring the fact that for several nights the sky was mostly clear - but last night in desperation (probably the least favourable from the forecasts

) we decided to set up & "have a go, ya mug!" in our backyard.
All wind layers were moving relatively fast & clouds were expected very late with a chance of showers where we live...stars twinkling & a not very impressive star-collimation adding to the "c'est la vie" feelings mixed with a healthy dose of pessimism...
Around 11:30pm we started recording & wound up at about 1:45am - the last iR742nm & the final r-g-b sequence yielding the best onscreen images but with thin, high clouds creating mayhem with the histogram: Pat deserves full marks for her application where, without her computer glasses (she lost them & is awaiting new ones from the optometrist) she rode the gain slider "on the fly" for 13 minutes as the histogram attempted to dive & soar as the cloud thickened or thinned..!



Mind you, "Der Kommandant" had to give her a pep talk & some wheedling when she attempted to rebel before these last 4 captures

but she is very pleased that we stayed out to get them, as they were clearly the best: 5 minutes for the iR742nm & an intended 5 minutes also for each of the r-g-b sequence - but mindful of her capricious personality I said to cut the red capture after 4 minutes, thinking that would be the timespan for the g&b also...but we had not altered their limits from 2 minutes each...so that was that!
It was getting pretty bad by the end of the blue capture & I suspect the thin veil of magenta draped on part of the rgb image was a legacy of clouds &/or capture histogram fluctures, throwing the so-so seeing in to boot - but we can live with that!

I think we can say that the dust is settling, particularly in these regions...& as John & others have suggested perhaps we are starting to see a quite-altered Martian landscape, although on both counts we'll have to wait & see to be certain.
Most interesting for us (apart from the fact that such poor conditions resulted in very satisfactory outcomes) is the clarity of the Argyre Basin area: this huge impact crater in far Southern latitudes is resolved very well as are numerous smaller craters in close proximity - a first in this region for us mainly because in past apparitions Mars has been much more Northerly-inclined in its perspective.
2+ hours & over 120Gb of data later it all boiled down to 13 minutes at the end of the night - but well-satisfied with our best so far for this apparition imo & strong signs that the dust may be settling in time for opposition or shortly thereafter - but

!!!
The rgb is a WinJupos integration of 4 minutes of red...& 2 minutes each of green & blue: btw, the rain did arrive but not till well after we had the ota inside & the mount under tarps.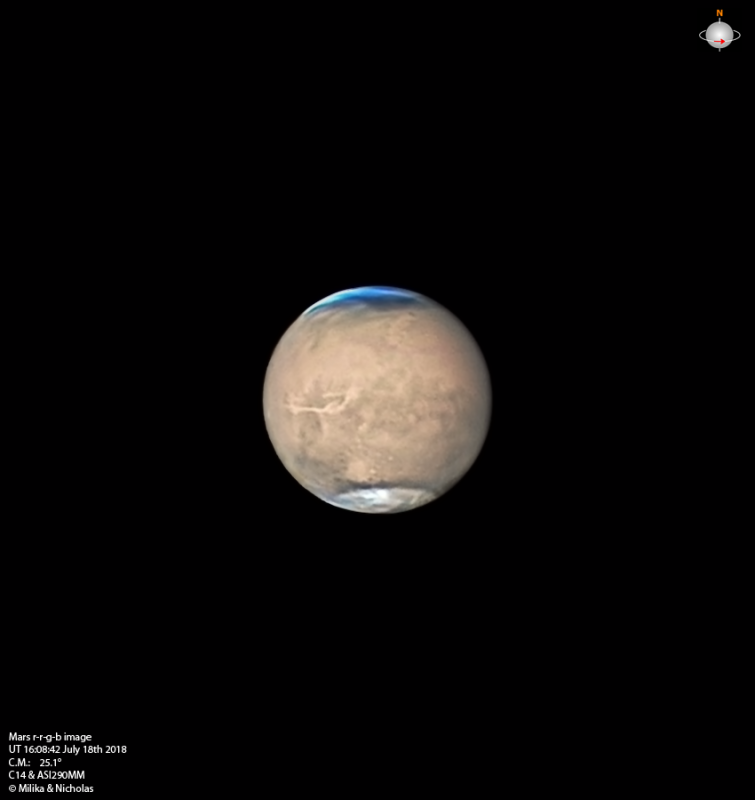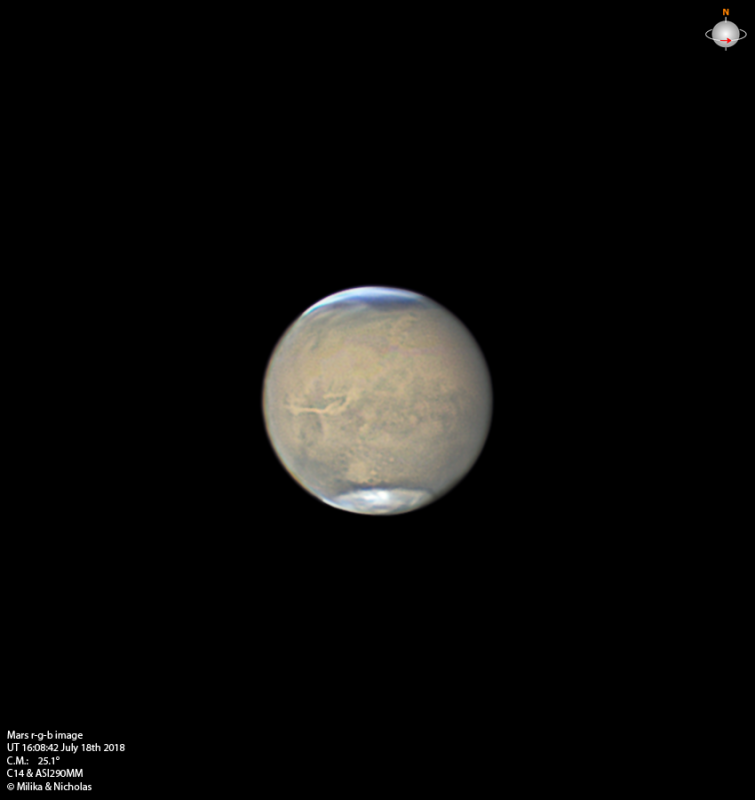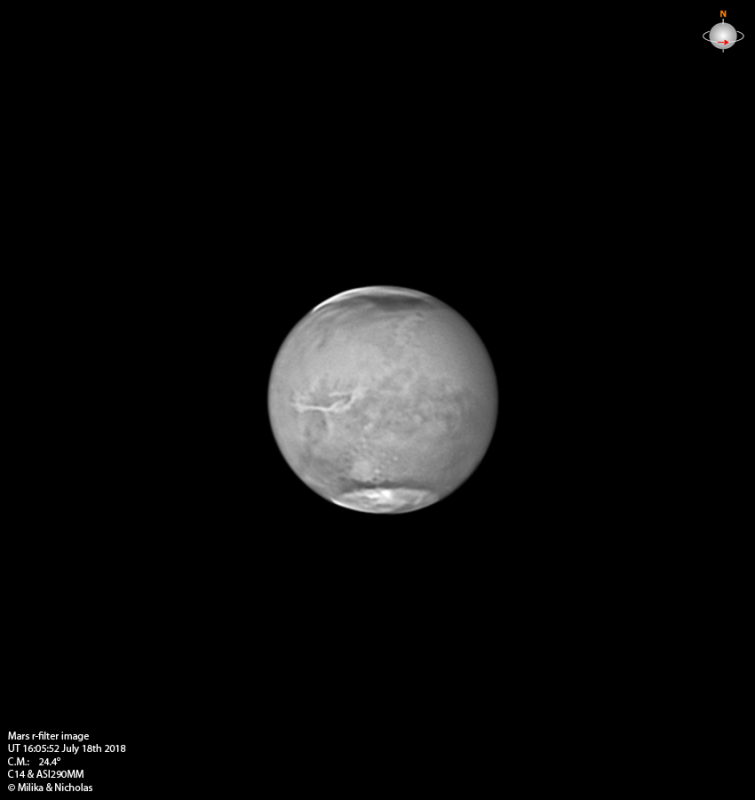 Note that although the iR742nm image has the greatest contrast, the red channel image has better resolution (finer details) although certain features do appear stronger/clearer in the iR image: newbies often confuse contrast & resolution!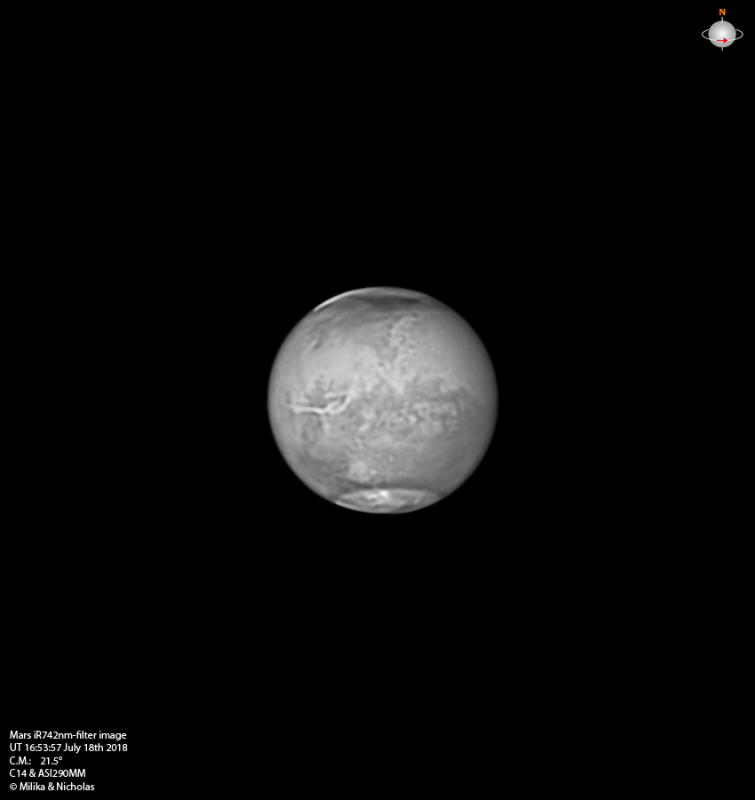 Edited by Kokatha man, 19 July 2018 - 10:08 AM.