While shopping for another Pentax body (used), came across a "Demo" lens, & snagged it.
ZONGYI CREATOR, 135mm f/2.8. Manual focus. The build is impressive & top notch.
The focusing ring is snug & tight, not soft,loose or sloppy feeling. This ought to prevent "creep",
and focus changing during imaging. The lens is kind of unique, in that the f/stop selection
(and blades), are about in the middle of the body, not @ the rear like most "normal" lenses.
The "stops"" actually have a bit of a "click" to let one know when they are at a specific setting,
yet the aperature is completely adjustable inbetween each click stop. One can set it anywhere, and it will stay there.
Just like the focus ring, it's nice and snug, and stays where it's put. Not to mention, it's really heavy for it's size (1lb 5oz) & all metal construction.
Had a chance to try it out recently, so attached it to the K5ii, and mounted it on the LXD55. Since I wasn't going to guide, and was in the backyard,
did a 3-star align on the mount, then went to NGC 7000. The results are very promissing...(20) 180s 1600 iso & (27) 180s 800 iso.
Played around w/the f/ratio during captures & was between wide open & f/4, for a total of about 2hr:21min
When first looking @ the RAW files, most of the bright stars had purple fringing, yet decided to stack to see the result. (Didn't use any filters on the lens for this test.)
The stack came back promissing, so proceeded w/processing, and came up with this. This is the full field view, no cropping.
Evidently there is a Ver II of this lens that has ED glass (unsure if the one I have is that version), and they might be available in Canon/Nikon mounts.
For a semi inexpensive,fixed length lens that's great for semi-wide fields, it ought not to be overlooked.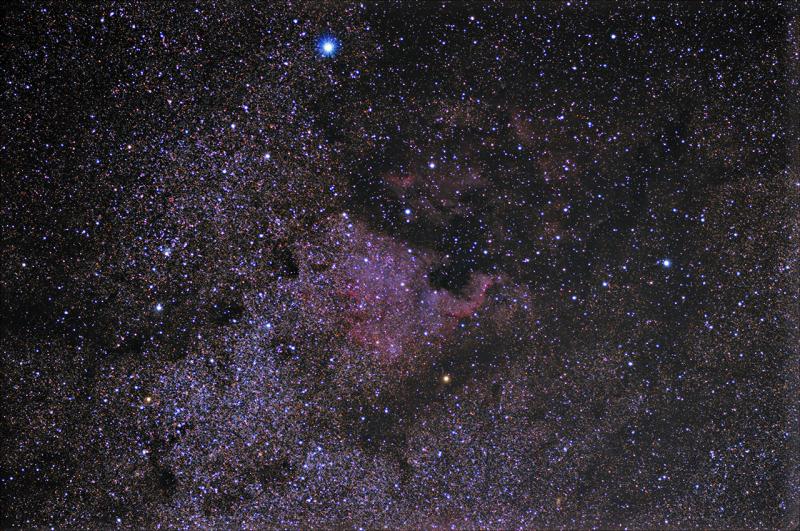 Edited by SKYGZR, 06 August 2018 - 11:55 PM.