In another thread, member X3782 expressed concerns about being able to enjoy a quality mirror while having unavoidable errors in scope alignment (collimation).
Then I said that coma corrector will take care of that issue and gave some proposterous numbers on which I based my claim, but the numbers were wrong because I made the wrong setup of the simulation in OSLO, so I promised to post the right numbers once I get it right.
X3782 also mentioned something that coma correctors are very sensitive to decentering, thus collimation error from scope flexing with variable elevation.
So, lets see what happens.
When the scope flexes with elevation, it's the same thing as mirror tilt, as the axis of the scope doesn't match the optical axis any more. But there's more. You can have a mirror tilt while the axis of the focuser with CC will still point straight at the center of the mirror. I was simulating another case;
Let's say that if the focuser is on the side of the scope, parallel to ground, then scope flexing will "sink" the focuser towards the ground in parallel translation, thus focuser axis will not point straight at the mirror center.
I guess this ends up being just pure decentering.
The OSLO setup does contain a mirror tilt, but only to allow the image to hit the focal plane, while the focal plane and coma corrector (focuser), is being de-tilted and kept parallel to the scope axis, so it is pure decentering with the image steered off-axis to be get centered with focal plane center (focuser axis).

12-5 f5 paraboloid tilted coma corrector not tilted.len 1.46KB 19 downloads
The decentering of focal plane center (focuser axis) is ~2.7mm, which is a substantially large collimation error.0
Here are the plots;
2.77mm focuser decenter 12.5" f/5 without coma corrector, focal plane diameter 14.2mm: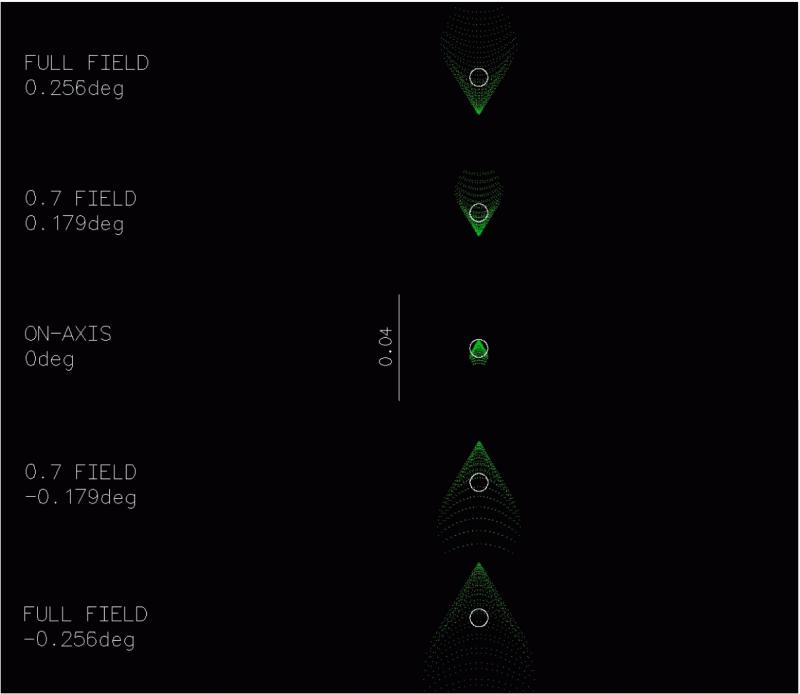 So, at center we have Strehl 0.81.
It can be seen here how coma arrows point in opposite directions, like pointing to somewhere in between. That is where the best spot is, at field height of 20%, which is ~1.4mm of 7.1mm field radius. It is virtually unspoiled, being Strehl ~1.
Here it is: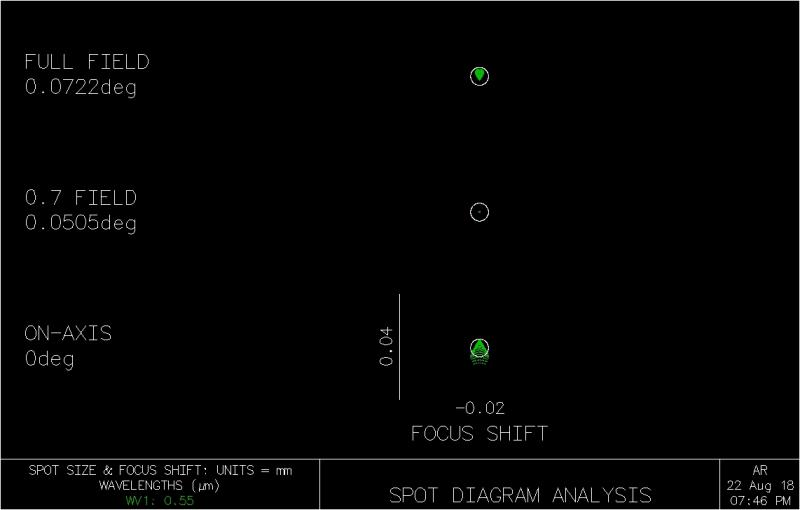 It sounds weird that the best spot is just 1.4mm above center, as collimation error is double that, at 2.77mm., but we have field curvature that is not centered any more with focal plane and I did refocus for minimum spot on axis, as it would be done in practice. I take this as field curvature and best focus do not cross in center of the focal plane any more, but 1.4mm away.
Which is really good, when you think of it.
Now with CC, same mirror.
My CC has magnification of 1.413. I wanted to keep the same TFOV for this presentation, so I increased the field stop radius. Focal plane now is 20mm in diameter.
First, let's see how CC works when centered.
Scale is changed so the Airy disk size would be the same on all plots: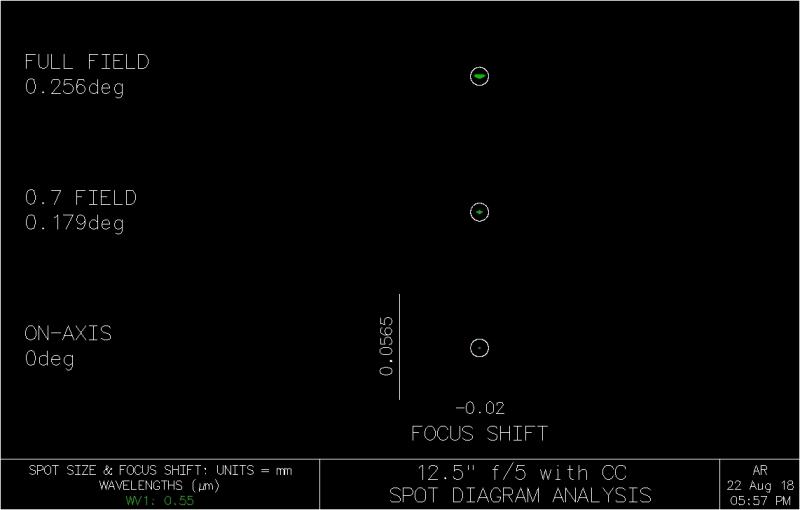 Now, with about the same decenter, 2.67mm: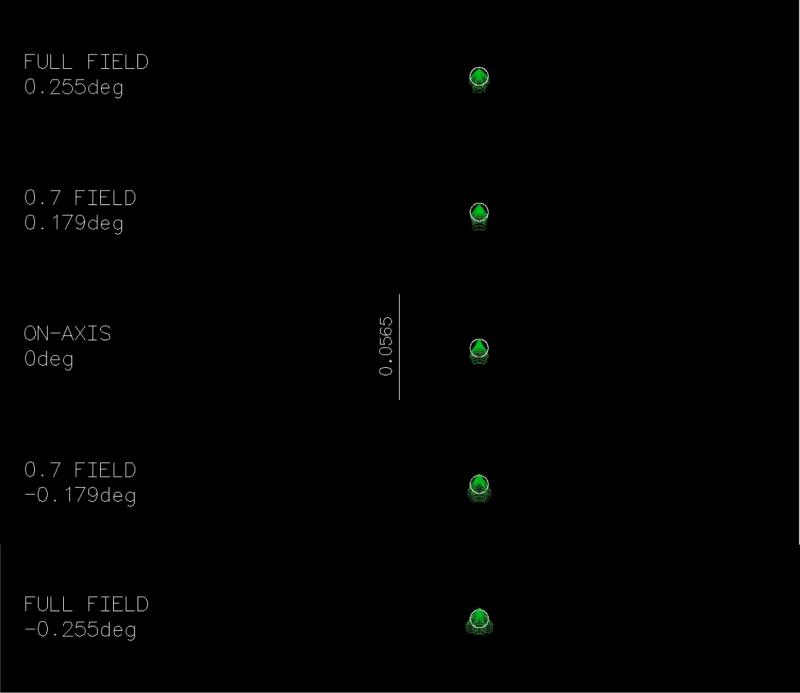 We have the same Strehl in center, as without the CC, and the whole field is much better, being diff limited everywhere except just a little lower at far negative field edge, but we don't have a better spot than on-axis any more, anywhere in the field.
That has been lost.
However, as far as sensitivity goes, in is not worse on axis than without the CC and the image off-axis didn't explode into mess.
I chose this particular collimation error (~2.7mm) to keep on axis image at S=0.81.
What would be the conclusions from this?
Are collimation errors more or less critical with coma corrector?
One thing is for sure, stiff scope would be good in any case.