Astrospheric
Advanced weather forecasting for North American astronomers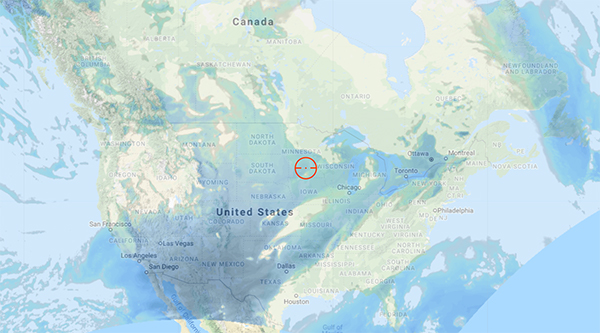 Website | Android App | iOS App


Hi fellow astronomers,

I'm happy to announce that the forecast on Astrospheric will now be updating every 6 hours (4 times a day). This will hopefully bring more accurate forecasts for all.

I'm personally very excited about this update. I usually drive several hours to get to my favorite dark sites and by the time I get there I'm well outside cell signal. This generally means I would get a new forecast in the morning, leave for the dark site after work, and be out of cell signal by the time a new forecast was being published during my drive. While the Canadian Meteorological Center's (CMC's) forecast is very accurate (for my area it has been the most accurate), going over 12 hours without a CMC forecast update always makes me nervous. Now, I'll have an additional high quality forecast to help me make a final go/no-go decision before making any drive



Technically, this update has taken me a few months to get into place and is powered by a new server component I've been writing from the ground up to process raw weather data. Astrospheric now reasons over about a billion data points every day, and makes it all searchable within a matter of seconds. The map overlays are also updating 4 times a day as well.

Of course a big thanks goes out to the Canadian Meteorological center for making the raw RDPS forecast model available. The work Allan Rahill and team have done is really outstanding.

One item to note - While the forecast will be generate every 6 hours, Seeing (Scintillation) will continue to be computed every 12 hours. You'll see a small gap in Seeing at the end of the 48 hour forecast a few times a day. This issue will be corrected in the coming months once Astrospheric begins processing the Seeing model independently.

Other data changes:
The "classic" transparency forecast produced by Allan Rahill has been replaced by the Astrospheric Enhanced transparency forecast (you can learn more about that here). It is no longer possible to integrate the classic data in a 48 hour forecast, but it is still possible to view the classic data on the map. If this is an issue for you, please let me know. Alternatively, if you're near a Clear Sky Chart and need the classic transparency data, that is also an option.

Here are the approximate update times in the larger time zones (add/subtract if you fall outside a timezone listed below). These are estimates based on average times CMC has made the RDPS model data available. These times are currently in daylight savings and shift forward an hour once daylight savings is not being observed.




* = Seeing (Scintillation) updated in this forecast.

That's all for now. Please let me know if you have any feedback.
Clear skies!