...or something like that, at least!
A couple of months ago I finally sold my 14.5" f/4.5 TeleKit and ordered a 12" f/5 DobSTUFF scope from Dennis Steele in Palm Desert, CA to replace it, since I needed something lighter and more manageable. The Albert Highe inspired design of the DobSTUFF (and Plettstone, etc.) scopes appeared to be a reasonable / workable compromise between other too-heavy / too-big or too-fragile / too-dew-prone designs. It's a straight-strut design, so there's some flexure compared to triangular truss designs (as I expected) but it doesn't seem to be excessive (?). Actually, other than a couple of brief test-runs on my patio, I've had it out for only one observing session since it arrived in early July, and even that had less-that-clear skies. Such is summer in the Deep South, alas... So hopefully I can put it through its paces before too long and validate what I've done to it.
Anyway, I can read others' reports of scope mods for hours on end, so hopefully my process of adapting a fundamentally dry-climate design to survive in humidity will be entertaining and / or useful to others (particularly if they're considering the same task). FYI, this isn't really a review of my DobSTUFF scope as much as what I done to it. However, that said, Dennis is very easy to work with and prompt with communication. Also, the things I've done aren't really a reflection on the DobSTUFF design nor Dennis' execution as much as they are a reflection of my wannabe perfectionist tendencies (that is, I want perfection but I almost never achieve it in any sense!). I also had a self-imposed budget and I'm aware that some of what I've done is already available commercially.
Being an open-air design, I knew I'd have to enclose it a bit to combat dew. I opted for the primary dew shield from Dennis, which is a cylindrical piece of plastic that encloses the mirror "box" (mirror cylinder?

). I contacted Heather Teeter about a custom shroud but was turned down. I came up with a shroud design and between my wife and I we made it from some $18 / yard spandex we found at Jo-Ann Fabrics. I also installed a DewBuster controller, four dew heaters, primary fan and a Kendrick secondary heater.
Photos and other commentary
The completed (yeah, right!!) scope in dew-prevent configuration (i.e., I won't install the dew control stuff at TSP, etc.):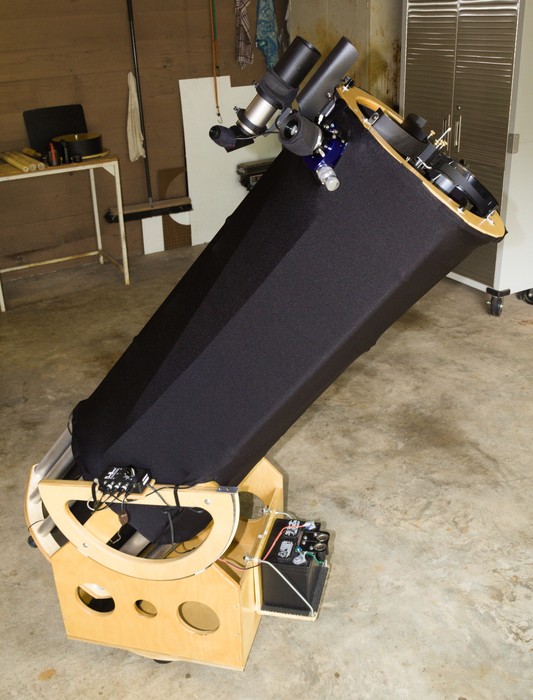 I put a 3/8" strip of hook-side Velcro around the end ring and top ring of the mirror unit to secure both ends of the shroud: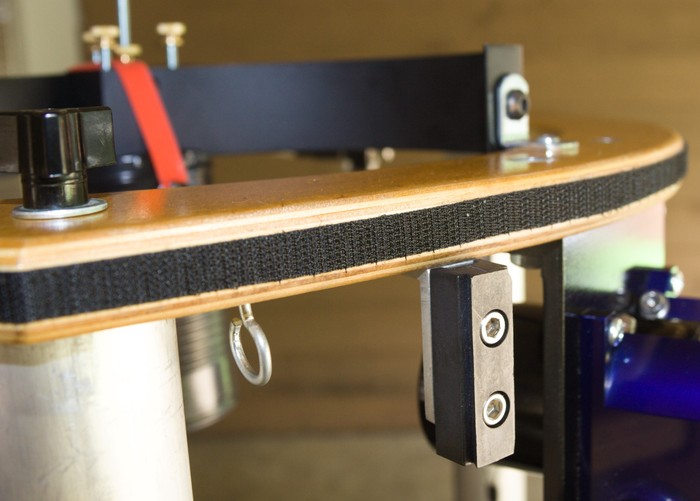 Although spandex will inherently stick to hook-side Velcro, we put 2" long strips of hook-side sew-on Velcro every 4" to make sure it's secure. I also noticed that even after only a couple of tests, the non-Velcro spandex was showing signs of "picking", so who knows how long it would last directly on Velcro.
Using Velcro on the scope complicates the process of installing / attaching the shroud, since it's difficult to pull the shroud over the end ring without it hanging on the Velcro. As a result, I slide the shroud down over the struts before attaching the end ring. Of course that complicates other parts of the assembly routine, but that is what it is. I just need to get the proper sequence resolved in my mind. The first full assembly took me thirty minutes... I think it'll get faster with practice.

There are alternatives to Velcro: drawstrings / bungee, snaps, hooks, etc. but this seems to work well. I wish there was stretchable Velcro - That would've made the ends a little less wrinkled, but whatever. I have mixed feelings about Velcro - It's incredibly useful but annoyingly imprecise for us analytical types.

I get a slight twitch when I see Velcro stuck all over scopes and various bits of what-not attached to it a slightly imprecise angles.

How do I keep the spandex from getting in the light path? I initially thought about using longitudinal bungee cords, but actually a stretchy cord is a installation convenience and a liability, not an asset, against the "squeezing' force of the spandex. Instead, I installed a few open screw hooks (see above) as well as utilizing other attachment points already on the scope (knobs and two hooks Dennis added for securing the metal "strings" he included) to hold black 550 parachute cords with aluminum tensioners like this: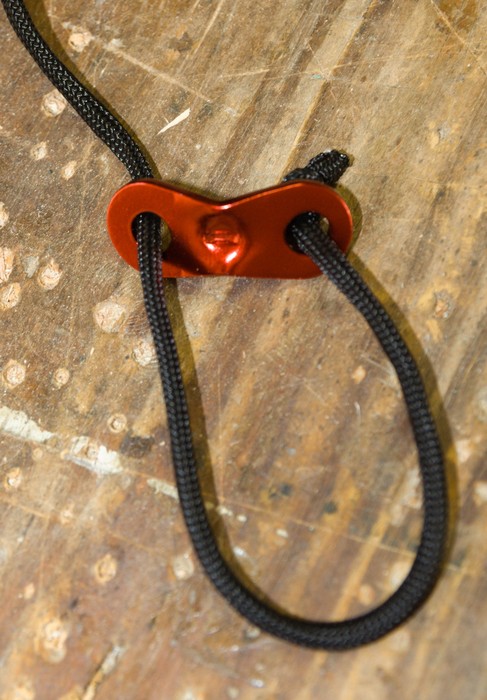 After a bit of field-use I may find I can eliminate one of the cords, but at the moment I have three. They lace around and in conjunction with Dennis' "strings", when tight they form a nice framework to hold the spandex out: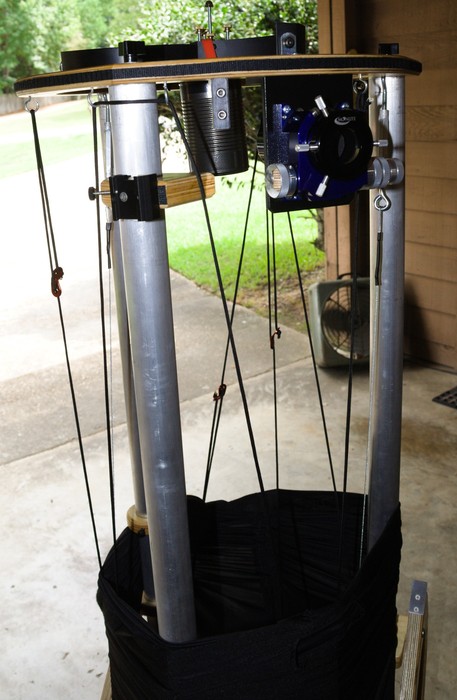 (sorry for the backlit photo - It was about to rain outside and my carport is a little dark... New scope curse and all that)
(continued next post)