Please find attached suggested sub exposure tables for IMX128 based cooled cameras.
Published data for ZWO and QHY cameras are significantly different at very high gain. However, Buckeyestargazer published some measurements for the QHY camera that matched well with the ZWO data, so the tables are based on the ZWO data, cross matched by well depth to get the corresponding QHY result - best I could do.
To use the tables, first determine your sky brightness. If possible, measure with an SQM, but otherwise, find your zone from a sky brightness atlas or the Bortle scale. Maybe start at https://www.skyandte...e-your-skyglow/

When you know your sky brightness/zone, go to the appropriate table and find the column for your scope fNo. Then find the sub length for your chosen gain setting – lower gain for dynamic range, higher gain for shorter subs or narrowband. If the exact fNo for your scope is between the listed values, your exact sky brightness is not covered, or want to use a gain value that is not listed, look at the nearby data and estimate – that will be good enough.

The value from the table is the shortest sub length (for that scope, sky and gain) that will still be shot noise limited (5%RN criterion) - this is an efficient way to image. The suggestion is definitely not a hard and fast rule though - you can use longer subs, but more stars will be saturated. You can use shorter subs, but the total exposure time to get to a given image quality will be longer.
If you wish to refine the sub length, first take a sub at the recommended exposure and use the cursor of your acquisition software to look at the ADU values in a background sky region of the scene (no stars and no hot pixels, preferably away from vignetting). Move the cursor about slightly to estimate the average ADU background value in the clear region. From this background ADU value, subtract the bias value for your camera (again - use the cursor to estimate the average ADU signal in a bias frame taken at the same gain and offset as the light sub). Then compare your sub-minus-bias value with the "expected ADU above bias" in the final column of the table. If your sub-minus-bias is a lot lower than expected, increase the sub length to compensate – if you get a much higher value, consider reducing the sub length. However, don't sweat about getting an exact match – getting in the same ballpark will be close enough. (eg if the "expected" value is 500ADU, measured values from maybe 300 to 700 would be fine).
Have also included a graph of dynamic range vs gain for a typical imaging situation. Dynamic range is defined here as maximum possible signal divided by the total noise in a dark sky region - after the stacking process. The cameras have good dynamic range at most gain settings - to put this in perspective, a typical benchmark mono 8300 camera would have about 75dB dynamic range under the same conditions - and this is generally sufficient to produce good images.
I do not have access to either camera to validate these calculations, so would greatly appreciate any feedback - particularly if you find anything that is obviously wrong.
Thanks for looking. Cheers Ray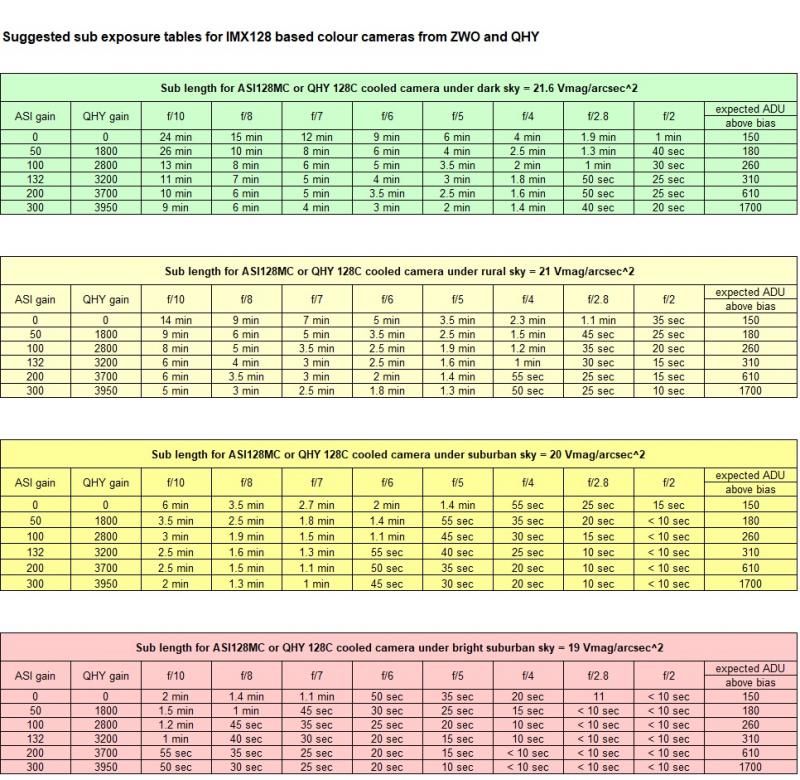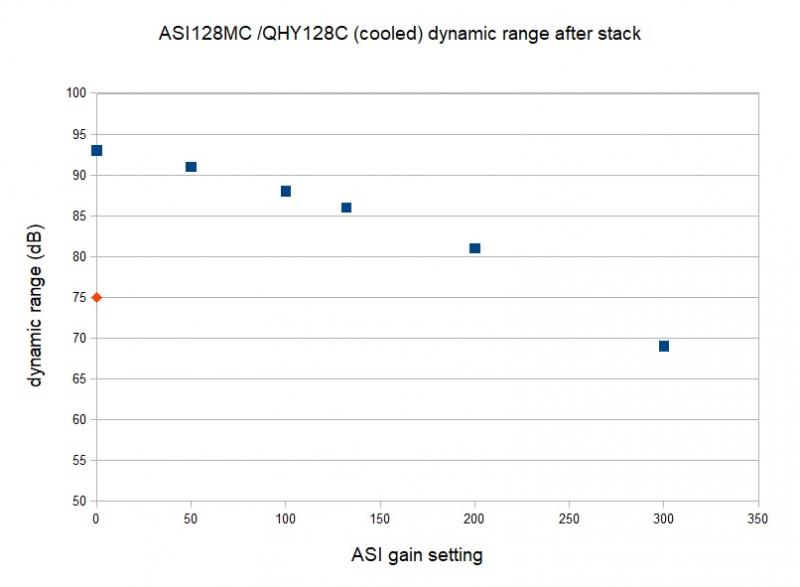 Edited by Shiraz, 17 September 2018 - 04:07 AM.