After reading a post by Jeff regarding how much he enjoyed observing sh2-101 (The Tulip), I thought that I would share my "best of the best Sharpless list".
Since June, I have observed 82 (of 313) Sharpless objects. This has been using a 4" refractor and a 20" dobsonian telescopes.
Of those 82, I have marked 37 as "worthy of revisiting"
Here is my list..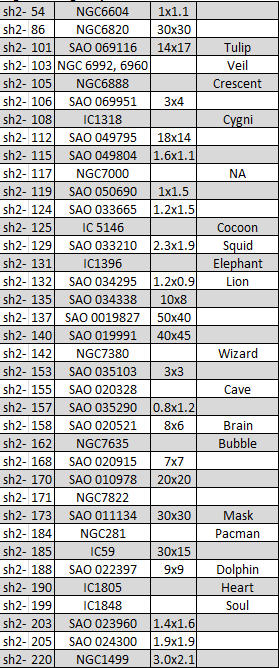 (The 2nd column contains a reference that you should be able to enter into a GOTO scope to get you straight there!)

Some of these objects will appear tiny in small scopes but become worthy objects in a large dob.
Some of these objects are just too large to be appreciated fully in the dob and a smaller scope comes into play.
Hope this is useful to somebody,
Alan
p.s. The list is dynamic and will continue to evolve as I work through the 231 remaining objects...
Edited by alanjgreen, 20 September 2018 - 05:55 AM.