Since I have the Vixen 90M I am also dealing with "false color" more than before (my previous scopes were lengthy f/15 refractors).
Yesterday I was watching the craters on the almost full moon with the 90M and my volcano top 7mm Ortho. At some point I decided to try my .965" eyepieces as well. In that size I have an 18mm Ortho (Vixen, so in reality it's more a Plössl), also a cheap (still Vixen) 18mm H.M. as well as better-made 12.5mm and 8mm Japanese H.M. eyepieces. Here's a pic with my 12.5mm H.M. just for reference.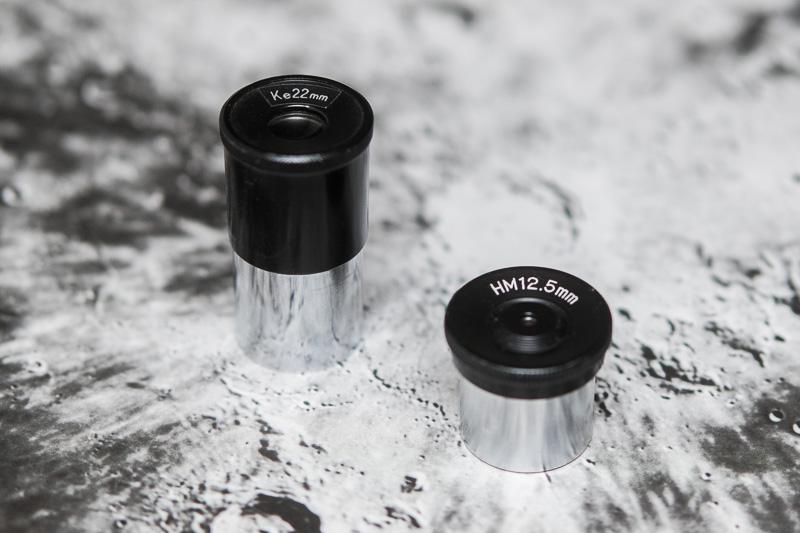 I was really astounded to realise that all three H.M. eyepieces with their ancient optical formula showed MUCH LESS false color than the more modern Orthos. While contrast and detail sharpness were basically at least as good as in the Orthos. The limb of the moon had a distinctive violet fringe in both Orthos, and that was reduced a lot in the three H.M. eyepieces. I'd say the limb was maybe half as wide and maybe half as bright. Hard to describe accurately but, again, false color was reduced a lot.
Actually I found myself preferring the views that the H.M. gave. Only my Vixen 18mm H.M. is let down a lot because its a cheapish plastic eyepiece, albeit with very nice optics, yet with only 30 deg apparent field of view and a rough plastic field stop. My better-quality 12.5mm and 8mm H.M. eyepieces show the same 40ish deg apparent field of view of an Ortho and a nice crisp field edge.
I now really wonder why there are no modern high quality versions of H.M. eyepieces, or maybe a modified modern eyepiece design, that also would reduce the color fringe and maybe give more eye relief than the old H.M. does. I am sure it could be done these days?
There are so many big more modern achromats out there, such eyepieces should actually appeal to a lot of buyers! Thomas
Edited by memento, 25 September 2018 - 04:04 AM.