I've picked up two long-focus 60mm refractors in the last six months, an 800mm Selsi and a 900mm Orion. The first was a gift and the second was a junk shop find. They are both Towa .965". Everyone today is warned away from the "department store 60mm scope with the bad mount and .965 eyepieces" so I was skeptical when I received the Selsi. But these older scopes were evidently the working model that the "cheap Department store scopes" were unsuccessfully trying to clone, because I've found mine to be delightful performers. In fact, after rehabbing the Selsi earlier this summer, I went back and picked up the Orion at the junk store. That scope had been languishing for at least a year, and I'd looked at it before but rejected it because of the .965 format. That scope had no working eyepieces but I had some .965s from the Selsi.
One of first things you read about these scopes is "get yourself some 1.25 plossls" to replace the .965 eyepieces. I'm offering a slightly contrarian modification to that advice - "Consider getting some plossls if you're not happy with the .965 eyepieces." Last week I did get a .965 to 1.25 adapter to let me use my 1.25 eyepieces with the scope, and the results were not as definitive as I might have expected. For others considering this situation, I'm offering this report on my work.
Telescope Used: The telescope I used was an Orion-brand Towa 60/900 refractor on an EQ2 mount. It featured the original finder scope and diagonal. It also had a locking screw on the drawtube to hold the diagonal. The locking screw is why I used the Orion scope instead of the Selsi, as the Selsi does not have a locking mechanism and the diagonal can slide out if overloaded. I was afraid the Selsi would not hold the heavier 1.25" eyepieces. This photo shows the adapter inserted into the drawtube of the Orion 60mm.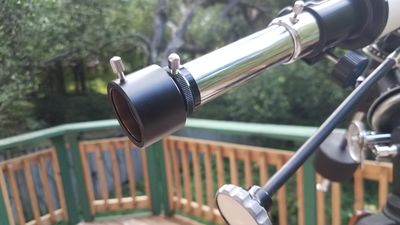 Eyepieces Used: I've assembled a selection of .965 eyepieces including two presumably Towa Huygens 20mm and 5mm that came with the Selsi scope; a Meade MA40mm and SR4mm, and a "modern" 12.5mm no-name brand. The diagonal is a prism that came with the Orion scope. My test 1.25 eyepieces included an Orion Sirius 25mm, an Orion Expanse 20mm and 6mm; and a Meade Series 3000 16mm. The test diagonal was a GSO mirror diagonal.
Adapter: My adapter is a no-name aluminum affair I purchased on Amazon. It has a .965 barrel that slips into the drawtube and a 1.25 receiver for the larger accessories. For my test, I put the adapter on the 1.25 diagonal and then just swapped out the two diagonals for the test, using the adapter to fit the 1.25 diagonal into the .965 drawtube.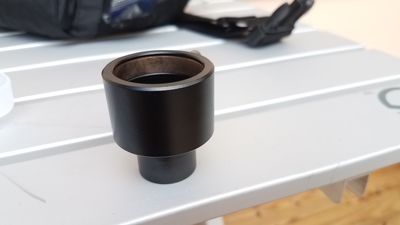 Test Targets: Saturn and Epsilon Lyra (the double-double).
Seeing conditions: Test was conducted on 9/25/18 between 8 and 10 PM EDT, latitude about 30 30' N. I live in a downtown and the skies were reasonably dark for my location -- about mag 3 naked eye, very calm. The moon was beginning two wane and but probably did produce some sky glow. These are typical conditions for my location. I only get dark skies when a hurricane knocks out all our power (oddly enough, I seem to be the only one in my family who gets excited about this circumstance....)
Test Results: Saturn: Saturn is putting on a beautiful show this year and I've enjoyed watching with my XT8 dobsonian and EQ90 refractor. From my house, the refractor delivers an equivalent image to the much larger reflector; from a dark sky site, the reflector shows a brighter and more contrasty image. I've also been surprised how sharp and clear Saturn looks with the little 60mm scopes. With either scope I can see the Cassini division easily, using the .965 eyepieces.
I started the test using the 20mm Huygens against the 20mm Expanse. While there was a slight adjustment in focal length to account for the different light path through the 1.25 diagonal and adapter, these two yielded a more or less equivalent 45x. At that magnification, not much detail is visible, but I noticed the 1.25 image was brighter but not more detailed.
From there I kept increasing the power by swapping out the eyepiece/diagonal combinations. I ended with a shootout between the 6mm expanse and the 4mm and 5mm .965 eyepieces. The results were consistent throughout -- the larger eyepieces were brighter but not necessarily more detailed.
Epsilon Lyrae: One of my favorite showpieces (I guess everyone else's too?) the double-double is an easy test for optics. I usually look at these anytime I have my big scopes out and they never fail to please. Prior to this night, I've never been able to split either pair with the 60mm scopes. Working my way up to the higher magnification, I was delighted to find I was able to split one of the pairs with the 6mm Expanse eyepiece! Then I was more delighted to find I could split that same double with the 5mm Huygens! I'd never done that before with the small scope. I have two theories about this. 1) it was a darker and clearer night than I might have worked before and 2) once you see something, it's easier to see it again. I've noticed this when comparing the Orion Nebula, Jupiter, and Saturn between the XT8 and the EQ90 refractor. The larger reflector will cause a feature to really jump out, but when I look in the smaller scope, I can still see that feature but had not noticed it before. Possibly something like that was at work here. Certainly I've tried many times before to split the Epsilon Lyrae pairs unsuccessfully with that scope.
Conclusion: The 1.25" eyepieces with the .965 to 1.25 adapter consistently provided a brighter image, though not more detailed. Had I been able to test Jupiter, the contrast between the cloud bands might have provided a good test as well. Having said that, the image was not so much better that I plan to use the 1.25 eyepieces from now on. In fact, I will probably continue to just use the .965 eyepieces, though it's good to have the option. The adapter is so inexpensive that if you already have 1.25 eyepieces, it's a clear "why not?" decision to get an adapter.
My expectations for the 60mm refractors are pretty limited. They need to provide nice views of the planets, the moon, and some showpiece doubles from my downtown location. If I REALLY want to look deep and long, I've plenty of aperture and quality at my disposal for that, and that's especially true if I'm traveling to a dark sky site. The 60mm scopes are a "quick peak" tool, even though a "quick peak" sometimes turns into an hour or more of looking. These scopes serve a similar purpose to the Edmund Astroscan in that way.
And I've found I kind of like the little "miniature" .965 eyepieces. You can pick up good quality ones for a song, and the box of my entire collection (six now, plus a barlow) fits in the cargo pocket of my shorts. Can't beat that for portability. They must be kept pretty clean because they show dust badly, but I can work around that. The lens design is simple and you can clean them yourself if you pay careful attention to which way the lens elements are pointed.
I can't speak to the use of 1.25 eyepieces in larger scopes or Unitrons or something like that. But for relatively poor skies in urban locations, I'm finding the original-design .965 eyepieces are a good match for the smaller refractors and have some advantages over their larger 1.25 cousins. Get the adapter, for sure, but I would say don't assume you can't have fun with the smaller eyepieces and get in some really enjoyable observing. Certainly don't feel like you have to wait on the adapter to use the scope, or that the smaller eyepieces are useless, especially if they are the heavy old Japan-made .965s. Take that old scope and its little old eyepieces out there, and see what you can see! You'll be pleased, I bet....