In my continuing review and analysis of the Canon 200D and Nikon D5300 I thought I would look at the effect of the antialiasing filter. The Canon has one but the Nikon does not.
I was expecting the Nikon D5300 to show the weird star colours that Alan Dyer demonstrates on both the Sony A7III and the Nikon D750 - see the bottom section "Debayering Star Artifacts" here: https://amazingsky.n...trophotography/
I gave up waiting for a cloud-free night and used an artificial star instead - a white LED torch covered in baking foil with a tiny hole made by a pin. I moved its position randomly between multiple exposures: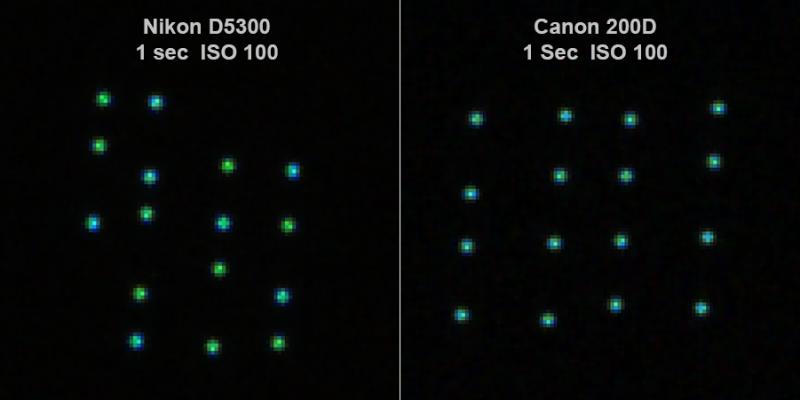 The 50mm lens I was using was not sharp enough to produce the pretty pink, purple, green and yellow stars. However, something else was noticeable. The Canon produced "stars" with more or less uniform colour. However the Nikon produced stars having a mixture of colours - some the same as the Canon and some stars that were quite green. Why is this?
I'm guessing this is an effect of the Nikon spatial filtering (which seems to kick in at around 0.5sec). I think it's probable that, just like the later version of the Sony star eater algorithm, the spatial filtering preferentially attacks red and blue pixels.
Further testing and analysis is required. I'm interested to know if anyone else has noticed the Nikon D5300 producing greenish stars? If my hypothesis is correct, it would only affect stars that are small and unsaturated. Or maybe you've noticed the pretty pink, purple, green and yellow stars that I was unable to produce?
Mark
Edited by sharkmelley, 02 October 2018 - 07:41 PM.