Thanks to Eddgie, there are easy ways to mount 1.25" filters in Nikon to C-mount camera lens adapters. But some filter cells are very thick (light path wise) and can cause vignetting. So I decided to have a special, custom 12nm H-a filter made to fit perfectly into the bottom step inside a Nikon adapter. But I've also figured out a way to get a normal 1.25" filter closer to the the C-mount so that it does not vignette, even with really thick filter cells.
First, the custom filter method. Last Monday, I ordered an Astronomik 12nm H-a filter from Germany. I simply sent an email, had a response within an hour, paid $152 with PP and had a second response that it would take 2-3 days to make and 2-3 days to ship. Well, that was Monday at noon Pacific time. On Thursday, the filter arrived via FedEx delivery. WOW! That is excellent service! I promptly blackened the edges and epoxied it to the bottom step inside my Nikon to C-mount adapter, which means there is no filter cell to obstruct the light path from the lens into the Mod 3C (see photos below). The only problem with this method is that I need a different Nikon adapter for each filter that I use. Necessity is the mother of invention....
So I worked out dimensions to fashion my own Nikon to C-mount adapter using "other" off-the-shelf parts... most of which I already had. For this custom adapter method, I only purchased an Ebay $13 Nikon to M-42 (same as TT/T2 threads) adapter, screwed a 10mm extension tube onto the T2 threads of the adapter, screwed a 1.25" filter into a ScopeStuff filter capture ring and then screwed a ScopeStuff C2TT adapter over the filter capture ring. This combination of parts is 2mm shorter than the official Nikon to C-mount adapter. And, on the C-mount end, the filter is only 3mm deeper than my custom filter that is glued in (above). With a light shining through this cobbled adapter containing a 640 IR filter with a thick filter cell, the filter is still close enough to the C-mount opening that the cell is not visible. It provides the same clear light path that the custom filter provides.
Pictures are worth 1,000 words so here are 6 to save time reading ...
Custom filter epoxied in bottom step inside Nikon to C-mount adapter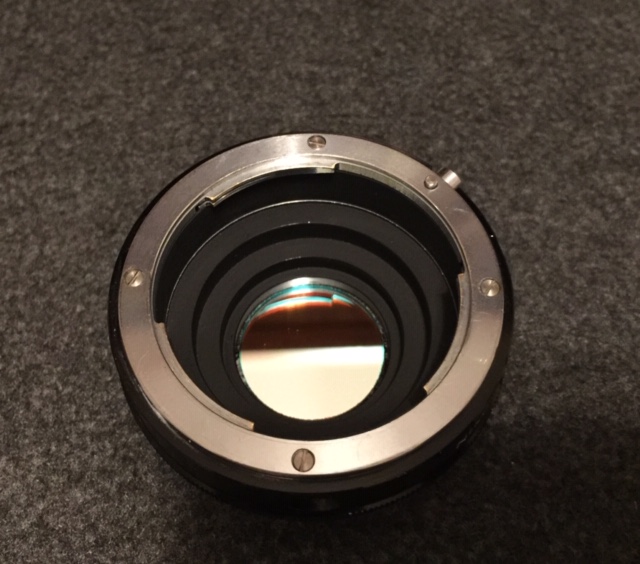 C-mount end of adapter with filter inset 7mm from the end of the threads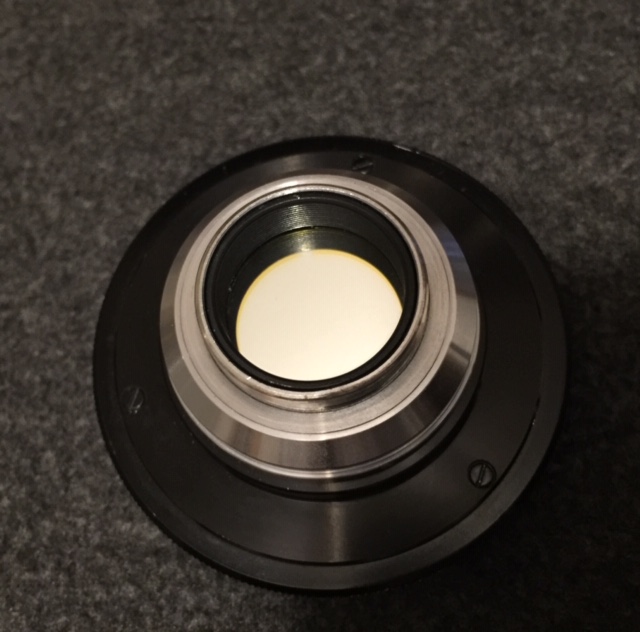 Adapter with filter connecting Nikon lens to Mod 3C (with an adapter I made to attach a short dovetail for mounting)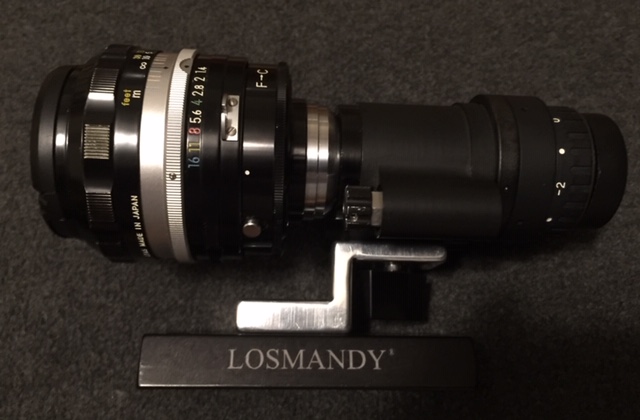 With the adapter screwed into the Mod 3C, the lens can be changed in seconds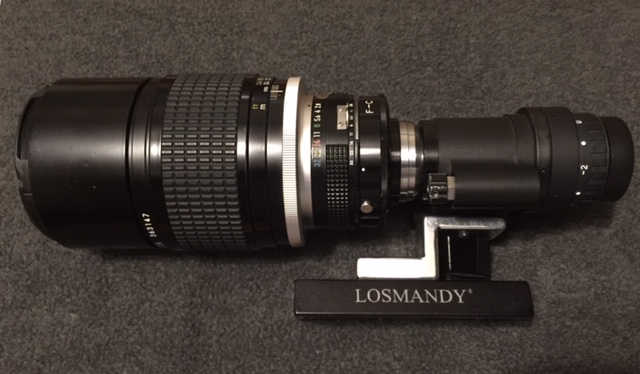 The "official" Nikon to C-mount adapter is on the right in this image; the cobbled adapter using the Nikon to M42 adapter is on the left