Hi everyone! I'm back with more newb questions. My observation sessions have been constrained by clouds and rains of a cyclonic storm brewing near my region. So I've decided to spoil my new scope's collimation.

And I've done a pretty good job at spoiling it. Learning how to collimate is still work in progress (CN has been very kind on PMs) and if weather forecasts are to be believed, I have over a week more to sit indoors looking at these mirrors. While looking through the collimation cap and attempting adjustments, I've come across certain things that I'd like as many experienced views on as possible.
So I have this collimation cap provided as a freebie by the seller:
Here is a picture I took recently through the collimation cap using my cell phone: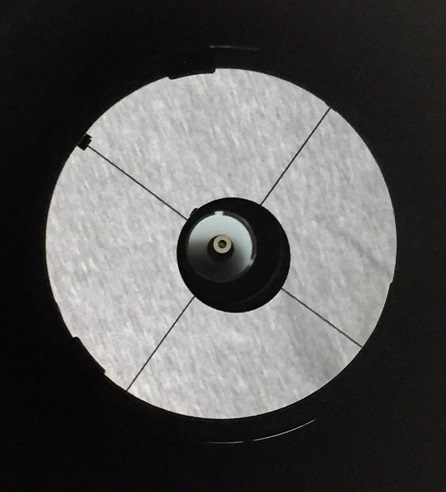 Now, I've marked the above picture with some areas of my concern using a light blue marker. The first thing I want you to notice is that I'm unable to view the third clip appreciably as marked in the picture below. But, even after dragging the view of the third clip to the centre, I'm unable to view it as per the textbook collimation standards. My concern is that I'm not really sure whether this a collimation issue because when I took the following picture of the primary mirror through the front of the OTA, I noticed that the two clips that are visible through the collimation cap hold the primary a shade more than the third clip. I've marked the third clip in blue for you to observe whether its normal or I need to adjust the third clip (or live with it as it is).
Also, notice in the following picture how the edges allow light to come from behind the primary. Standing behind the primary end of the tube, I can actually see some light coming out from these gaps at corners. Is this normal in a scope or some adjustments are required?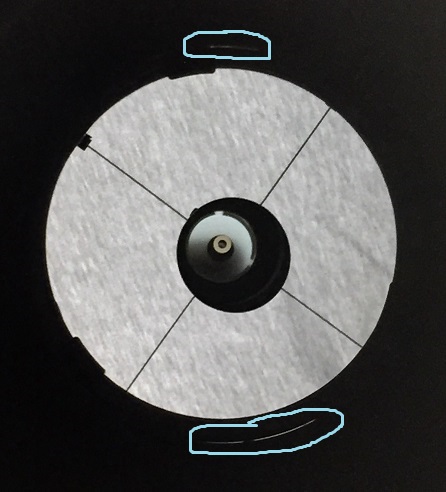 Lastly, is there any collimation tutorial/ video that teaches collimation exclusively through the collimation cap? I've been referring to Astrobaby's atm (which are good), but they use a Cheshire along with the cap. Others tend to start with the cap but midway through the tutorial, they'd summon lightsabers. I'd just like to get good at collimating through the cap over time, without buying other unnecessary equipment. But if you guys suggest something else, do let me know.