Now getting as high as 15º from here and there has been an improvement of definition recently. I can now get it some 2 hours before the meridian but with the big scope's full aperture still partly blocked by fence & wall structures till an hour or so before culmination. As the higher/co-mounted 3" is not affected by those I have been starting sessions post sunset getting some detailed views with that. Also with the 3" stopped down to 1½" (38mm) with fair detail apparent.
My impression re the dust storm aftermath is that perhaps some 60% of the main darker features are about up to 60-70% of their usual intensity. Some like Sinus Sabaeus possibly near normal; but the narrowed Syrtis Major has not yet struck me as particularly dark as I know it can be. The still-low elevation conditions possibly a factor affecting my judgement……….
Being so low we see through a considerable column of air and, even if relatively steady and transparent, a larger number of lofted particulates along the path and reducing contrasts are very likely. That is adding another dimension to rating seeing/transparency……….after following planets etc. many times through low skies there is what I have called a crispness factor which seems to improve when they reach >20º-25º altitude seemingly due to those airborne motes not so much taking the contrast-edge off otherwise good conditions…….
On the attached is firstly a panel of selected views with the 1½" aperture, and from last night the non-masked views with 3" & 16.3" scopes……….all from relatively good conditions.
Dave. (In Haste - back soon.....

)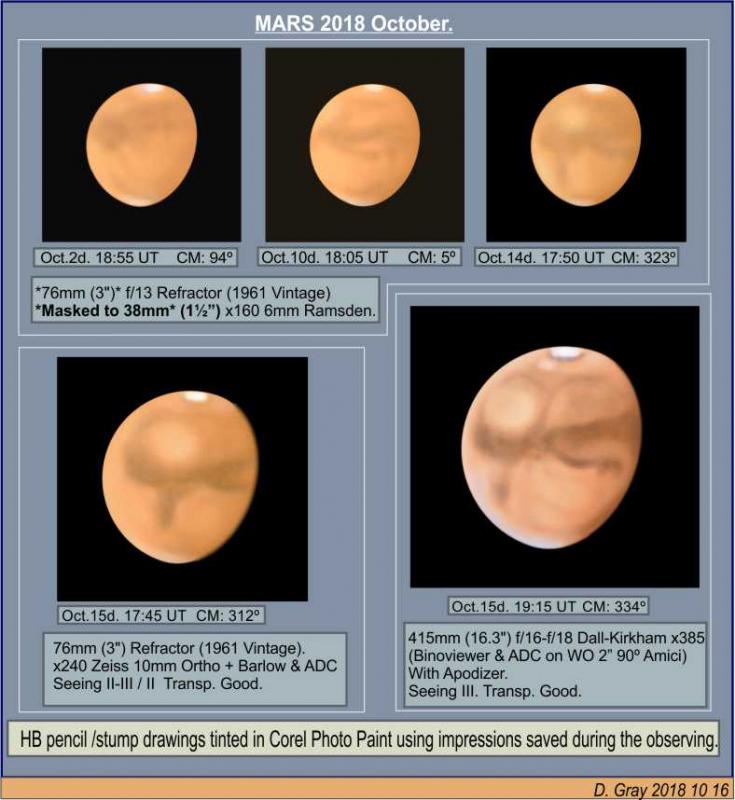 Edited by David Gray, 17 October 2018 - 03:37 AM.