Hello everyone,
I ask the help of this awesome community aind its experts, from which I've learned so much, on some issues I'm having regarding my Canon 80D's astrophotos. When strongly stretching the data for faint details, I ran into severe color banding, which ultimately limits how far I can process the image for faint stuff (before other sources of background noise kick in).
First, some background: I currently use 2 DSLRs. A Halpha modded T5 and the stock 80D. The 80D was purchased last year, and I've been using it ever since. Only recently however I had the chance to deeply integrate with the 80D. The T5 (being modded) became primary camera for most targets this year, and I've been using it almost exclusively with my 135mm.
I use AstroPixelProcessor for pre-processing and currently do not own PixInsight - I especially consider this software for its analytical capabilities, which could help track down the problems and try to solve them, not to mention its extensive processing power. I'm getting a bit carried away here - let's get back on topic =D.
My calibration workflow is based on about 20 Darks, 30-50Bias and ~20 Flats. I also use a Bad Pixel Map. All calibration is done in APP, and has always worked wonderfully [especially with my extensive T5 use]
So, as for the banding story: in July I captured some data on Barnard's Galaxy. I captured some 108 minutes integration simultaneously with the T5/135 and 80D/200mm. The subs were all 240s ISO400, dithered every 2 subs. Ambient temperature was ~+5C, and sensor temperature ~26C for the T5 and 18C for 80D. Both were calibrated (10darks, 25flats, 30bias) and integrated in APP. The 135/2.4 is great for capturing photons quickly, and I got the result below after a quick APP strong stretch - overall OK-great.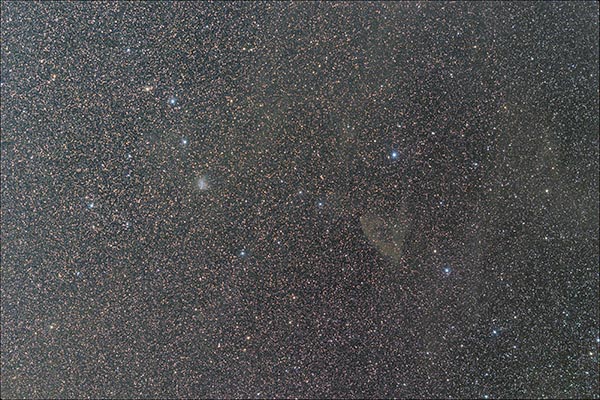 The 200mm data was integrated separately. When extreme stretching is applied, I got the bands visible below.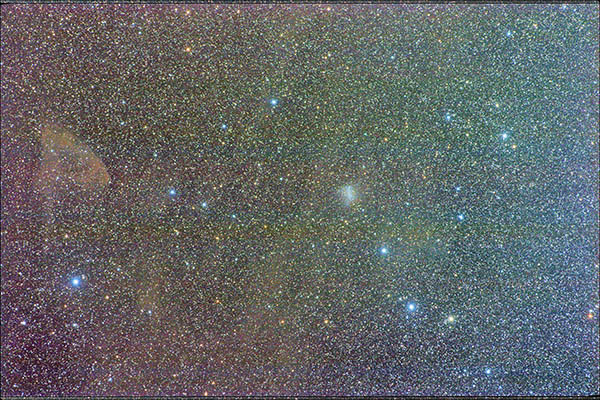 That's when the issue first became apparent, and prevented me to merge both sets of simultaneous data (which would effectively double my integration time).
I made some investigation myself, which is presented below, but first I straight-forwardly state the points I ask your help with:
1 - Identify the issue. What is this banding? Is it normal or expected? Please share your experience if you have had something similar! I am almost certain it is some fixed pattern noise (or is it the usual "Canon banding" I always hear about?).
2 - Potentially find solutions to mitigate or solve my issue - where should I take more care to get rid of it.
3 - In case this issue becomes impossible to cope with, should I consider switching cameras? My 80D is a great workhorse for daylight work, but be the banding impossible to solve, I may look for other alternatives for astro work. I ask that because my trusty cheap T5 has never exhibited the issue, even when extreme stretching.
MY INVESTIGATION THUS FAR
Once again, I've never seen such issue with my T5 data, despite the price and (supposedly)
performance gap. My T5 is a trusty performer, despite its older tech - 80D's sensor is a newer generation low-read-noise, ISOless sensor. I have used my 80D for images before, especially with the Chamaeleon Molecular Cloud [https://astrob.in/345170/0/]. But as this image was shot unguided and with short exposures (30s vs 240s), and with over a half frame differential due to tracking drift and field rotation: a huge offset. I figure this would be a apples to oranges comparison) . So, here's what I came up with:
My hypothesis: this is fixed pattern noise, uncorrected because of dark frame issues. I checked a single light, and the pattern is faintly there. Below is a single 240s sub overstretched, uncalibrated.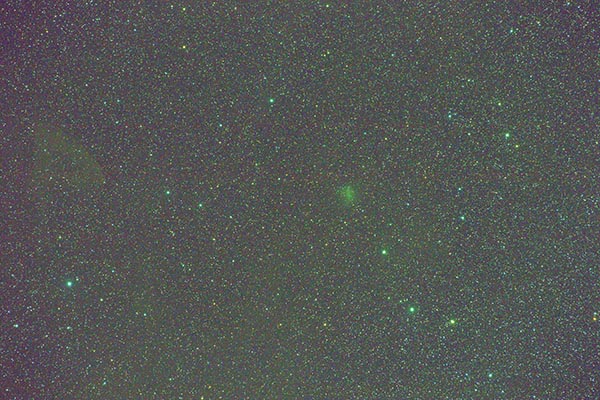 I checked my dark frames. In the master dark, the pattern is also there (below is a overstreched, oversaturated master dark).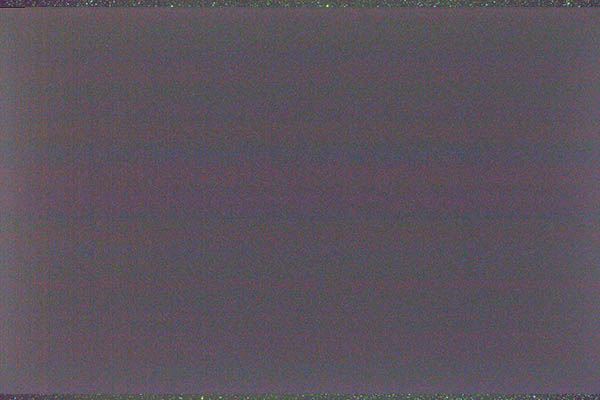 I believe this could be a result of dark frame temperature mismatch. Indeed, the dark frame averaged some 5C above the lights. That's just too much. So I took a new set of darks in my fridge, that much better matched the light temperatures - within 1-2C on the sensor. That is as good as I can reasonably get with a camera without set-point cooling. The result was not much improved. The banding is still here.
I started to look for the banding in past images with the 80D, and I found it is present - with various degrees. It is visible in my M31 and SMC cloud images of October 2017. The ambient temperature that session was higher - 14 C (sensor 23C). On my B228 image from July 2018 (the same session of the Barnards Galaxy), the issue is somewhat reduced, but faintly visible [image here: https://astrob.in/357657/0/]. The B228 lights are 120s (vs 240s). On a recent Magellanic Clouds image, with a different 40mm lens, the issue, however, was not apparent. The temperature of this set was a freezing 1C ambient (10C sensor).
I can provide the calibration masters (or even the subframes) and a set of any aforementioned light frames if someone is willing to have a look at my raw data.
So, I ask the help of you experts to figure out this intriguing and frustrating problem. Could it be a calibration issue (mismatched Darks, or too few Bias)? Is it a result of the 80D noise performance - be it such a (supposedly) less noisy camera (than my T5), is the issue caused by the even more extreme stretch that this low-noise is capable of handling? I've been a happy 80D user, especially for daylight work (even recommended the camera to other people), but after this issues, I am discouraged and reconsidering this DSLR for astro work. Please help me if possible!
If you have read this extensive topic thus far - you already have the sincerest thank you from me!
Clear skies to all
Best regards